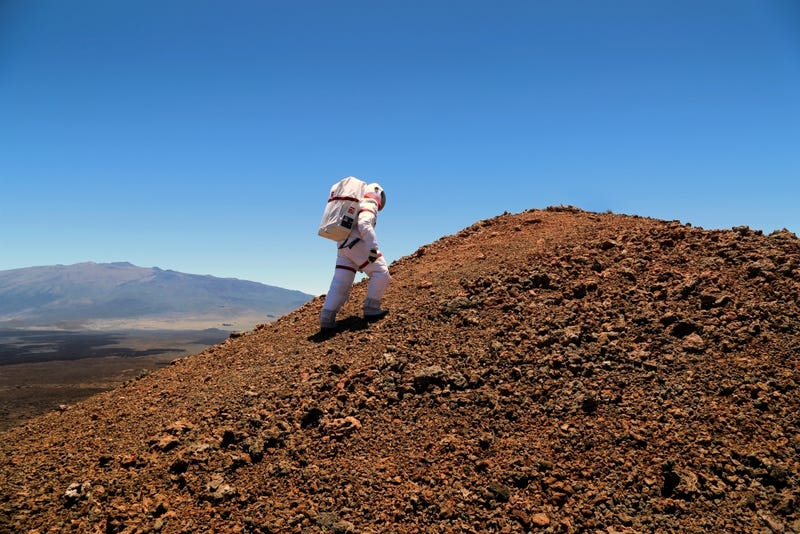 Last year, NASA held a recipe contest for cooking on Mars. Ordinary civilians like us were invited to submit recipes based on a list of available ingredients—heavy on freeze-dried produce and various meat-flavored "textured vegetable proteins"—to be cooked and judged by crew members of HI-SEAS.
HI-SEAS wasn't actually a mission on Mars, of course; it was a simulation of one on the barren slopes of a Hawaiian volcano. (In full, the acronym stands for Hawaii Space Exploration Analog and Simulation.) But the six-person crew really did cook, eat, and blog their way through dozens of space-friendly recipes from home cooks. A disproportionate number of the recipes seemed to feature Spam, perhaps owing to the mock Mars colony's Hawaii locale.
Food and Astronaut Morale
In simulating the diets of future Mars colonists, HI-SEAS was meant to study how foods keep astronauts healthy—not just physically but mentally, too. If you thought your school cafeteria's repeating menu of pizza and fish sticks got old, well, think about a repeating menu of the same old dehydrated foods three times a day.
A feature in the latest issue of Space Safety Magazine, which is devoted entirely to space food by the way, recounts how HI-SEAS members, unlike space station astronauts, could take advantage of "Mars' gravity" to cook homemade meals in their geodesic dome:
The study requires the participants to cook their own meals half of the time and for the other half to eat pre-prepared meals like creamy wild rice soup or lasagna with meat sauce. It then measures the participants' consumption patterns, moods, sensory functions like taste and smell, and overall nutrition. It also investigates how much of the so-called menu fatigue relates to the astronaut's change in sense of smell and, therefore, taste. The participants must complete nine surveys a day in addition to detailing their meals down to the ingredients' mass in grams.
And while the astronaut food blog gave detailed recipes, it also included chatty mentions of celebrating birthdays and playing with Martian food—in short, evidence that food is not just for eating but also for bringing people together. The crew announced the winners for the recipe contest just before HI-SEAS ended in August. (Favorites included Moroccan beef tagine and dark matter cake.) The data from all the surveys the crew filled out will take longer to analyze, but Cornell professor Jean Hunter, one of the study's key investigators, tells Space Safety Magazine, "the crew strongly believes that their home-cooked food was a key contributor to crew morale."
Alas, no data on how alcohol might have improved the astronauts' spirits.