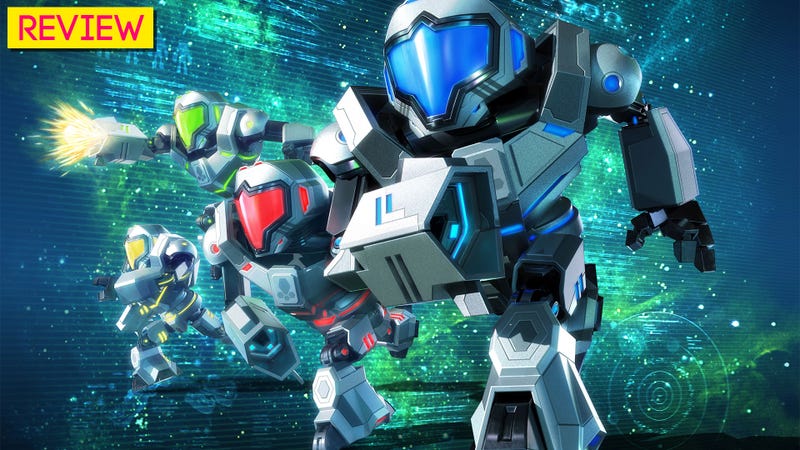 Despite abundant expectations that it would be bad, Nintendo's new Metroid spin-off turns out to be very good.
When does Spider-Man enter the scene in Civil War? Mads Mikkelsen teases his allegiance in Rogue One. Get a better look at Connor Hawke on Legends of Tomorrow. David Duchovny wants more X-Files. Plus, Ronda Rousey sets her sights on another nerdy movie role, and get a look at Agent Carter's wild dream sequence.…
From artist Ástor Alexander come these video game-inspired pulp covers: Super Mario, The Legend of Zelda, and Metroid. My favorite is the Mario one, mostly because I imagine that it's a series, and every book ends with Mario heading to another castle.
Photoshop savant and Deviant Art member Elemental79 is back with another mind-blowing timelapse as he turns a screenshot from the 1994 16-bit classic Super Metroid into a high-res work of art.
Joseph Kosinski explains why M83 is as right for Oblivion as Daft Punk was for Tron Legacy. Mark Wahlberg showers some absolutely ridiculous praise on Transformers 4. Justified star Walton Goggins discusses G.I. Joe: Retaliation. Check out photos from Bryan Singer's gritty fairy tale Jack the Giant Slayer. Arnold…
Metroid's Mother Brain didn't really need to be any more horrifying than she already was, but artist Cig Neutron decided to amp up the ugly with his sculpture of the blue eyeshadowed space pirate. And he's got a pretty freaky rendition of the Mario Bros. villain Bowser to boot.
Cthulhu and cuteness are vying for your crowdfunding dollars this week, with unholy tiki mugs, an adorable collection of comics featuring Metroid's Samus, and a charming video game about a girl with time-traveling goggles. There's also a system for turning school into a role-playing game and a documentary about the…
Artist Jed Henry has taken famous characters from the video game console pantheon and reconfigured them as samurais on centuries-old Japanese ukiyo-e woodblock prints. The results are pretty clever — I'm liking how Mega Man's defeated robot masters have become a cloud of oni. Henry's not done with this series yet, as…
It's a miracle our pitiful spaceflights so far haven't been attacked by pirates. Pirates are everywhere, ruthlessly plundering and seizing everything in their path. Space isn't empty, because it's crammed with pirates in every direction. And because space is infinite, it offers limitless hiding places for a ruthless…
Gizmodo buddy Ramon of Ultimate DS, Wii, and PSP mod fame is back, this time with a Samus Metroid mod for the Nintendo Wii. Not only does it have a big S on the side for Samus (or Sexy) and a Wiimote battery charger built in (!), he's painted the parts red, orange and green to match her motif. He's auctioning this off…