We love Disney movies, but many of the classic Disney princess movies leave us feeling that all fairytale princesses are good for is meeting their prince and getting married. Here are ten stories that take on those fairytale stories from a different angle, giving us complicated women who want more than a wedding with Prince Charming.
There are, of course, a lot of stories featuring princesses who happen to kick butt: Star Wars, Game of Thrones, Avatar: The Last Airbender. But this is a list of works that play with the same sorts of stories Disney so often draws from — namely fairytales and stories with medieval-like kingdoms filled with kings, princess, and knights. And, in some cases, they are deliberate responses to Disney's princess movies.
1. Fables: Vertigo's fairytale comic, created by Bill Willingham and Lan Medina, puts an incredibly smart spin on the myriad fairytales that remain popular in modern culture. For example, Snow White, Sleeping Beauty, and Cinderella were all married to the same Prince Charming — who is kind of a cad, but has his moments. The Snow White who lived with the Seven (pretty horrible) Dwarves is the same one who has a sister named Rose Red. And a single witch was responsible for the curses on the Beast, the Frog Prince, and Rapunzel — and she tried to eat Hansel and Gretel.
But these characters aren't just popular in the modern age; many of them are also living in present-day America. Snow White is a badass bureaucrat who can wield a sword when the occasion calls for it. Beauty and the Beast are still married, but have to work through their genuine relationship issues. And Cinderella is a spy who uses her reputation as a shoe-obsessed fashionista as a cover. All the princesses have to figure out ways to reconcile their past and present-day lives and find their own place in a world far from their fairytale kingdoms. Once Upon a Time tried to do something similar, but it never quite hit the heights of Fables at its best.
G/O Media may get a commission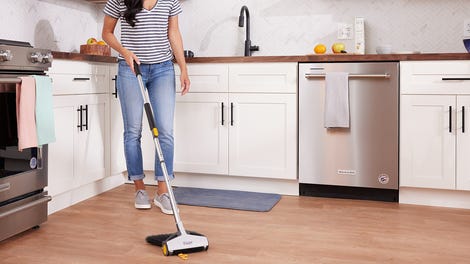 BOGO 50% Off
Flippr - BOGO 50% Off
2. "The Bloody Chamber" by Angela Carter: Really, every story in Angela Carter's The Bloody Chamber and Other Stories is a gem, packed with often violent, sexually charged, and beautifully written retellings of fairytales. (It's the reason it made our list of "Books That Will Change How You Think About Fairy Tales.") But "The Bloody Chamber" really is a standout. For one thing, it's based on a story that is not Disney-appropriate, Charles Perrault's rendition of the French folktale "Bluebeard."
Our protagonist isn't quite a princess, but rather a marquise, the young virginal bride of a much older, much widowed nobleman. Of course, when the young lady figures out precisely how her husband became a widower, she finds her own life in peril. Fortunately, she finds an ally in her husband's house and she's got a mother who would make most Disney villains quake in their boots. Not all women in these stories need to be action heroines, but it helps to have one on your side.
3. Thorn by Intisar Khanani: I must admit that I first discovered Thorn because Khanani and I are friends (we've known each other since high school). But I fell in love with the book in part because it's based on one of my favorite Grimm fairytales, "The Goose Girl" (I'm a sucker for a disembodied talking horse head) and because it's a princess story less concerned with fantastical adventures and romance than with what it means to be a princess — specifically that you'll someday rule a kingdom. In fact, when Princess Alyrra has her identity stolen, she finds it's kind of a relief at first. Life as a goose girl is so much simpler than life as a princess, forced to marry a foreign prince. But as she learns more about the prince's kingdom, her new home, she begins to realize she might be the best person to co-rule it. She has to actively decide if she wants to become a princess again, with all of the responsibilities that it entails.
Plus, Alyrra's relationship with the prince in question isn't based on a starry-eyed romance. They develop a friendship based on companionability and mutual respect. After all, Alyrra isn't looking for butterflies; she's trying to figure out if this is a person she can rule a kingdom with.
4. Princeless by Jeremy Whitley and M. Goodwin: I fell for Whitley and Goodwin's all-ages comic in the first few pages, when a knight approaches the tower that holds the Princess Adrienne and announces that he's looking for the "fair" princess. Enraged, the brown-skinned Adrienne gives him a lesson in vocabulary:
Adrienne's parents locked her and each of her sisters in high towers, promising that whoever "rescued" one of the princesses would win her hand in marriage. Fed up, Adrienne teams up with her dragon guardian and decides to abandon her post as damsel in distress. Instead, she takes up the quest to rescue each of her sisters herself.
Princeless has a diverse cast, and not just when it comes to the color of the characters' skin. Adrienne may be all about the swords and armor, but her sisters have different interests, talents, and personalities. At least one of them has even made this whole captive princess thing work out for her pretty well. And it's not just about the princesses; Adrienne's twin brother Devin has his own troubles and tales.
5. Princess Ugg by Ted Naifeh: It's no surprise that the creator of the delightfully dark all-ages comic Courtney Crumrin would have a wickedly fun and thoughtful spin on princesses. Inspired by her late mother's wishes, the viking Princess Ulga enrolls in the Princess Academy in Atraeska. Ulga is a warrior with a more royal lineage than some of her classmates, but she initially has trouble fitting in among the gown and tiara set. She's ridiculed and dubbed "Princess Ugg," but she's determined to learn something from this school, and along the way she and her classmates come to realize that there's more than one way to be a princess.
6. "The Sea Witch Sets the Record Straight" by Ursula Vernon: Vernon, who just won a Nebula award for her short story "Jackalope Wives," absolutely kills with this retelling of The Little Mermaid (the Disney version, not the Hans Christian Andersen story) from Ursula's point of view. No, our mermaid princess doesn't get a different ending this time around, but the Sea Witch explains why she took Ariel's voice: to prevent human colonization of the world under the sea. It's a challenge to the Disney princess narrative, a suggestion that some princess stories may be more complicated than they appear on the, ahem, surface.
7. Fox & Willow by Irma 'Aimo' Ahmed and Allison Pang: This webcomic follows a runaway princess and her companion, an impish fox spirit, as they figure out a way to break a curse. Along the way, they travel through their share of fairytales. Part of the fun is figuring out what familiar story they've found themselves in and how it will end up this time around. Sometimes, the princess in the tale doesn't get the prince, but the girl.
8. "Snow, Glass, Apples" by Neil Gaiman: Like "The Sea Witch Sets the Record Straight," "Snow, Glass, Apples" tells a familiar story from the perspective of someone usually considered the villain: Snow White's stepmother. The Snow White story already has a tad of necrophilia in its narrative DNA, but "Snow, Glass, Apples" asks, "What if Snow White was able to come back from the dead because she was a monster in the first place?" Sadly the queen, who is just trying to keep her kingdom together, meets with the same brutal end she does in the Brothers Grimm version of the tale.
9. Shrek: Dreamworks actually screened their fairytale parody film for Disney's lawyers to make sure they weren't going to have a lawsuit on their hands. After all, the tale of a bug-munching princess who finds happiness with a gruff ogre is a deliberate knock at the sorts of stories Disney has been telling for decades. (And if the first Shrek wasn't obvious enough, Shrek the Third brought a whole slew of familiar fairytale princesses into the mix.)
And while sequels can be tricky things, it was cool that Dreamworks showed us Shrek and Fiona's life after happily ever after. Even after you've defeated the evil lord, you've still got deal with the growing pains of a new marriage.
10. The Paper Bag Princess by Robert Munsch and Michael Martchenko: This children's book is perhaps the classic "princess rescues the prince" story, and it's a delightful one. After a dragon charges into a castle and burns up Princess Elizabeth's clothes and kidnaps her fiancé Prince Ronald, the resourceful Elizabeth simply dons a paper bag, marches to the dragon's cave, and uses her cunning to save the day. And if she doesn't get to marry the prince in the end, it's no great loss.
Top image: Adam Hughes' cover for the Fables spinoff Fairest.