Evernote is well established as the go-to app for organizing just about everything in your life. Whether it's notes for a novel or bookmarks from the Web, Evernote can take pretty much anything you want to throw at it. But are you using the platform to its full potential? Here are 10 quick tips for turning yourself into an Evernote power user.
Is AI Moving Too Fast? | Future Tech
1. Replace PowerPoint with Presentation Mode
If you're running Evernote on a Windows machine or a Mac, or using the iOS app, then you can turn your notes into full-screen slides with the push of a button. (Android "coming soon") This new Presentation Mode built into Evernote means you no longer need PowerPoint to show off your ideas. You will need a Premium account, though, which will set you back $5 a month or $45 per year. There's a 30-day trial of Presentation Mode available to non-paying users so you can see if you like it first.
G/O Media may get a commission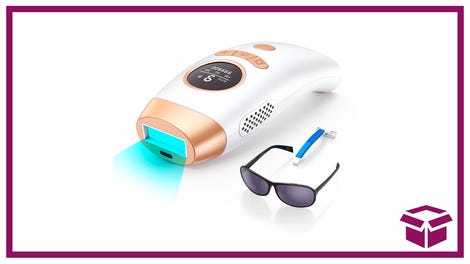 58% Off + Coupon
IPL Hair Removal Device
If an external display is attached then you get your notes on the big screen one by one and an overview on your device; if not, the slides show full-screen on the computer, phone or tablet you're using. You can make edits on the fly and your mouse cursor turns into a blue laser pointer so that it's easy to point out something to your audience.
2. Email into Evernote
You don't need a Premium account for this one: Evernote lets you email in notes straight from your inbox. It's a great way of powering through a build-up of messages and sending them somewhere else so that your inbox stays neat and tidy. Your personalized Evernote email address will be somewhere inside your account information, depending on which app or interface you're using—in the Windows app, for example, click Tools then Account Info to find it.
From your email client of choice, choose to forward a message and then enter your unique email address as the recipient. Use @notebook at the end of the subject line to direct the message to a particular notebook, #tag to attach a tag, and !Reminder to set up a reminder about it. The code looks like this:
Email Subject: [Title of note] ![optional date for Reminder] @[notebook] #[tag]
How you use it is up to you. You can flag emails to chase up later, for example, or archive attachments that you want to get out of your inbox. If you're attempting to get to inbox zero then Evernote can be very helpful indeed.
3. Search smarter
Being able to search through a whole mass of notes at once is one of Evernote's best features, but if you know some of the advanced search options that are available then the app becomes even more useful. As with Google, there are some extra terms you can add in to help you find what you're after in record time—try "created:20140904" or "updated:20140904" for example, replacing the dates as required.
Check the advanced search syntax help page for some more pointers. You can restrict your searches to the title field, particular notebooks, specific tags and the source used to create them. It's also possible to focus exclusively on notes containing checkboxes ("todo:") and even entries that were created around a certain location (handy for tracking down all those field notes).
4. Merge your notes
Did you know you can merge notes into each other? It's a useful way of consolidating the information you've gathered inside your notebooks and making sure you stay on top of the clutter in your account. Notes can be merged inside the Evernote apps for Windows, Mac and the Web.
The Merge option appears as soon as you have more than one note selected (Shift+click to select multiple notes). Once your selected entries have been tied together you'll find them separated by clear headings inside the newly created note. If you have a whole series of smaller notes that would look better as one entry inside a notebook, get merging.
5. Plug Evernote into Sunrise
We're big fans of the clean and intuitive calendar app Sunrise, so it's good to see it playing happily with Evernote. Sunrise introduced third-party app integration back in June, and you can plug in your Evernote account through the Sunrise apps on mobile or the Web (on the Web, for example, it's under the Accounts tab inside the Preferences dialog).
With this done, you can set Evernote reminders from within Sunrise, create new tasks, and see your Evernote schedule alongside your existing calendars from Google, Facebook and so on. Have a browse through the Evernote App Center to see some of the other apps and services that plug into Evernote—from blogging to travelling there's plenty to explore.
6. Switch on two-step verification
You know that extra security layer that Twitter, Facebook, Microsoft, Google, Dropbox, Apple and everyone else has? Yeah, Evernote has it too, so you'll want to switch it on. If you've been hiding in a remote cave for the last five years, two-step verification makes it much harder for someone else to access your account even if they have your username and password.
From the Evernote account settings page on the Web choose Security Summary and then click Enable under the two-step verification heading. You can then use a backup code or an authenticator app in addition to your password to set up Evernote on new devices; if you're a Premium user, you can also opt to have authentication codes sent to your mobile phone via SMS.
7. Back up your tweets to Evernote
Evernote and IFTTT are both wonderfully keen on connecting with other services, so of course they work together. You can use Evernote as an IFTTT action or trigger in many different ways, but here we'll just focus on one: Backing up all of your tweets to your Evernote notebooks. You can then search through and share them whenever you like, without having to trawl back through your Twitter feed for hundreds of pages.
Create a recipe from within IFTTT and choose new tweets as the trigger from the Twitter channel—you'll be given the option to include or exclude retweets and replies along the way. The app then prompts you for an action within Evernote, so choose to append new tweets to an existing note, which you can tag as you like to make it easier to find in future. Once a note reaches 2MB in size, IFTTT will automatically start a new one for you.
8. Build a visual to do list
Perhaps the reason you're not powering through your to do list quite as well as you'd like is that it's just too dull to consider looking at. Or, maybe the problem is that you never have time to jot down new entries in it. Solve both of these problems with a "to do notebook" within Evernote—simply snap a new image in one of the mobile apps every time you see a job that needs doing or something you need to remember to get around to.
This being Evernote you can of course attach notes and reminders to your snaps as well, so you can create a fairly complex to do list that matches the way you work best. You can use tags to sort tasks out into urgent and non-urgent, for example, or into separate buckets for entries related to work and entries related to your personal life.
9. Collect everything with the Web Clipper
The Web Clipper extension is one of the first tools people tend to install when they sign up for Evernote, but it's just been updated with some new features—if you haven't used it for a while then check out what it has to offer. Not only has the extension been redesigned to take up less room and show the most relevant options first, it also now lets you attach reminders to notes (handy for time-sensitive pages like hotel bookings and calendar events).
The new extension also makes it easier to assign clips to notebooks and highlight pages once you've saved them, and there are a host of options to play around with in the extension settings as well. Different types of clips can be saved, from full pages to simple links, so mix and match with whatever makes the most sense for the content you're storing in your Evernote account.
10. Digitize your business card collection
We've talked about digitizing your card and paper documents before, and Evernote is very adept at it. One good example of how it can be used on mobile is by photographing all the business cards you've accumulated rather than stuffing them into your wallet. The mobile app on iOS actually has a dedicated camera mode that you can use for the purpose.
Once you've snapped a card, the contact details from it are automatically scanned and pulled into Evernote as text and numbers—there's even the option to connect the card to LinkedIn to find even more details. All of the info can be edited if required and the contact information is instantly synced everywhere that you have Evernote installed.
Is there anything we missed? If you're an expert Evernoter with a great tip to share, leave a comment in the discussion below.