Sure, singers sing and guitarists strum, but you owe just as much to the engineers behind the music as you do the musicians themselves. They may not get much time in the Grammy spotlight, but in honor of the mixers and shakers who make music worth listening to, here are 11 epic past and present soundboards, mixing consoles, and more.
UM Project's WSW-Inspired Console
Above is the the UM Project designed and manufactured this amazing hybrid analog-digital mixing console for The Motherbrain, Brian Bender's Brooklyn-based recording studio. The similarly Brooklyn-based design company created this beauty from a very rare late 1960s WSW (Wiener Schwachstromwerke) analog recording console and a modern-day Tonelux modular line mixer. The last third, in the middle, is used for the digital integration with Pro Tools and includes a touch sensitive digital controller, as well as an Apple display.

Photo: Francis Dzikowksi/Esto
Kraftwerk's Kling Klang Studio
This private music studio was originally founded in 1970 in Düsseldorf. Because Kraftwerk had a policy of not selling or throwing away old gear, Kling Klang (and its basement) is full of obscure analog and digital musical hardware.
G/O Media may get a commission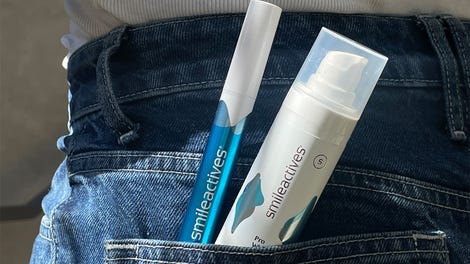 58% off
Whitening Powerhouse Pen & Gel Duo
Photo source: -outlying-
Basing Street Studios
The studio was set up by Chris Blackwell of the world-famous Island Records inside a deconsecrated church building. A highly impressive list of artists recorded their stuff here: Iron Maiden, Bob Marley, Robert Palmer, King Crimson, Brian Eno, The Clash, Pet Shop Boys, Depeche Mode, The Eagles, Dire Straits, East 17, Boyzone, Emerson, Lake & Palmer, The Rolling Stones, Genesis, Queen etc. In 1970, two famous albums were recorded here at the same time: the Led Zeppelin IV and Jethro Tull's Aqualung.
Photo source: myblogitsfullofstars
Maida Vale, BBC
Maida Vale Studios is a complex of seven BBC studios on Delaware Road, Maida Vale, London. It has been used to record thousands of classical music, popular music and drama sessions for BBC Radio 1, BBC Radio 2, BBC Radio 3 and BBC Radio 4 from 1946 to the present. In the photo: British composer Malcolm Clarke (music composer for several Doctor Who serials) and sound engineer Brian Hodgson at work in 1969.
Photo: Chris Ware/Keystone Features/Hulton Archive/Getty Images
Polar Music Studio
Swedish pop group Abba and their manager Stikkan Andersson at the group's newly completed, custom-built recording studio in a former movie theater, Stockholm, 23rd May 1978. Polar Studios is one of the most famous recording studios in the world; Led Zeppelin, the Ramones, Rammstein, Genesis, Backstreet Boys, Beastie Boys, Belinda Carlisle, Celine Dion, Roxette, Entombed, The Hellacopters have worked here.
Photo: Keystone /Getty Images
Les Paul's API
This 28 x 16 recording mixing console—with an estimated auction value between $40,000 - $60,000—was for sale at Julien's Auctions as part of the Les Paul estate auction event on May 29, 2012 in Los Angeles, California. This 50-year-old American mixing console made by Automated Processes Inc. of Farmingdale New York was sold for $106,250.
Photo: Kevork Djansezian/Getty Images
BBC, London
This is the mixing desk at the BBC Studios in London, where the 500th edition of 'Top of the Pops' was transmitted from in 1973. The weekly radio program was produced here, the following superstar performers gathered together for this completely live performance: The Beatles, Dusty Springfield, The Animals, the Rolling Stones, and many, many more.
Photo: Express/Express/Getty Images
Royal College of Music
English composer Tristram Cary (1925 - 2008, right) with two of his students in the electronic music studio of the Royal College of Music, London, 4th November 1968. A pioneer of electronic music, Cary created the studio in 1967.
Photo: Mike Barnes/Fox Photos/Hulton Archive/Getty Images
Sigma Sound Studios
Joe Tarsia, a now-retired sound engineer, stands by the Solid State Logic mixing board in Philadelphia's Sigma Sound Studios on Sept. 16, 2003. Sigma Sound, the source of the echoing, orchestral "Sound of Philadelphia" that topped the R&B charts in the 1970s changed hands in 2003 after 35 years under founder and engineer Tarsia.
Photo: Mark Stehle/AP
Play Studios
Benge, the London based experimental musician and electronic music producer runs this music studio in London which houses a large collection of vintage electronic synthesisers and other recording equipment.
Photo: Play Studios
EMI TG12345 Mark IV
This legendary mixing console was one of the two main soundboards at the Abbey Road Studios, London between 1971 and 1984, and was sold by Vintage King Audio two years ago.
Photo source: myblogitsfullofstars
Have your own favorite soundboard? Do you miss something very important from this list? Post the picture in the comments!