No matter how careful you are, problems tend to crop up on Windows and macOS anyway—from little annoyances you can't get rid of to full-blown system-wide issues that make it hard to use your computer normally. We've got some good news for you though: You can find plenty of free apps to help at least ameliorate some of the problems, if not outright fix them.

Here we've collected 11 of our favorite tools for cleaning up, maintaining, and fixing Windows 10 and macOS, at least some of which should be useful for your next (or current predicament).
Note however that some of these programs make changes to your computer on a fairly fundamental level—registry edits and such—so you run them at your own risk. We would always recommend keeping current backups of your most important data, so if your computer does become unusable, you can recover the files and apps you need.
---
Part of the secret of keeping a system running smoothly and trouble-free, on Windows at least, is having the right hardware drivers installed—those little bits of code that act as translators between your devices and everything else happening on the operating system.

G/O Media may get a commission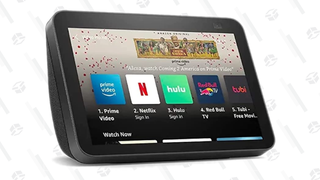 Enter IObit Driver Booster, which boasts a library of more than three million drivers, and covers some of the biggest names in hardware, including Intel, Nvidia, and AMD. Fire up the software and you can identify and fix out-of-date drivers with just a couple of mouse clicks.

---
You've got plenty of options when it comes to free antivirus solutions for Windows—not least the Windows Defender tool that comes with the operating system. We won't do a full comparison guide here, but we can tell you Avira is one of the best free options you'll find.

As well as spotting nasty infections that might have taken root on your computer, the software can also repair damaged files, guard against your personal data being stolen, and watch for dodgy online links. Even better, it's fast and light in its use of system resources.

---
3) Bring back deleted files: Recuva (Windows)
If your particular problem is that you've deleted a file you then realized you actually need after all, Recuva is on your side. There are no guarantees, but if the physical spot on disk where the file was hasn't been overwritten, then Recuva might be able to restore it.

The application uses a traffic light system to show you the chances of getting your data back (the more recent the file deletion, the better). You can run the tool as a simple step-by-step wizard, or take more control by switching to the advanced recovery interface.

---
Sometimes, you need a separate scanner on top of your regular antivirus protection—a tool you can use if your computer's existing security defenses have been breached, or if a piece of malware is stopping your usual antivirus program from detecting and deleting it.

Enter Microsoft Safety Scanner, which packs all of Microsoft's anti-malware know-how into an on-demand tool to run when you're having persistent problems. Put it on a USB drive, and you can use it to effectively troubleshoot the PCs of friends and family too.

---
5) Solve dozens of annoyances: FixWin (Windows)
FixWin tackles an impressive number of maintenance and problem-fixing tasks across your system: Missing optical disc drivers, File Explorer errors, missing menu items, corrupted thumbnails, a broken Recycle Bin and much more can all be handled by this simple utility.

You've got six tabs of options to work your way through, including a Troubleshooters tab that links to the troubleshooters that are built into Windows. If you've got a strange bug on your system, run FixWin first, as chances are it'll have a straightforward solution for you.

---
From problematic registry entries to issues with Windows Update, Windows Repair Free has a broad remit and an unfussy interface. It's particularly good at sorting out those relatively small but hugely annoying issues that other maintenance tools might miss.

The good news is you don't need to be an IT specialist to navigate the program and apply the fixes it contains. The software can also detect malware infections on your machine, check for problems with the local file system, and reboot into Safe Mode if needed.

---
7) Find and remove spyware: SUPERAntiSpyware (Windows)
SUPERAntiSpyware is one of those venerable malware-fighting tools that's been around for years, and it's based on a very simple premise: It manages an up-to-date list of known spyware and malware, and makes sure nothing on that list has taken root on your PC.

The program interface is straightforward enough to get around, and you get a few extra system repair tools thrown in for free. You can run on-demand scans in addition to the scans of your existing antivirus package, but scheduling scans requires a paid-for upgrade.

---
8) Tweak firewall protection: Murus Lite (macOS)
macOS includes a very competent firewall but if you're having problems getting certain apps or sites to work with it then Murus can help: It lets you dig deeper into the firewall settings than you would otherwise be able to, and get access to a host of extra tweaks.

Don't worry if you're not a seasoned network administrator, because Murus comes with a choice of presets you can apply to get you started. Murus Lite is the free version of the software—you can choose to pay to upgrade if you need more configuration options.

---
9) App uninstalls, done better: AppCleaner (macOS)
The point of the appropriately named AppCleaner is to clean up after apps and make sure they're fully removed from your system. In other words, it helps to cut down on clutter in macOS—clutter that could lead to system slowdowns and crashes if it begins to build up.

The freeware program couldn't be much simpler to use: You just drag app shortcuts over to the AppCleaner window, it lists all the files and folders associated with that app, and then you delete everything with a click. It's fast, it's efficient, and it keeps your system lean.

---
Running a computer made by Apple doesn't guarantee you immunity from the dangers of the web, and it's better to be safe rather than sorry when it comes to antivirus protection. One of the best free options we've come across recently is the tidy Avast Security for Mac (Avast is also available for PC).

Why do we like it? It's lightweight, easy to use, and effective at keeping unwanted visitors off your laptop or desktop. As you would expect, there's a Pro version available if you want to pay for more comprehensive protection, but the free edition does an excellent job too.

---
11) Clear out the clutter: Maintenance (macOS)
Maintenance does exactly what it sounds like it might: Maintains your Mac system in a healthy state, clearing out redundant files, fixing settings that are not configured as they should be, removing applications, and generally keeping everything nicely ticking over.

For a more comprehensive (and technical solution) try OnyX from the same developer, which includes Maintenance. Unfortunately, we can't show you the app, as the Mojave edition is still being finished, but we have found previous versions to be dependable.