Photos are just supposed to be photos. They're not supposed to go corporeal, assemble and become something new. The following ten entries to this week's Shooting Challenge started as photos and ended as something inherently different.
Is AI Moving Too Fast? | Future Tech
Winner - PRESS
The timing on this challenge is uncanny! I needed a logo for my Bachelor of Engineering diploma work, that would represent an electronic photographer (a picture-taking robot!). With that in mind, I had this idea earlier on - to dress up a microchip as a retro photojournalist, with a camera, fedora hat, and the "PRESS" slip. However, initially I planned to do it in GIMP, but since the challenge was announced, I decided to use this technique instead. It's *way* more fun this way, and the results are awesome! Captured with a Nikon D3100 with the 18-105mm lens. Component pictures: (My Dad's old camera, the newspapers and a cat bowl to imitate a retro flash unit) where taken in AUTO mode, the background is a shot of Gottenborg, Sweden. These were printed on a Samsung color laser printer and put together with double-sided tape. The chip is real. Final shot: 105mm, f/5.6, ISO 400 with bounced flash.
-Marek Bączyński
He Said he Wanted to be More Involved in My Art
I'd been working on a 2' by 3' mixed media painting for about a month and knew I wanted to use it in this challenge. I photographed the center of the painting and printed it 5x7. Then I taped it to my boyfriend's stomach as he lay on the painting and painted his skin to bridge the gap between photograph and canvas. By the time I finished painting, the sun had set and it took every lamp in our dimly lit apartment to gather enough light for the shot. I used my fixed 50 all the way open and tried to stay as still as possible. Since I had the hiccups at the time it took about 30 shots to get one clear and properly centered.
Nikon D70, manual 50mm, 1/30, ISO 800, f/1.4
-Lindsay Trudeau
G/O Media may get a commission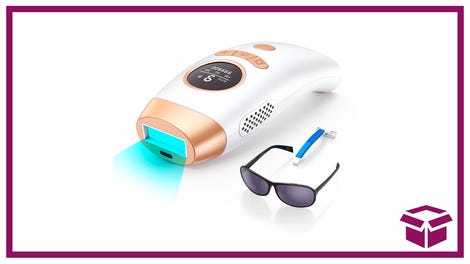 58% Off + Coupon
IPL Hair Removal Device
Chloe the Cat
I created this image by printing and cutting two separate photos of "Chloe" the cat. One is a close-up of her face, and the other one is her walking around. To make it look more "3D", I made the Chloe paper 'doll' stand up using a small wooden stick and a play-doh base. I met Chloe this weekend while shooting some family portraits at a coworker's house. While I was there, it was clear to me she did NOT like the dog she lives with... but in my imagination, she will still get him a treat for Christmas. This challenge was particularly fun because of the restriction of using Mixed Media (so I spent a lot of time cutting, taping, glueing(?), and browsing on paper stores), however, long live photoshop. It's freaking 2AM! Canon T2i, 100mm, f/2.8.
-Diego Jiménez
Jarred
I didn't know a lot about mixed media when I looked at this challenge, so I looked around on the internet. I eventually stumbled upon a picture by Mary Daniel Hobson that I liked, featuring photographs in jars with mineral oil, and wanted to see if I could do it myself. So I took a couple pictures around town, found a jar and some mineral oil, and, after some blood, sweat, and tears, came up with a decent shot. This was also my first time creating a macro photo studio box, which really helped the shot, although my hands didn't enjoy it. Nikon D5100, Nikon AF-S NIKKOR 18-55mm lens at 48mm, ISO 6400 at f/7.1.
-Patrick Wright
Crow and Berries - Collage Mosaic
This challenge was right up my alley - I love to mosaic and I had some fused glass components without a plan. When I saw this challenge, I decided to use the fused glass crow and feather in this piece. I took photographs of some live oak and possumhaw holly where I live. I combined a few pictures, perked up the colors a bit and applied a cross-hatch brush stroke to the picture. I then decoupaged the photo onto my MDF substrate. The rest was mostly traditional mosaic methods. I did fuse some more components (the berries and branches and some leaves) to add to the tesserae.
It's always difficult to take a photograph of glass and not get glare but still pick up the iridescence on the crow and feather. I need to work on that a bit. You can see my original picture under the clear tesserae. I hope you enjoy!
-Karen Tarlow
Lemon Tree
I was totally lost on this project. I wasn't quite sure how to incorporate my photos into "mixed media." I ended up taking photos of some lemons from my backyard garden, printing and cutting them out and gluing them onto a branch. I liked the two-dimensionality of the lemon cut-outs and the three-dimensionality of the branch. As I was shooting it, I ended up to the side of the branch to give the lemons a squished appearance. Not sure if this is what you were looking for but I hope you like it. Canon EOS REBEL T1i, Canon EF 50mm f/1.8 II Lens, 1/125, f/8, 50mm, ISO 400
-Matthew Johnson
Trip Down the Drain
I took a picture of a storm drain pipe with a wide-angle lens, printed the photo, then curled the paper so the sides were a couple inches closer to me than the center. I placed the picture upside down and took a picture of it with a macro lens focused on the center. The depth of field changed in somewhat random ways since the curling wasn't consistent, which makes the picture a little trippy. I changed the colors and exposure a bit in Lightroom. The process creates the "miniaturization" effect of a tilt/shift lens, though this photo doesn't exploit that as much as others could. Panasonic GF1 with the 7-14mm and 45mm lenses. 1/50sec, f/2.8, and ISO 250 for the final picture.
-David Lee
Paper Doll
This week's challenge was so much fun. I wanted this photo to look like a page out of a '60's fashion magazine. I took the photo of my model and then dressed her up like a paper doll. The outfit is made out of a recipe magazine and Christmas wrapping paper and Christmas ribbon. I then placed the photo on colored craft paper. I didn't mess much with the photo except for boosting the colors on iPhoto. Photo taken with CanonT2i.
-Georgina Lawrence
Driver
Well, this was a interesting challenge. I had my wife drive our car down a back road a few times while I stood on the side of the road snapping pictures. I then took a few shots of the background without any cars going through the shot. From there I printed out a shot of the car and cut that out. I had a sheet of this black styrofoam board stuff and realized it would work well for the road. I even scored the surface a little to make it look like cracks in the road. I also used strips of plain white paper for the center lines. I also used kleenex to mimic snow on the side of the road. I printed out the background of trees and meticulously cut out the areas of the trees where the sun was shining through. Then I put a few lights behind the shot and voila! Pentax K-x, pentax smc f 50mm, f6.7, 1/3s, 100 iso.
-Shawn Nicholas
Popocatépetl
I took this photo of the "Popocatépetl" volcano earlier this week, while visiting my girlfriend in Puebla, so I thought we could paint over it together for the challenge. We tried to give it a little Aztec style to match the subject, and ended up with this. The original photo was taken with an old Pentax 200mm lens, and the second one with a Canon 18-55mm. Both on a Canon T2i.
-Diego Ramírez
Christmas Cards
We were making Christmas cards this weekend - gluing up photos we had taken throughout the year onto red cards & envelopes. I looked at the table and suddenly realized that the mixed media idea that evaded me all weekend was laying on the table right before me. I rearranged the photos, cards and scissors a little, and I had my shot. Original photos taken with Nikon D80 and Canon S95. Collage shot taken with iPhone 4, edited in Picasa.
-Anton Mogilevsky
Thanks to those of you who got a bit crafty this week and spent what I'm sure was hours of cursing with papers, glues and, to my dismay, not one drop of puff paint. You can find the full-sized photos on flickr.