For this week's Shooting Challenge, I asked you to shoot whatever you wanted. As the 116 photos that follow prove, this was a great decision.
Lead Shot
A friend gave me a nifty new Nikon 55mm macro f 3.5 with a Nikon bellows focusing attachment a couple of days ago. I slapped a Canon 5D to the back of it and was trying to take a picture of the flower, but this little guy stuck his butt in the way. It turned out to be my favorite picture in the bunch. I had to shoot at ISO 3200 with Canon 580EXii flash to get it light enough.
-Jennifer Kehl
Landscape Silhouette
G/O Media may get a commission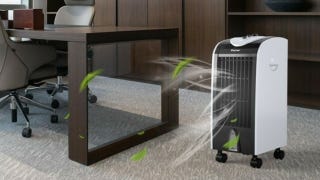 Save $10
Evaporative Portable Air Conditioner Cooler with Filter Knob

Shot from inside a car at a parking lot.
Canon EOS Rebel XS
Canon 28-105mm f/3.5-4.5 II USM
1/1000
4.5
ISO400
-Taishi Matusmoto
Sparkling Eyes

Shot with Canon XTi
1/50
f/5.6
ISO: 100
Focal Length: 31mm
Had a shoot with a gorgeous girl by the name of Sam. This was one of my favorite shots, I think the sparkles around her eyes make the photo for me.
-Austin Trevin Tooley
Gatorade As You've Never Seen It

Camera: Nikon D5000
Lens: Nikon 18-105mm
ISO 200
f/3.5
1.6 sec exposure
For this one, I shot through a four foot long cardboard tube to achieve the spiraling effect. To get the blue at the center, I just pointed it at a bottle of blue Gatorade.
-Sean Edwards
(Obligatory) Light Painting

Nikon D3000
Shutter: 10sec
f/5.6
ISO: 100
Flashlights: 2 blue led lights, and 3 cheap flash lights
I asked 5 friends from my hall at school to grab some flashlights. Then I asked them to run toward me with them. This was our first try. It was also our only try. After this, our RAs told us we were being too loud after quiet hours. Shoot.
[Ed note: More long exposures in a vintage Shooting Challenge here.]
-Austin Gohn
Jesus Diaz's Fave

I photographed our cat Pixie while she was looking at the windows, with my Canon 50D with a 100mm macro lens (settings : f/2.8, 1/80sec, ISO 400).
[Ed note: pet photography is rarely so entrancing.]
-Céline Ruffino.
Shot on a Cellphone

This is a picture of the Engineering 2 building at the University of California, Santa Cruz. It was taken with an iPhone 2G in the afternoon, around 4pm, when the sun was a bit lower in the sky. The distortion you see in the foreground is something I've been experimenting with, and is done in-camera.
-Benjamin Bunch
Life In an Old Mine...

Taken with a Canon XSi with an 18-55mm kit lens at ISO 800 and at 1/30 of a
second. The picture was taken at an old copper mining plant where it
dumped the waste sand out into Lake Superior.
-Forrest Sherman
...Reminds Us of WALL-E

I took this shot with my Nikon D90 with a 50mm lens on manual mode. The shutter speed was 1/100, ISO 100 and an aperture of f5. A Nikon SB-600 (set to 1/13 power) was placed approximately 1 meter behind the paper craft WALL-E and triggered via Nikon CLS. I like how the dust in the air was illuminated and makes it look like a space scene.
-Zak Milofsky
Sriracha 4EVER

As a hot pepper junkie, I shot this as a tribute to my capsaicin addiction.
The fire was from a puddle of isopropyl alcohol directly behind the peppers. Shot on a dark glass sheet in front of a black backdrop. Minimal Photoshop needed- just dust removal and contrast curves.
f/11, 4s, ISO125. Canon 5D + 50mm EF Macro lens.
1/16th Vivitar 285 into small softbox, set left rear.
1/32 ABR800 into 30" moonunit, set right.
1/4th Vivtar285, snooted, under glass.
Medium foam reflector, set front left.
Cactus V2 trigger.
-Kurt Elster
Blowing Bubbles

Camera Nikon D300s
Focal Length 35mm
Aperture f/5.6
Shutter Speed sec
ISO 400
Shot my nephew while playing w/bubbles right in front of his home. Small wall in front of steps, I just had him sit down while I laid on my stomach! Taken in Pasadena, CA
-Ray Yoro
The Antimatter Has Arrived

"The antimatter, has arrived"
Shot on the Nikon D300 with the Nikkor AFS DX 35mm f/1.8G lens: 14bit lossless .nef, 1/250x (sync) shutter speed, f/2.8 aperture (which is where the magic happens with this lens, by the way), ISO 200. D300 built-in flash commanding 2 x SB600's wirelessly (IR). Conversion, color correction and curves in Raw Therapee, editing in Photoshop CS3.
-Wade Saathoff
It's Just a Neat Shot

It's now been 5 months since I obtained my first DSLR, a beginner's Canon EOS Rebel XS. I have tried my best to participate in almost every one of Gizmodo's shooting challenges to better myself, and I think it's been paying off. Here's my free for all shot. I took a pool raft from my back yard that unexpectedly had a spiderweb on one side of the rafts headrest, suspended in the web were several leaves and other things. I put the lens of my camera in one end of the headrest, using it as some kind of weird DSLR silencer. I pointed it at the pool and took this shot during bright daylight.
f/5 - 1/60s - ISO 100 - 18-55@42mm - Canon Rebel XS
-modestmouse
Looks Like Cherry Blossoms

Canon Rebel XSi, 18 mm, f/8, 2.5 sec, iso 400
I've always wanted to try infrared photography, and this challenge gave me a great excuse to do just that. This is a photo of a dying hemlock tree, which I took at Rainbow Falls this week. I used a tripod and an infrared filter and then did some tweaking in Photoshop.
-Timothy Flynn
Orange Plant

I saw the plant while cleaning the car and really likes how they were slightly translucent, so I grabbed my camera. I used a Rebel XTi with a prime 50mm USM lens at ISO-100 and a f3.5 aperture and used a makeshift reflector. Used Lightroom to sharpen and crop the picture.
-Johann Garces
Forbidden Do'h nut

Canon T1i
28mm
f/1.8
1/4sec shutter
ISO 100
Joby Gorillapod
After the initial focus stacking challenge I had this shot in my head and finally had an excuse to retry this technique. I call this one, "Forbidden Do'h nut".
[Ed note: see focus stacking challenge]
-Will Phan
Spontaneous Sparks

Camera: Canon
Model: Canon EOS 7D
Lens: EF-S17-55mm f/2.8 IS USM
ISO: 250
Exposure: 1/20 sec
Aperture: 3.2
Focal Length: 55mm
I was walking on the streets of Manhattan and this road was under maintenance. This guy was cutting metal rods off the ground and it produced these amazing sparks.
-Abhiram Bandaru
WINNER

This is obviously taken underwater, as this is my primary focus for photography. This is on the ascent line back up to the dive boat. Edited in Aperture for white balance correction.
Canon EOS 7D
Tokina 10-17mm Fisheye Zoom lens @ 13mm
Nauticam NA-7D underwater housing
Zen Dome Port on top of a Nauticam 40mm extension port
ISO200, f5, 1/125, natural light
-Sam Garber
The photos were so diverse this week, I'm not sure that anyone could fairly call a winner—and it was painful to even pick a few favorites amidst so many genuinely awesome photos. So enjoy all the shots in our galleries, and download wallpaper sizes at flickr.
Follow Gizmodo's Shooting Challenge on Facebook
Gizmodo's Shooting Challenge is a weekly opportunity to dust off that fancy dSLR and experiment with hundreds of others in a new photography theme announced every Wednesday. May the best shot rule the internet for a week!
You can easily follow Gizmodo's Shooting Challenge on Facebook: Facebook.com/ShootingChallenge