You may have heard that there's a new version of iOS on the way, bringing with it Group FaceTime and a bunch of other cool stuff. Each iOS update ushers in more new features than Apple can cover in a keynote though, so we took a dive into the first iOS 12 developer preview to see what else is coming down the line.

Please note that while we've gone ahead and installed the iOS 12 developer beta in an effort to show you what's good, it's very much intended only for developers, and you should probably wait until the public beta is available, supposedly later this month, to try it out.
1) iPhone X gestures on the iPad
You can now use a few iPhone X-style gestures on the iPad, no doubt designed to help ease the transition to Apple slates that don't have a Home button but do have Face ID. A swipe up from the bottom of the screen (anywhere on the Dock) will now take you back home.

You can also swipe down from the top right-hand corner of iOS 12 on the iPad to open the Control Center, as on the iPhone X. The older shortcuts and gestures still work, but you might find the alternatives more convenient (they don't work on older iPhones though).
G/O Media may get a commission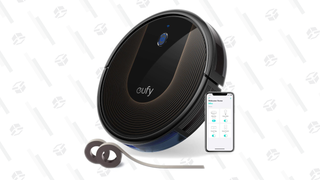 48% Off
Eufy BoostIQ RoboVac
---
2) Warnings about reusing passwords
If you're using the same password across multiple services—something you definitely should not do—iOS 12 will warn you about it, as long as the details are in its password log. From Settings, go to Passwords & Accounts then Website & App Passwords to check.

A little warning sign appears if you're reusing the same password, plus a prompt to change it. As an added bonus, in iOS 12 you can get Siri to take you straight to these password screens directly, with a voice command like "Hey Siri, what's my Netflix password?"
---
3) Instant passcode transfers
This is something that Android has been doing for a while, and it's actually really useful: If you get a text to log in somewhere (if you're using two-step authentication, maybe), then Messages will send the included passcode over to whatever app is trying to request it.

Many apps and services now use an authenticator app as an extra layer of security, but for those of you relying on SMS codes instead, it works well. It might only save you a few taps and swipes, but it simplifies the process of getting into your most important accounts.
---
4) More colors for screenshot edits
Perhaps not a game-changer, exactly, but something that's going to come in handy if you take a lot of screenshots in iOS 12: The simple annotation tools that become available right after you take a screenshot now feature a broader choice of pen colors to work with.
As normal, you tap on the thumbnail that shows up in the lower left-hand corner once you've taken a screenshot. If you then tap the color swab to the right of the pen tools, the last spot is taken up by a color picker, giving you access to many more colors than before.
---
5) Two faces for Face ID
If you want to let someone else get access to your phone via Face ID, iOS 12 makes it possible (well spotted, 9to5Mac). Like the gesture controls we mentioned above, this seems like another feature setting the groundwork for Face ID arriving on the iPad.

To get the feature working, go to the Face ID & Passcode screen from Settings, and then tap Set Up an Alternative Appearance to go through the face recognition process again. Note that you can't remove this second face without resetting both faces at the same time.
---
6) Winks for Animoji
Not only can Animoji (and Memoji) recognize when you're sticking your tongue out in iOS 12, as mentioned in the keynote, Apple says they're better at recognizing winks as well—so your cartoon interactions will soon be able to go to a whole new level of suggestiveness.
Recorded Animoji and Memoji messages can now stretch to 30 seconds too. This is all still limited to the iPhone X and the extra tech it has packed into the front-facing camera, but presumably we'll be seeing more compatible models arrive when September rolls around.
---
7) Siri knows more now
Siri has apparently been reading around more widely since iOS 11 came out—Apple is promising that its digital assistant will be better at answering questions on celebrities, motorsports, and dietary information that would previously have left it stumped.

Another new Siri trick is the ability to surface pictures directly from the Photos app based on person, place, event, time, or topic. As yet though, Apple doesn't seem to have flicked the switch on these particular upgrades, so we haven't tested them for ourselves.
---
8) Disable USB access
As noticed by MacRumors, there's a small but useful security measure added in the developer preview of iOS 12—specifically an option to block access to USB accessories once the phone hasn't been unlocked for an hour. Possibly with an eye on the FBI?

To find the relevant option in the iOS 12 beta, you need to go to the Settings screen then tap Touch ID & Passcode (or Face ID & Passcode), and then look for the USB Accessories toggle switch. Trying to brute force a way into an iDevice just got a lot harder, it seems.
---
9) QR code scan shortcut
The iOS Camera app could already automatically detect QR codes and scan them for you before version 12 showed up, but there's now a QR code shortcut in Control Center anyway—add it by choosing Control Center then Customize Controls from Settings.

The shortcut doesn't do anything except launch the Camera app (something that already has a Control Center button), so we're not sure exactly what Apple is thinking here. Perhaps laying the foundations for a more enhanced QR scanning mode still to come?
---
10) Screen Time widget
Apple has of course already made much of the new digital health features in iOS 12, and if you need an at-a-glance view of just how addicted you are to your phone, you can set up a Screen Time widget in the Today view, one swipe to the right from your first home screen.

The process is the same as it is for any other widget: Scroll down to the bottom of the list on the Today view, tap Edit, then choose Screen Time to add and place it. The whole Screen Time interface is already very useful and polished, even in this first developer beta.
---
11) Automatic software updates

Apple always makes the point about how many of its users get on the latest version of iOS and how quickly, but it seems the process is about to get even easier. Tap on Software Update under General in Settings, and there's now an Automatic Updates toggle switch.
With no official word from Apple on this yet, we're speculating, but it sounds like... updates that install automatically. Will everything run seamlessly behind the scenes? Is this akin to Google's Project Treble for Android? You might never have to see an update prompt again.
---
12) More detailed battery readouts
Dive into the Battery section of Settings and you'll notice a more detailed breakdown of where all your precious battery juice is going—there are new graphs here, showing battery level over time, and which parts of the day you've been using your phone the most.

It's all nicely arranged and fits in with the aesthetic of the similar Screen Time app, and if needed you can see stats as far back as 10 days. Below the graphs you've got your standard list of apps, together with how much of your battery they're using, as in iOS 11.
---
13) A new wallpaper image
A new iOS wouldn't feel right without a new wallpaper image, and Apple obliges with a nicely done abstract imagine dominated by reds, blues, and purples. It comes in both still and perspective forms, so you can take your pick for your home and lock screens.
No new dynamic or live wallpapers are included in iOS 12 so far, but more may well arrive by the time the iOS beta is opened up to the public (which might be as soon as the next couple of weeks). In the meantime we'll keep you posted with any new discoveries.
Correction: This post originally contained screenshots from the developer release of the iOS 12 beta. Those images are covered under a developer non-disclosure agreement. We've replaced the images with some we have the right to distribute. We regret the error.