You'd think that a figure of pure darkness would look like the essence of evil. But the 158 silhouettes from this week's Shooting Challenge are active, earnest, understated, funny, friendly, sexy...and yes...occasionally a little bit evil, too.
Lead Shot
Taken with a Nikon D80 in manual mode with an ISO of 100 and a 28-105 Nikkor that I've had since the 90's. Shot at f/29 for 1/10 seconds with a white shopping bag taped to the window in direct sun, tweaked the tones in PS.
-Joe Pavelsek
Grazing
G/O Media may get a commission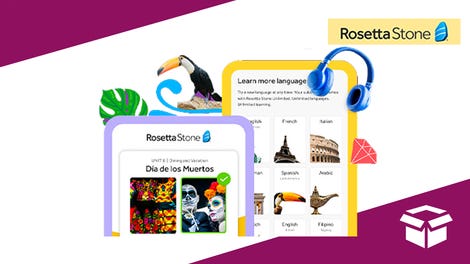 Extra 20% off
Rosetta Stone Lifetime Subscription - All Languages

As I was driving through the country on my way home I noticed several cattle in front of this beautiful sunset. I pulled over quickly and crouched on the side of the road to get the desired angle. I was a little rushed as I attempted to avoid being run over but I tried to make the best of it. Nikon D5000, Sigma 70-200 2.8, 1/1250, f/4.0, ISO 100
-Doug Auerbach
Death Carnival

This shot was done using an iPhone 3Gs camera, no special setting was used. I applied just little Photoshop level tweak.
I was walking enjoying the 2010 Kern County Fair Carnival in Bakersfield, California, when I saw this people taking this high ride. Sun was just falling painting the sky with nice colors. I got my iPhone and took this picture very fast, when I reviewed this shot I noticed this wonderful silhouettes flying around this rotating tower.
-Eduardo Arenas
A Conversation

A conversation between man and his best friend. Canon 7D, Tokina 11-16mm, 1/200s, f/5.0, ISO 100
-Lin Dunsmore
Branches In Sunset

Taken in Julian, San Diego county. This was the sunset right before a vicious rain storm which hammered the area for the following two days. Nikon D3000 w/ 55-200mm, f/5.3, 1/320 sec., ISO 200
-Andre Mere
Spider, Web

I took this picture above the fence next to the place I'm staying in Queensburrow (near Vancouver), BC, Canada. I got up to take out the trash in the morning and it was exceptionally foggy, which doesn't happen very often here. I had actually eyed another shot, went inside and got my camera, took it, then wandered around a little until I found this one. Not much of a story, but that's how it happened! Canon T1i , EF50mm f1.8/ II, 1/250, f/8.0, ISO 100
-Jess Gibson
Fire

This weeks Shooting Challenge couldn't have come at a better time. I live in Norrköping, Sweden and just today there was an empty building that burned down. I was already planning on going on a walk with my neighbor to take photos of the fall leaves but we didn't get out until after the sun went down. So instead of taking photos of the leaves we walked over to the building that burned down and I got to take some photos of that instead. It's situated right on the river side so in the photo you can see the reflection of the fire as well as the strong light the firemen set up while spraying it down with water.
Some slight tone, contrast, and level changes. I then converted the whole photo to black and white and let the fire and 30% of the smoke's original color through. Taken on my Pentax K100D Super.
-Mariathe Phan
Black Is the New Canal

I was in my neighborhood the night of October 1st experimenting with long exposure and stars when I took this picture. This was one of the last shots I took and I was about to quit for lack of success, but I'm glad I didn't. I found this picture very relaxing and decided to submit it because of the silhouette the trees made against the blue sky and it's reflection in the canal. Nikon Coolpix P6000, Shutter Speed: 25 Seconds, F/3.2, ISO 64
-Charlie White
Wait...A Freaking Walk Counts As a Date These Days? Has The Economy Gotten THAT Bad??

I just started dating a girl and we were on a walk last Sunday night for a date. She mention on an earlier date she liked walking around taking pictures with her camera, so we brought our cameras. We were walking on a path by her place and we reached a small valley. On the west side there was a grassy hill and we saw a family crossing the crest on their bikes. She was the one who suggested I take a picture of them. Canon 50D, EF28-135mm f/3.5-5.6 IS USM, ISO: 1000, 1/200 sec at f / 5.6
-Robert Walker
The Model

I took this picture with a Sony Cyber-shot DSC-HX1. The camera was brand new, and I was extremely excited to get the chance to use it. Initially, I found it challenging to capture a silhouette, until I thought of using a window. I ended up having quite a complex setup: First, I closed every door and shade in the room, except for one, so that the inside of the house would be darker than the outside. I then hung up a sheet in front of the window, to avoid capturing the trees in the background, and placed a model sailboat on the windowsill. And then of course, I had to wait for the wind to die down so that the sheet would stop blowing in the way. Once the lighting and wind were just right, I took the picture. The picture was edited a little (within the guidelines), just to make the sailboat stand out a little more.
-Bradley Koval
Payload

This was just a quick shot with a Samsung Vibrant using the stock camera app. No alterations were made with the picture. I chose to leave it this way because it helps add to what the feeling is like when the door and ramp first open. I didn't have much time. Also my camera was in my bag strapped down in the back while I was in the front. This is the cargo compartment of a C-130 Hercules. We had just landed on our flight home, a bit of turbulence I might add. The aircraft was just dropping us off and taking back off, so the loadmaster opens the ramp and door and we exit the rear with all four engines still turning.
-Daniel Thompson
Smoking Dragon

I was siting at my computer and thinking what picture to make when I saw a silhouette of my dragon, so I grabbed my camera and made a couple of pictures and this one was the best :) Canon 7D, EF-S 55-250 IS, 1/20, f/6.3, ISO 100
-Paulius Barakauskas
Leap: Part I

Long story short, my friend and I decided to take a walk Thursday evening and I insisted on going past the new Venice skate park just for the chance to get a beautiful sunset for my very first Gizmodo photo challenge entry.There were several skaters that could really catch air so I was super excited and the sunset was incredible. I doubted I'd get anything good but when I got home and saw this image, to me, it was the one and only to send in. I pretty much just shot straight into the sun, very minor contrast and levels adjustment to help the colors pop. I'm very satisfied with the shoot in general. Canon Rebel T2i, 18-55mm, ISO 200, f/4.5, 1/1000 sec.
-Rachael Campbell
Leap: Part II

We were down in the Coromandel region of New Zealand, We are just coming out of an awful winter down here but today the sun was shining and the temp was hot - first proper day of summer yeayah.. Was around 6 in the evening, Pulled off the road for a smoke, took a wander through the bush and came across a choice waterhole. I was down the bank having a smoke while my mates rigged an impromptu rope swing. As soon as the first one jumped I grabbed my cam and shot this straight off... loving the karate-kick action going on. Was a mint break in the road trip. Sony a200 with Kit lens, 1/2000 sec, f5.6, ISO 100
-James Pendergrast
Electric Highway

An Electric Highway. You see these everywhere. They go on for hundreds of miles without turning. A channel cut right across the land. This is actually a recreation of a shot I took several years ago. I knew I liked the shot for silhouetting, and I still have the original. I knew where to take the shot and when. A problem arose when I realized brush had grown much higher over the years. I ended up standing on the support for a light post to get the shot up above the brush. Another problem was that there were now light posts (one can be seen in the shot). This just makes me realize that a scissor lift would be an awfully handing thing to have (don't remind me that high voltage overhead lines and scissor lifts don't mix well). Nikon D90, Nikon 18-200 VR, 1/60 sec. f/8, ISO 200
-Ryan Powers
Bridge

The shot shows the Boğaziçi Köprüsü (bridge in Istanbul over the Bosporus). I have recently discovered the shooting challenge on Gizmodo and wanted to participate. So this shot is from my vacation in Istanbul last week.
Me and my Girlfriend went spontaneously on a tourist tour through the Bosporus, and this bridge is the strongest landmark of Istanbul due to its special lighting which slowly changes color (for gadgets a meanwhile quite cheap effect, for a bridge it looks nevertheless impressive). So I wanted to capture this famous bridge. As my girlfriend and I share the camera, I told her to try a shot of the bridge, hoping she would see an angle I haven't spotted, and this is the outcome.
In the uncropped picture the bridge wasn't centered (thats why the ratio is be a bit strange) but with this very geometric form of the bridge the symmetry enhances the beauty of the shot. To me, this is the most impressive shot out of the 500 pics of the last week (though not the best since it is not typical for the region). Canon EOS 350D, Canon 18-55, 1/60, f/5.0, ISO 1600
-Damian Vogel
WINNER - Hot Air Balloon Eclipse

My fiancee and I were at the opening day of the Balloon Fiesta in Albuquerque, NM taking tons of pictures. I was trying to find a way to incorporate the silhouette challenge, but wasn't having much luck. Then, I felt a shadow come over me and was able to turn around quick enough to take a picture just as a balloon was passing in front of the sun. FujiFilm S9100 (ISO 100, f/8, 1/2000).
-Matthew Recker
Incredible entries this week—with a lot of novel use of the silhouette. The three full galleries are below, and you can download the wallpaper-sized photos on flickr. (Note: I know this flickr setup isn't ideal, but it's the best we can do for now. Please guide those in the comments who don't know the wallpapers are on flickr appropriately.)
Gallery 1 (one page view)

Gallery 2 (one page view)

Gallery 3 (one page view)

Want to take even more unpaid photos? Visit my new site, Life, Panoramic, and share a day in your life. Or, you could just stop by to spy Kat Hannaford's photography of South London.