Yeesh, this is a scary, weird year to be living on planet Earth. And we haven't gotten those danged off-world colonies set up yet, for some reason. There's no escape! Except, as Emily Dickinson would advise, to say "frig it," and read a book. So here are 16 friggin' great books to help you forget about 2016.
1) The Long Way to a Small Angry Planet by Becky Chamber
We called this book "probably the most fun that you'll have with a space opera novel this year." It's the story of a young clerk who gets a job on an interstellar ship called the Wayfarer, that's just gotten an exciting new mission: Opening a tunnel between two very different parts of space. This is the story of a group of people on a year-long space voyage, and how they become a family.
2) Brilliance by Marcus Sakey
G/O Media may get a commission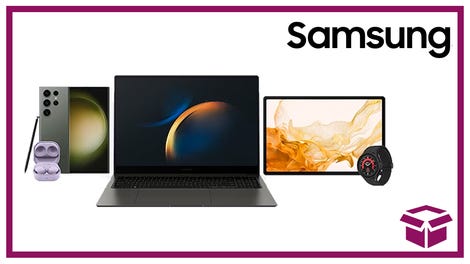 24 hour deals
Discover Samsung - Daily Deal
This thriller is just non-stop excitement. What do you do when a small proportion of the population can out-think, out-maneuver, and just plain massacre everybody else? Nick Cooper joins a special agency dedicated to controlling the "Brilliants," just as one of them slaughters 73 people in a crowded restaurant. We praised the "fast-pace and gripping story," and the cinematic feel of the narrative.
3) A Darker Shade of Magic by V.E. Schwab
So many fantasy novels have a great setup and then just kind of flop around like a fish on the pier. But A Darker Shade of Magic is the exception—a book with a brilliant setup, that absolutely follows through, and is just too much fun for one book. There are four different universes, and a few magical individuals can travel from one to the other. But the rulers of magic-blighted White London are seeking unspeakable power, and only a magician from the more magically enlightened Red London can stop them... with the help of would-be pirate Lila Baird. The sequel is also great.
4) Year Zero by Robert Reid
The guy who created the music service Rhapsody wrote a novel about music and copyright law, and it's... actually quite funny. I know, weird. But the premise is killer: A bunch of aliens discovered that humans are especially good at making music, and so they've been quietly collecting every bit of music produced on Earth for decades. Until they find out about Earth copyright law. Because the aliens want to respect our laws, they owe us more wealth than the entire galaxy contains, to make up for their piracy. Orrrrr... they could just destroy the entire planet, instead.
5) The Paradox Trilogy by Rachel Bach
We described the first book in this trilogy as being like "Firefly as told by Lois McMaster Bujold." Are you in yet? Here's more Devi Morris is a mercenary who's hired to work aboard a spaceship called the Glorious Fool, that has a bad reputation for getting into too many fights. But soon she realizes that something about the rest of the crew is... off. The second book in the trilogy is even better, with higher stakes and kickass action.
6) A Knight of the Seven Kingdoms by George R.R. Martin
These days, Martin's name is not really synonymous with "wacky fun times." Which is too bad, since he's actually a funny, engaging writer when he's not plunging everyone you love into endless misery and unending winter. This collection of three linked novellas about Dunk and Egg, a hedge knight and some weird bald kid, is just brilliant adventure fiction, with hints of Martin's usual preoccupations about statecraft and the nature of power just lurking around the edges.

7) Persona by Genevieve Valentine
Valentine didn't just make Catwoman cool again—she also wrote a super-fun political thriller, set in a future where the line between diplomats and celebrities is basically gone. A glamorous young diplomat named Suyana survives an assassination attempt, but is forced to team up with an ambitious paparazzo named Daniel to survive. [Full disclosure: Valentine is an io9 contributor, and a friend of mine.] We praised this "lightning-fast thriller" for its cool ideas as well as its pace, which starts "with a bang: you're barely twenty pages in when the shots start firing, and after that, she barely lets off on the throttle."

8) Frostborn by Lou Anders
OK so this is a middle-grade book, which means it's technically for kids. But that doesn't change the fact that it's a ridiculously fun, super-exciting adventure. Karn is a nerdy kid whose dad expects him to run the family farm—but Karn just wants to play a complicated, fancy board game instead. And meanwhile, Thianna is a half-frost giant girl who gets bullied by all the other frost giants because she's so tiny. (Only seven feet tall.) In other words, it's about a gamer and a weird girl who have to team up to save the world. And it's just non-stop fun.

9) The October Daye novels by Seanan McGuire
McGuire's long-running series of urban fantasy novels feature a world where faerie courts are right there in the city, and you could almost find them if you just knew where to look. The first book, Rosemary and Rue, sucks you in on the very first page when half-faerie detective October Daye is investigating a case and gets herself caught in a horrible trap. And then the world-building carries you along, as you meet the King of Cats and discover all the weird magical stuff in this alternate San Francisco.

10) Libriomancer by Jim C. Hines
This book has such an off-beat premise, it really shouldn't work—and yet it does, beautifully. In Hines' world, a select group of magicians can pull anything out of a book and make it real. Including "sparkle vampires" from Twilight, and various other items from books. The result is a ridiculously geeky story about people who spend way too much time obsessing about science fiction and fantasy books—except for them, it's a source of immense power. (And responsibility.)

11) Wake of Vultures by Lila Bowen
Caution: This book is probably more violent than most of the others on this list. It includes some pretty hardcore violence, which might not be "fun" in some people's books. That said, it's a super-exciting ride—Nettie Lonesome is a young girl who grows up being abused by her step-parents, until she kills a vampire and starts being able to see magical creatures everywhere. Soon, she's disguising herself as a boy, in the vampire's clothing, and becomes first a cowboy and then a ranger. There are some deep themes about identity and stuff here, but also just nonstop wild action.

12) Rivers of London by Ben Aaronovitch
Aaronovitch's book series about a cop who becomes the final apprentice to a police wizard, who deals with all the magical problems in London that regular coppers can't handle, is just as much fun as you'd hope. The plot keeps chugging along and grabbing you by the throat with its urgency—but meanwhile, it's just as much fun to watch Peter Grant screw up and grope his way through encounters with river gods and other magical entities.
13) The Unbreakable trilogy by WC Bauers
This military science fiction trilogy has been rocking our galaxy, with the story of Promise Paen, a space Marine who's forced to return to the homeworld she left long ago. But more importantly, the evil Lusitanian Empire has designs on the Republic of Aligned Worlds, and Promise gets caught up in the middle. Read an excerpt here.

14) The Entropy of Bones by Ayize Jama-Everett
Here's another one that's a bit more violent—this book is basically an action movie on paper, about a badass girl named Chabi who basically never loses a fight. Until she gets drawn into the orbit of a mysterious rich guy who runs a magical hotel where he wants to stage the greatest prize fight of all time. The action sequences in this book are some of the greatest things I've read in ages.

15) Queen of the Tearling by Erika Johansen
We called this book "pure tasty fantasy candy," and that pretty much sums it up. Kelsea has been hidden away in a tiny cottage in the middle of nowhere, being cared for by two foster parents, because she is the heir to the throne of the Tearling. But there are tons of people who will stop at nothing to keep her from taking the throne—and once she has it, she must decide whether to keep paying tribute (slaves) to the neighboring kingdom, or risk a war.

16) Half a King by Joe Abercrombie
And here's a YA book, from the master of "grim dark" fantasy. Yarvi is disabled, due to an injured hand, and nobody expects him to take the throne of his father's kingdom—until his father and brother both die, and he has no choice but to become King. But ruling is no easy matter, and Yarvi ends up going to hell and back. That sounds dark and terrible, but this is actually a page-turning adventure novel in which Yarvi's cunning and brilliance are fun to watch.

Additional reporting by Andrew Liptak.
---
Charlie Jane Anders is the author of All The Birds in the Sky, which is available now. Here's what people have been saying about it. Follow her on Twitter, and email her.