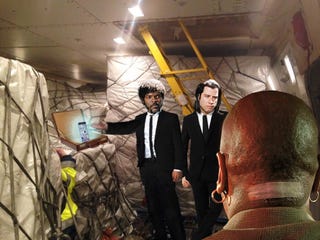 Earlier in the week, we got a (supposed) glimpse inside one of the many iPhone 6-laden cargo planes that just finished making its way across the Pacific. But since you can't actually see any iPhones in the original photo, we asked you to fill in the blanks. These are your champions.
First place above goes to none other than kflebeda for managing to be both clever and non-wildly offensive. Something that is, apparently, quite a feat. Our lucky runners-up lie below, and you can check out all the entries in their entirety down in the comments below.
And remember, even if you didn't come in first place this time, you're all winners in my book. Except for the ones that lost.
via phenomejohn
via SycoticDog
via magnanimous1
via Aphelion451
And just as a reminder that sometimes the simple way is often the best way:
via fluffy