In this week's Shooting Challenge, 264 photos submitted by our readers capture everything wonderful about spring. Take your time to check them all out—it's a real treat. This is the absolute best group of entries yet.
Lead Shot
Canon 30D
lens-canon 60mm macro
f/10
1/250 sec
Aperture priority
-Chris Andrews
Memorable Mobiles

"Shot on an iPhone 3GS at the corner of Park Ave and 86th Street in Manhattan. Photo was toned using the app Tilt Shift Generator."
-Ryan Meehan
G/O Media may get a commission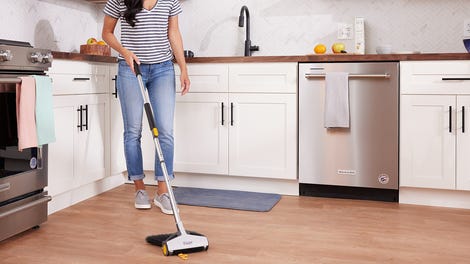 BOGO 50% Off
Flippr - BOGO 50% Off

This is a parrot tulip I shot in my garden, after a rainstorm. (Yes, you can be a gearhead and a garden freak at the same time). I shot it on my iphone, and post processed it with the Swankolab app.
-Michael Schwartz
These Two Shots Are the Bee's Knees

Camera: Nikon Coolpix P90
Focal Length: 44.0mm
35mm equivalent: 247mm
Exposure time: 0.004s (1/225)
Aperture: f/4.5
ISO: 64
-Pete DeFazzio

I usually shoot with a Canon SLR but my girlfriend and I were out and the only camera we had was her P&S Olympus FE-370. I set the camera to super-macro and kept taking pictures of this bee till it flew away. I was impressed by how well the shots came out for a fairly old P&S. No special settings, just auto mode.
-Shayan Rostam
In Bloom

Camera: Nikon D90, jammed into a nook of the tree to keep it steady during the exposure.
Lens: Tokina 11-16 mm f/2.8
Focal Length: 16 mm
Exposure: 0.6 sec at f/2.8
ISO: 250
The shot was inspired by the lines in the challenge post "the long-slumbering skeletons of wood are coming back to life". This was shot in a bloom of cherry trees on Roosevelt Island in New York City. The setting spring sun on the right casts a warm glow on the branch, and the pink blossoms of the tree impart a pinkish hue to the other side. The sky is bright blue on this unseasonably warm evening.
-Sourabh Banerjee

Shot of a bud in my wife's garden. Seemed like a chilly, classic New England morning - a little cloudy and overcast. I thought that this represented the coming of spring despite the muted feel of the morning.
Taken with Nikon D40 with 35mm f1/8 lens at ISO 200 and f5.8. Performed post processing with Apple Aperture - just a little tweaking of the color and a crop.
-Jason Sargent

Taken with a Nikon D60 with a 50mm f/1.8D lens. iso @ 100. f/1.8. 1/800 shutter. shot on manual mode. Free lens technique used for this photo.
-Will Larney

Canon Rebel XSi
18-55 mm kit lens
53mm Focal Length
1/800 F5.6 ISO 200
I was sitting on the curb in downtown Topeka with my camera slightly angled upwards. When I saw the photo I was sure that it must be what a little bug must see.
-Melissa Meek-Shields

Aloe Vera plant blooming in my back yard
Canon 30D
Sigma 17-70 Macro
ISO 250
1/160 sec at f6.3
no flash
-Wade Courtney

Canon EOS Rebel T1i
1/200s
55.0mm
f/10.0
ISO: 400
Canon EF-S 18-55mm f/3.5-5.6
Hiking in Mt. Rainier National Forest on a sunny spring day. Trails covered with melting snow, mushrooms and plants popping up all over, bright sunny day.
-Alexander Lawrence
Buds

-Anne P. Masterson

Just got a set of Opteka Macro tubes... These were shot around the
neighborhood using a t2i, a 50mm prime, and macro adapters. ISO 160,
f/2.8, 1/1250 shutter.
The bud photo is of a 'Crown of Thorns' succulent.
-Michael Koperwas

Canon PowerShot S90
6mm
ISO 80
f 2
1/100 sec
I was about to step on it but I realized that I had a camera. And a shooting challenge.
-Gray Crawford

This comes from a pine forest in South England, as the sun was thinking
about setting.
Model - NIKON D40X
ExposureTime - 1/100 seconds
FNumber - 5.60
ISOSpeedRatings - 100
DateTimeOriginal - 2010:04:10 17:02:37
Lens: Nikkor 55-200mm VR zoom
FocalLength - 200.00 mm
-Andy Macklin

This was the only flower that hadn't blossomed in a group of many. This was taken in front of the Seoul National Assembly building.
Canon EOS Rebel T1i
f/5.6
1/60 sec
iso-250
focal length 55mm
Natural Sunlight
-Thomas Lovett
WINNER

"Taken with my Canon T1i with a cheap 50MM lens and really cheap extension tube set. F22 to get as much depth as I could ISO400 1/45 of a second laying on my belly. It's spring and the Dandelions are already blooming in my lawn. As I looked through the lens I saw someone looking right back. I think he was telling me to stop bothering him doing his spring cleaning, and it was time for me to start doing mine."
[Ed note: You notice the color...then you see the intricate curls of the pollen...then, you look even closer...and the reveal is like being witness to a tiny miracle of nature. To see what I mean, look at the larger, uncompressed version here.]
-Tom Marshick
Look through these photos—I think you could make an argument that about half of them should have "won"—whatever exactly that means in the grand scheme of things. Superb creativity and technique by all. It's an honor to curate your work, and I think we can all appreciate spring a bit more because of it.
There are four galleries below (sorry, tech limitations mandate it). If you'd like to skip the gallery format, just click on each "part" and you'll be taken to a scrollable page.
Oh, and you want these in wallpaper sizes? Go here.
Galleries assembled by the tireless Kevin Lee.
Follow Gizmodo's Shooting Challenge on Facebook

Gizmodo's Shooting Challenge is a weekly opportunity to dust off that fancy dSLR and experiment with hundreds of others in a new photography theme announced every Wednesday. May the best shot rule the internet for a week!
You can easily follow Gizmodo's Shooting Challenge on Facebook: Facebook.com/ShootingChallenge