On any given day, we're all living vastly different lives, often doing the exact same things. For our Memorial Day Shooting Challenge, we had you photograph the day, whatever that day held.
Winner - Three Brave Souls
My friends and I packed up a few cars full of people and headed to the beach this Memorial Day. Among the first to get in the water were these three brave souls- quickly realizing it was (quite literally) freezing! Other noteworthy, but not photographically exciting, sites of the day: a beach umbrella being blown into the water, sinking, and a scuba team going out to search for it (flippers included). Taken with a Nikon D3000 at 22mm, fstop 9 and 1/200 exposure time.
- Hannah Nofsinger
Chicago's Memorial Day Parade
At noon in Chicago, I was standing-by the parade route thinking about how could I possibly shoot a decent snap without access to any of the elevated places around the downtown when I noticed a natural diversion in the route. I quickly got into the position and sure enough it provided me a central location to click a symmetric photo without disturbing the parade. I used an HDR app on my phone to give it some flavor. iPhone 4.
- Adwait Bhagwat
G/O Media may get a commission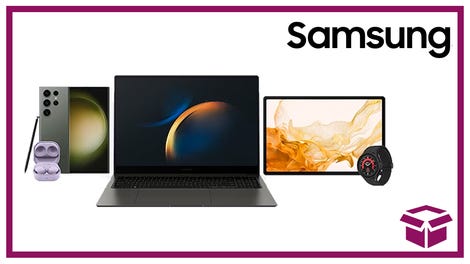 24 hour deals
Discover Samsung - Daily Deal
Artistic Liberty
I went to the museum today and this lady cut in front of me and sat down to stare at a Rothko painting. I found this equally rude and fascinating. She really wanted her own space to just stare intensely and focus on this painting. I was behind her and the shot just lined up like magic. I guess it was the intensity of staring at something that I really wanted to capture. Shot on iPhone 4Gs in HDR Mode. American flag was painted/altered/added in in Photoshop, some color treatment and cropping for symmetry and composition.
- Stephan Fleet
Viva La Revolution
On my way to see the Lincoln Memorial, with a few German friends who were visiting, we stumbled upon the Memorial Day Parade in Washington, DC. I wasn't planning on staying too long to watch the parade, since they are so many in DC but there was something very special about this one. The way the crowd reacted to the battalions, ROTCs students, characters, and specially active personnel, was very touching which made me get my camera out and start shooting. The crowd seemed to have quite a favorable reaction to these characters; Maybe it was the fact that we were in Constitution Ave, as people dressed in George Washington's costumes marched as the Washington Monument on the background stood strong. Canon T2i, Kit lens 18-55mm, f 4.0, 1/640, ISO 100, No flash.
- Armando Gallardo
No Cal Patriotism
After finishing breakfast with some friends on Memorial Day, I noticed the placement of these objects and found them somewhat intriguing. While I was taking some photos from different angles I started to ponder the symbolism pictured in this photograph and their juxtaposition in relation to each other. I considered both their literal and figurative symbolisms and how those can be compared and juxtaposed with each other. Consider firstly, how the ketchup, pepper, and salt work together. Then, as we all know, cream and sugar/splenda goes with coffee, so how does that add to or detract from your current thoughts of the representation. I have my own thoughts, but I would also like to invite the viewer to enter into the discussion and ponder for them self what these objects represent. This photo was shot using a Canon 60D with Canon 50mm f/1.4 lens at 1/60sec. @ f/1.4 ISO 100.
- Jonny Tai
Under the Oak Tree
The tombstones of those who have fallen at the Beaufort National Cemetery. Taken just after the Memorial Day Ceremony ended. There is this large oak tree in the center of the cemetery.
- Francis Armetta
Drowsing In The Sun
Taken late in a beautiful Boston day. Cristin drowsed while I played with my toys.. Canon 5D Mark III, 70-200mm f/4 @ f/5.6, 1/640th, ISO 160
- Chris Anderson
Nostalgic
I participated in Memorial Day at San Francisco's National Cemetery. There was a ceremony with many veterans and outstanding speakers at the podium, however what caught my eye was the row of classical cars parked on one of the streets embellished with American flags. I thought this captured Memorial Day in a nostalgic way. I thought of all the veterans that used to drive these cars. I took the photo with the Nikon D40 with an ISO of 200, 1/250s at f13 @112mm. I tweaked the coloring just a bit in photoshop.
- Stacy Repin
Thanks to everyone who put in a little camera work over the long holiday weekend. The full gallery is below. The big shots are on flickr.