Now that Doctor Who has, to all intents and purposes, left our screens until 2010 (Yes, I know that SciFi still has a few episodes left of the current season, and that there are four specials starting this December), you may be wondering what can fill the void left behind? Under the jump, we look at the two shows hoping to do just that very thing - One for American audiences, and one for the UK.
Talking to the UK's Daily Telegraph newspaper, BBC Wales' Head of Drama Julie Gardner - the person responsible for giving the current Doctor Who the green light - talks about her joy at the time traveler being able to take a semi-sabbatical through 2009:
Isn't it a marvellous thing? Our main motivation for giving Doctor Who a break is that we want the audience to remember how much they love it. Come 2010, we want people to be cheering its return.
She also mentions how she wants Britain to spend its Saturday nights while remembering how much they like jumping around the universe in the Tardis:
While the Doctor's away, I'm waiting for Merlin to take over my Saturday nights.
Merlin? Just another example of what British television executives have taken to calling "Three-Generational Television." That is, television that adults can watch with their parents and their children, and everyone enjoys it equally. With the overwhelming success of Who, 3GTV has become the new Holy Grail of British broadcasting, with mixed results (Robin Hood, for example). Everyone wants to come up with the new genre hit for kids and grown-ups alike... and both British and American programmers are hoping to catch Doctor Who's lightning in a bottle with these two new fall shows.
G/O Media may get a commission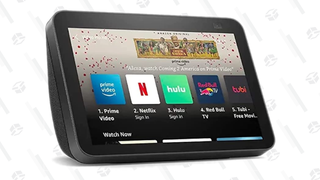 Originally announced over a year ago, the BBC's new Saturday evening serial Merlin comes from the same people who brought you Hex, the little-remembered (and with good reason) British rip-off of Buffy The Vampire Slayer. Focusing on the early lives of Britain's most powerful magician as well as the soon-to-be-King Arthur, the new series stars Anthony Head (Buffy's Giles, currently lighting up British screens in the crime drama The Invisibles) as well as various Doctor Who guest stars. The official description of the series goes a little something like this:
Merlin brings to life a new legend for a modern audience. Merlin is an exciting, hour-long fantasy series set in the mythic city of Camelot – but inspired by 21st Century storytelling. Before Merlin (Colin Morgan, Doctor Who) and Arthur (Bradley James, Lewis) became legends, they were ambitious young men looking for adventure, hoping to live up to their family's expectations, discovering love and finding their own true destiny, making mistakes along the way. The innovative, action-packed drama has cross-generational appeal and paints a picture of Merlin and Arthur's early life that audiences have never witnessed before.
That's right: It's Excalibur: The Early Years. Here's hoping that that "inspired by 21st Century storytelling" line doesn't mean that we're going to hear a Coldplay song when Arthur gets dumped by some Camelot babe because he's too old-fashioned or whatever.
While British audiences are looking back to the days of yore, American audiences will be looking back even further when Primeval finally makes it to US shores via BBC America. We've already introduced this time-traveling mish-mash of familiar elements - They're scientists! Who travel in time! And deal with the crazy time-displaced monsters that come into the present day by accident! Led by a man haunted by the mysterious disappearance of his wife! - that BBC America are going to put in their Torchwood/Doctor Who Saturday evening slot, hoping to replicate the success of those two shows, but if you're worried that it sounds too similar to shows that you're already watching, listen to show star Douglas Henshall:
"It's the one question I've been getting asked about the most: people comparing the show to that Doctor," Douglas Henshall, who stars as an evolutionary zoologist who deals with creatures from the past and the future, said in an interview at the Television Critics Association's press tour in Beverly Hills, Calif., this week.

Henshall has instead been comparing the show to The A-Team. "I was mainly trying to avoid the comparison of the show we don't want to mention, and so I picked something very different, and our show is more of an ensemble like that show was," he said.
So, less screwdrivers and more loving it when a plan comes together, then. And drugging people's milk to get them onboard planes.
Merlin starts in the fall on BBC One, with Primeval starting August 13th on BBC America.