In the northern hemisphere, yesterday was the summer solstice - the longest, lightest day of the year. Here are 45 different photos that you took in full-out pagan celebration.
Winner - Meade's Pyramid
The pyramid in the foreground is called Meade's Pyramid, built in 1903 to commemorate the Civil War First Battle of Fredericksburg. I chose a pyramid because of their celestial connotations, this one's historical significance and it's aesthetically pleasing position under the setting Sun. Note the dragonfly center-left. There were many in the field and I was lucky enough to capture one. This was my first shooting challenge, I hope you enjoy it. Canon Rebel XT, Exposure 1/800s, Aperture 32, ISO 100, Focal length 290mm, 7:54PM
-Josh Harding
8pm Corn
It was an amazingly long day since I arrived at work at 8am and left at close to 8pm but although there was a thunderstorm, the sun came out as though it was morning and since the rain had watered the corn it looked very much alive and happy as it was absorbing the still "high in the Sky" sun. iPhone 4, 1/7500s @ f2.8, iso 80
-Nils Rohwer
G/O Media may get a commission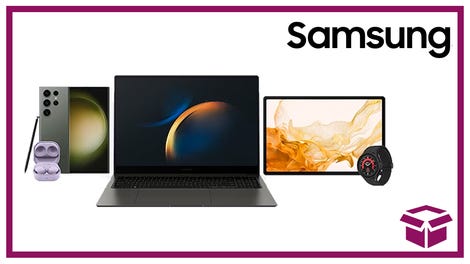 24 hour deals
Discover Samsung - Daily Deal
Waikiki
For this entry I was lucky enough to be at a friend's apartment at sunset. I looked out to see a pretty decent sunset through some buildings in Waikiki. I decided to take a HDR photo of the sunset to make it seem a lot more dramatic being that it was the Summer solstice. The HDR was created using using Nik's HDR Efex pro. The three photos used to create the HDR were taken with a Canon 7D with a 10-22mm f3.5/4.5 Lens.
-Robert Nakama
Solsticeflowers
My wife and I had a date night with a quick dinner and then a movie. I brought my camera along in case I saw something that would make a good picture for this challenge. While driving home, I stopped near Missile Site Park, just west of Greeley, Colorado. I'd taken pictures from here before of the mountains, and I wanted to do the same tonight while the sun was still out. My wife loves sunflowers and we just happen to see these little sunflower look-a-likes when we stopped. I got out of the car and was able to snap a few quick pictures before the mosquitoes started attacking me. I think flowers like this on a nice sunny day are a good representation of the first day of summer. Photo taken with a Canon EOS 60D with a EF-S 18-135mm f/3.5-5.6 IS lens. Camera was set to Aperture Priority Mode. Picture settings are: f/4, 1/1600 sec, ISO 100, 20mm.
-Logan Thomas
Scorcher
The shot I wanted was the sun catching only the heads of the weeds in the field across the street from my apartment. I almost missed the sunset, because I had to eat. I sprinted down, hopped a fence, and snapped less than 10 photos as the sun sank. Postprocessing, I quickly realized that capturing that is very, very hard, because it means the rest of the photo must be dark. But through a happy accident, as I was editing the curves, the sun turned blood-red and the field yellow - and added fluorescent blue and green fringing. I liked it. So I replicated the effect without the fringes. It's a little noisy, but I actually like it that way. The noise looks like heat waves up close, and the close focal point reinforces the feeling that heat is blurring things farther away. Equipment: Canon T2i, 50mm f/1.4 lens. Settings: 1/800 sec, f/2.8, ISO 100. If Gizmodo let me title my entry, I'd call it "Scorcher". It was 95 degrees today, which is just about as hot as Palo Alto gets.
-Joel Frederico
Panorama
I decided to try something new for this week's challenge and take my first foray into HDR photography. I decided I'd give the auto-bracketing on my D90 a shot to get a few nice pictures of our sunrise here in Miami Beach. The photo was taken at South Pointe Park and is an HDR image of three individual panoramas with 2-stop intervals, each of which was composed of three unique shots, for a grand total of nine shots. This was shot with a Nikon D90 equipped with the 18-105mm kit lens and almost all the photos were taken at 52mm (haha nobody's poifect). I used Photoshop CS3 to merge and blend and Photomatix Pro to do the HDR tone-mapping. Hope you enjoy!
-Dale Cohen
A Real Life Sunset
For the past three days, the weather here has been beautiful. Gorgeous, clear and sunny. And what happens today? The day I actually need to take a photo for the summer solstice? It gets socked in with fog. I was all prepared to get a great shot of the sun shining on my local park with phenomenal views of the vast Pacific Ocean. I even got up enough nerve to ask the nice couple sitting on the bench if I might photograph them for this project. Oh well. Canon EOS Rebel T1i, EF-S18-55mm f/3.5-5.6 IS, f/22, 1/400, ISO 1600
-Matthew Johnson
Solar Lens Flare
I went hiking near the Griffith Observatory, after a long day at the office producing lesbian porn. I was thinking of doing the cheesy landmark sunset photo of the Hollywood sign, but i liked this photo better. There's a pretty sun sparkle and a ghetto chopper in the sky, the Hollywood sign is in there mostly not visible though and don't forget about the token pretty palm trees. :) This photo was taken using a Canon PowerShot ELPH 100 HS. Manual settings.
-Rebekah Nazarian
Abandoned
Remember passing by this and thought this would have been a great shot to show the summer solstice heat beating down on this abandoned air strip. Picture was taken at 8:02pm and it was HOT out, approx 96 degrees. Located in Lodi, CA. Although I was just in Yosemite a few days ago for fathers day, there would have been THE place for some summer solstices pics but too bad I had to go to work. Shot using my Canon Rebel T2i w/kit lens. Shot in RAW / ISO 100 / focal length 55 mm / f/6.3 / shutter speed 1/1600 / WB: Daylight.
-Daniel Jennings
Tree on Fire
I shot this photo with my Olympus E-5 paired with my 12-60mm lens at f/5.6 with an ISO of 100. I had the day off from work so I had been driving all over the countryside shooting things. As the evening began creeping in I drove out to a spot on the prairie where this singular tree sits stoically amongst the verdant fields. That special blend of high altitude clouds which can make a sunset ever so sweet also just happened to be perched up it the Solstice sky, so I happily snapped away. I've spent many an evening perched at this particular spot trying to capture that "perfect" sundown shot. I don't always succeed, but I always come back. The true parable I like to say, is that if you never try you never get the shot. Hope you enjoy!
-Pierce Anderson
Serious Sun
My boyfriend and I were biking 15 miles to Taco Tuesdays and decided to stop at the bottome of the causeway for this shot. As we were coming down the sun was just starting to peek out from the clouds. This photo was taken at the Melbourne, Fl Causeway. Canon EOS Rebel XTI, 1/1000, 1600 iso.
-April Chunn
Wow, I can't believe how many of you went out on a Tuesday to snag a photo of the solstice! Kudos to you for neglecting work, family and friends to take part in our weekly cult activity. You can find the full gallery of entries below. Wallpapers are on flickr.
Mark Wilson is the founder of Philanthroper, a daily deal site for nonprofits.