May 25, 1977 was a landmark for film fans; it was the day Star Wars was released and basically changed the entertainment landscape forever. That also seems to be the story the movie 5-25-77 , written and directed by Patrick Read Johnson, wants to tell. Maybe. Possibly? Honestly, after seeing the trailer it's kind of tough to tell.
Honestly, it's less about Star Wars than it is a love-letter to the films that came before it. Which in and of itself isn't a bad thing, but... well, check out the trailer via Ain't It Cool News:
5-25-77 stars Freaks and Geeks' John Francis Daley as Pat, a character based on Johnson himself, who grew up with the scifi of the late '60s/early '70s, made his own movie at home, and then was the first kid on his block to see Star Wars.
There's no doubt this movie was made with more passion than money, and you've got to respect it for that. But this is not a great trailer. For instance, for a movie titled after the premiere of Star Wars, there's shockingly little Star Wars in there, and nothing about how it inspired him. It feels more about his connection to 2001 or Planet of the Apes or Jaws. (How creepy is that dead on Spielberg look-alike, for instance?) Or maybe it's just a movie about his passion for filmmaking in general, which would probably be fine... if the movie wasn't called 5-25-77.
Maybe that's just the pretentious Star Wars fan in me. But it just feels like the idea of the movie feels more exciting than the reality the trailer is presenting.
G/O Media may get a commission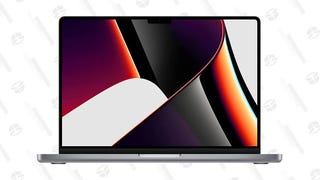 Save $300
2021 14" 1TB MacBook Pro
Also, if 5-25-77 looks more dated than even its period setting, that's because Read Johnson had originally planned to release it in 2007 for the 30th anniversary of Star Wars. What happened in that 10 years since is probably a story worthy of a film itself. We just hope this movie ends up being more interesting than this trailer. We need more passion projects like this to make it all the way into our eyeballs.
5-25-77 will be released 5-25-17.