Facebook spent most of its F8 developer keynote talking about the future of the company. Messenger, Oculus Rift, Zuck's gray t-shirt, a Donald Trump reference—it was all there. But rather than forcing you to sit through an hour of "the power of global connection" overstatements, we did all the hard work for you, and compiled this complete list of Facebook's greatest hits.
---
1) Chatbots want to be your new BFFs
Zuckerberg repeatedly hammered home the fact that today's keynote was a glimpse into the next decade of Facebook, and chatbots were clearly the centerpiece. Short for chat robots, chatbots are essentially pieces of software that are capable of simulating human conversation—and they might soon become really useful.
"Between Facebook Messenger and WhatsApp, people are sending 60 billion messages a day," Zuckerberg said during his keynote speech. "Now we're exploring how you can communicate with businesses. You should be able to message a business like you message a friend."
G/O Media may get a commission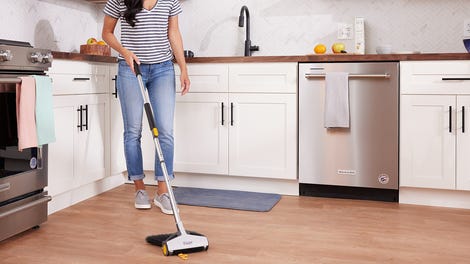 BOGO 50% Off
Flippr - BOGO 50% Off
That's the goal of Messenger's new chatbots. For example, Zuckerberg demoed 1-800 Flowers, a flower delivery service that can now order and deliver flowers with just texting. Other bots that were demoed, like Poncho The Weather Cat (no joke), use a more conversational approach to delivering the weather, mimicking a natural chat as close as possible. Both of these bots launch today in Messenger, and you can find ones with typical search bar or a Messenger bar can also be embedded in company websites.
Apply this idea to every service industry and local business you can think of, and you see how chatbots could change how you use your smartphone.
---
2) VR is here and Facebook is psyched
With last month's official launch of the Oculus Rift, Zuckerberg is back again selling VR hard, calling it the "most social platform" ever created.
The lone hardware announcement was showing off a new Facebook Surround360 camera, a VR camera for creating 3D digital content. However, Facebook made clear that they're not going into the camera business, so instead this hardware will all be open source. The camera looks similar to big VR rigs that have come before it from Nokia and Jaunt. It's geared up with fish eye lenses and wide-angled lenses. Long story short: Facebook really wants people to make VR content.
But Zuckerberg was frustratingly vague about what's next for Oculus, other than finally releasing the already delayed Oculus Touch controllers. The big takeaway is that Facebook isn't satisfied with just VR. Augmented reality will also be a big push for Zuck and company in the next decade.
---
3) FB Live wants to kill Periscope
When Periscope and Meerkat (lol, remember Meerkat) debuted, they existed in a vacuum when very few live streaming apps were available. But that's not the case anymore. FB Live is making an aggressive move to change that by opening up its FB Live API so developers can build new features on top of its live streaming service.
The lone example that Zuckerberg showed on stage is piping in footage from a DJI drone directly into FB Live—without having to anxiously affix your smartphone to your crash-prone drone.
---
4) Reminder: AI is coming
Every company on the planet is obsessed with artificial intelligence, and Facebook is no different. Zuckerberg pointed out how AI is being used in awesome ways, for space exploration or creating self-driving cars. Facebook will be using AI to show you cool stuff that you didn't even know you wanted to see.
"Our goal with artificial intelligence is to build systems that are better than humans at perception," Zuckerberg said. "In the future, we'll be able to look at photos and understand what's in them, read articles and know what they're about."
Facebook has now open-sourced lots of its AI tech, meaning when Facebook makes big AI gains, apps based on its tech benefit as well.
M, Facebook's own semi-human-assisted version of Cortana or Siri, also got a brief mention at the event. The technology for M is also open to developers to build bots on Messenger, though it's not the only way to create a Messenger bot. The tool itself is very similar to the Bot Framework Microsoft introduced in March.
---
5) Lasers
Likely a reference to Facebook's internet-delivering drones. But still—lasers.