There's no better way to say "Merry Christmas, dear friend" than with a double-bevel compound miter saw or a heavy-duty 18V impact driver. But before you pick up a cordless tool for that special someone, keep these five things in mind.
Don't buy a Lamborghini if you don't drive fast.
Cordless tools used to be heavy, unwieldy behemoths sporting fat nickel-cadmium batteries. But tool companies have slimmed their products down with sleek, longer lasting lithium-ion cells. Thing is, Li-ion tools are expensive. Which is why manufacturers still make the old NiCad tools.
If you're not too handy and plan on only using your power tools for the occasional shelf hanging or plywood cutting, you'll be just fine with NiCad batteries. They weigh a little more and they take a long time to charge (sometimes as much as 3 hours), but for most projects you're not likely to go through more than the two batteries most tools come with. And they cost a lot less: The same tool kit that might be $275 with Li-ion batteries would only be $150 with NiCad.
But if you plan to spend every weekend this spring building that climate-controlled comic-book library, you're going to want to go Li-ion. The batteries charge in as little as 30 minutes, they last longer, and they weigh less. Which means your arms won't get tired as quickly. You can even choose between regular slim packs and longer-life fatties.
G/O Media may get a commission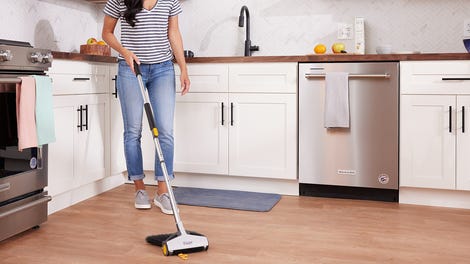 BOGO 50% Off
Flippr - BOGO 50% Off
Size matters
It's simple: the higher the volts, the higher the power. That means more torque for driving screws or miter sawing, more speed for jigsawing and sanding, more hammer action for impact driving. Unless you're a pro, you probably don't want anything bigger than an 18-volt tool. A good 18V drill will get you through big jobs like framing and deck building, and you can cut through a lot of plywood with an 18V circular saw (especially because cordless circ saws have thinner blades to make up for the lesser torque).
Don't discount the smaller tools, though. Outside of circular saws, every tool is replicated in a 12V version. The tools may look a little girly, but they work just fine. Drill/drivers, in particular, are great performers with 12V batteries, able to sink drywall screws into framing or even do some smaller decking jobs.
Keep in mind, though, that there are still some tools you should buy with cords. If you need miter saws or circular saws to cut thick lumber, you really need the consistent power of a plug-in tools. Same with hard workers like reciprocating saws and grinders.
Tool companies are like crack dealers.
Good news is, it pays to become an addict. Manufacturers inspire brand loyalty by selling tools both with batteries or wihtout. That way, once you've bought your first tool-and its two included batteries-you can use them on all the other tools from that platform. But only on tools from that platform. It's a good idea, then, to make your buying decision based on everything a company sells tools that you might need down the line.
So what to look for? Since the basic function of most power tools doesn't vary much from company to company, check out the accessories. You might fall in love with a quick-change chuck, a good LED light, or even a belt hook. Know what size blade or type of bit a tool takes and be sure that's what you want. Then there's price-you get what you pay for. A higher price point often reflects more money spent on innovation, ergonomic design, or durable materials.
Retro is cool.
One way to save a bit of dough on new tools is to retrofit your old tools with new batteries. If you already own a set of NiCad tools, some companies, including DeWalt, Milwaukee, and Ryobi, have designed their Li-ion batteries to fit old models. A new extended life Li-ion battery costs about $100, but you can save a lot of money if you already have a whole suite of tools that can use it.
There's a battery for every personality.
NiCad batteries lose power if left unused for a while, so they are good presents for careful planners. Impulsive tinkerers, however, may find their building buzz harshed by a mandated charging break. (On the plus side, they perform better in colder climates, so go for it, Canada!) They can also have memory problems, so they're better off left to drain before being recharged again.
Li-ion batteries, however, can be left plugged in at all times, and most chargers are designed to top off the tool once a week as needed. The biggest problem with Li-ion batteries is not knowing when they're dying. Manufacturers call this a "fade-free charge" but what it really means is you won't get the telltale slow-down as the batteries wear out. The tool will just stop.
Want more DIY from This Old House? No problem:

• Cordless Tool Combo Kits
• Best New Home Products 2010
• 23 Great Holiday Home Gifts for Every Budget
• Tool Test: 12V Drill Drivers
• Tool Test: Cordless Jigsaws
• Tool Test: Cordless Circular Saws
• Cordless String Trimmers
• Tool Test: Multi-Function Detail Sanders