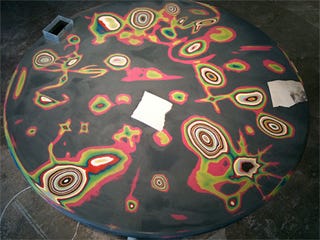 What started out as a plain gray table blossomed into a multi-color butterfly after visitors at an exhibition were encouraged to pick up squares of sandpaper and drill down to the 50 colors hidden underneath.
It's the work of Ed Swan, who designed the Mark Makers table for an exhibition at the Okay Studio in London. The finished result (well, as finished as it could be without stripping it down to the very last color) looks reminds me of one of those mood stones filled with thermotropic liquid crystals, which are sensitive to touch and turn into various colors depending on the level of heat. [Ed Swan via Core77]
London Design Festival 2010: Mark Makers Table by Ed Swan from Core77 on Vimeo.