Over the years, a few different companies have stepped up to the plate to take a swing at making digital board games a thing. Arcade1Up's Infinity Game Table has been one of the more successful attempts, thanks to partnerships bringing classic games like Risk, Ticket to Ride, and Monopoly to the table, which is more like an over-sized touchscreen with legs. For 2023, Arcade1Up is releasing a smaller version that's instead designed for use on other tables, and promises it will come with a cheaper price tag.
We loved the original Infinity Game Table when we reviewed it back in 2021, but definitely had a few complaints about its design. It was created to mostly be used as a literal table that players could gather around, but as a coffee table that sat lower to the ground, having more than four players felt a bit crowded.
The Infinity Game Table's legs could also be removed, allowing the screen to be placed and played on a different table, but it was big and bulky, making that an even more awkward experience. The other issue was the price, with the cheapest option of the Game Table, with a 24-inch screen, costing a steep $650. If you opted for the 32-inch version, the price jumped to $850. You could build an impressive board game collection for that much money.
The next version of the Infinity Game Table is instead called the Infinity Game Board, because it skips the table legs for a smaller design that's easier to plop down on the dining room table, or even a sofa, without game pieces and cards sliding all over the place. It features the same library of 100 games and activities as the original Game Table, including titles like Pandemic, Scrabble, and Trivial Pursuit, but on a more compact 18.5-inch touchscreen with a much smaller bezel. That does make some of the on-screen elements smaller, but the Infinity Game Board will compensate with a "personalized dynamic zoom viewing" feature that should make game elements easier for everyone around the board to see.
G/O Media may get a commission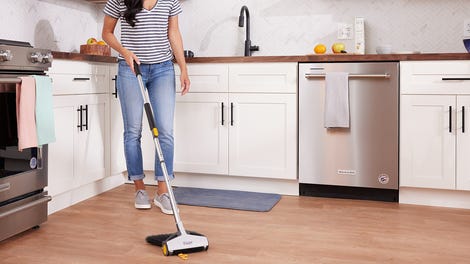 BOGO 50% Off
Flippr - BOGO 50% Off
The Arcade1Up Infinity Game Board is expected to be available sometime in the Spring of 2023, with a price tag under $500. So while it's still not cheap, it will be slightly more affordable for those who passed on the original Infinity Game Table because it was too expensive.