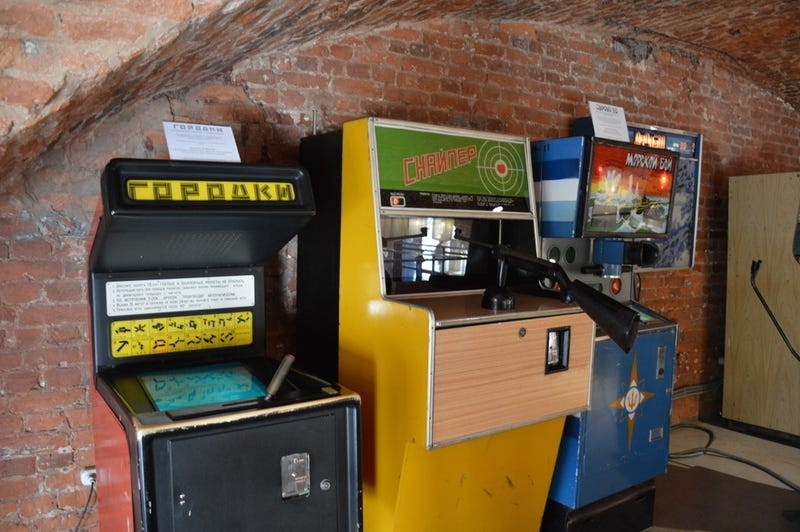 When you walk into the Museum of Soviet Arcade Games in St. Petersburg, the first thing you'll see is a series of gray, hard-edged soda machines from the early 1980s. If you choose the one in the middle, it will dispense a tarragon-flavored and slightly fermented soda whose recipe relies on a syrup that has not been…
Buying an old-school arcade console is a big investment. Ms. Pac-Man bragging rights don't just cost a lot of money—you pay the price in real estate. That whole corner of your living room gone for just one measly game. A new service called All You Can Arcade sort of makes this proposition worthwhile.
Classic arcade games conjure up images of Joust, pinball, and Pac-Man, but pay-to-play games predate the video game cabinet, and some tested more than your hand-eye coordination. From machines that tested your lung capacity to claw machines with live lobsters, here are a few largely forgotten arcade games.
If you're a fan of upright arcade cabinets, you may want to avert your eyes. Photographer Thomas Schultz documents the dust gathering and decay of a handful of abandoned classic games, including Atari's Star Wars and Sega's Zaxxon.
The light up coin slot belt buckle is made from recycled arcade game parts and in addition to holding your pants up, it doubles as a great date-repellant.
On July 9, the second annual Game Play festival begins at Brooklyn's non-profit Brick Theater. For 2010, Game Play features Ovid by way of Grand Theft Auto, the theoretical physics of Game Boy, and hard dramatic readings of Donkey Kong.
Remember that 12-game mini arcade from a few months ago? It's already obsolete, thanks to this miniaturized, fully functional two-player cocktail arcade capable of playing thousands of games. Here's how Sam Seide made it, and how you can own it.