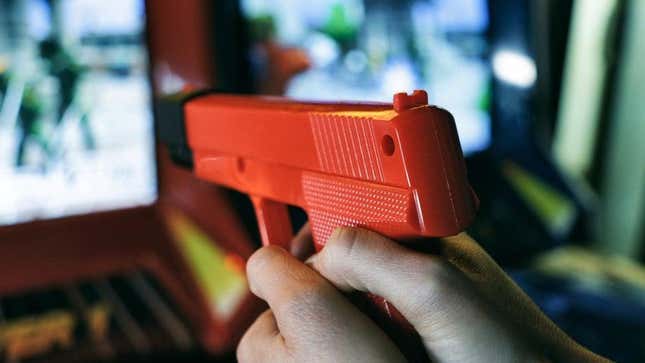 A South Carolina man allegedly robbed a convenience store using a fake 1980s Nintendo gun, getting away with $300 in cash. York County deputies reported that 25-year-old David Joseph Dalesandro entered the convenience store at about 5:45 p.m. on Tuesday wearing a mask, wig, and hoodie sweatshirt when police say he waved the fake gun at the clerk.
What Was Your First Experience with Super Mario Bros? | io9 Interview
Dalesandro allegedly demanded the clerk hand over the money from the cash register before quickly exiting the store. He was located in a Dollar General parking lot down the street from the Sharon Kwik Stop where the theft occurred and was found with the toy pistol in his pants.
Authorities identified the pistol as a fake Duck Hunt pistol used in the 1980s Nintendo video game Duck Hunt. The game was marketed as a light shooter video game when it was first released in Japan in 1984 for the Nintendo Entertainment System console and the Nintendo Vs. System arcade hardware. It used an internal optical sensor that allowed players to shoot down animated ducks with the NES Zapper gun which was originally bright orange and gray, but local authorities said Dalesandro had spray-painted it black.
The York County Sheriff's Department released images of Dalesandro and the duck hunt gun on its Twitter page in response to requests about the fake gun's appearance. "You asked and here it is... the black spray-painted Duck Hunt game controller gun," the sheriff's department wrote.
Police said they found the duck hunt pistol in Dalesandro's pants and he was arrested and booked into the York County Detention Center. Police have not released additional information confirming if Dalesandro has a previous criminal record, but continues to be held at the detention center without bond.
Crimes committed using fake or imitation guns are on the rise and using it in lieu of a real gun can carry similar consequences as if the perpetrator had brandished a real gun. "Carrying a fake gun and using it as if it were a real gun is a recipe for incarceration," Baltimore City Chief Deputy State's Attorney Michael Schatzow told WBAL News in 2018. He added, "We take this very seriously because, from the victim's perspective, it makes absolutely no difference."
Despite reports of a rise in crime using fake guns, this has been an ongoing problem since the mid to late 1980s. A research project initiated by the U.S. Congress in 1990 found that between January 1985 and September 1989, 458 police departments amounting to 65.5% of the study, reported that 5,654 robberies were committed with an imitation gun. This accounted for 15% of all robberies, and during that same time period, the report found that 8,128 known assaults were committed using imitation guns.
Natasha Pratt Harris, who coordinated the criminal justice program at Morgan State University told WBAL at the time, "That yearning for power, control and, in many cases, protection, lends itself to what we're seeing now, replica use and/or actual gun use."