People are moving into cities at an astounding rate—so fast, not even the cities themselves will be able to keep up. A new show at the Museum of Modern Art opens this week to examine how that explosive growth will affect six cities globally: Hong Kong, Istanbul, Lagos, Mumbai, Rio de Janeiro, and New York City.
Uneven Growth: Tactical Urbanisms for Expanding Megacities is more than an exhibition, it's the culmination of a 14-month initiative where designers and architects were tapped to create various scenarios for each of the six cities. At the core is this idea of "tactical urbanism": Instead of top-down, government-mandated planning decisions, change will likely comes to these cities thanks to informal, grassroots efforts from citizens, who are aided and empowered by technology.
Here are six examples of how this might work, from six interdisciplinary teams of architects and urbanism experts. The museum has also been curating a Tumblr of tactical urbanism examples from around the world.
Hong Kong
G/O Media may get a commission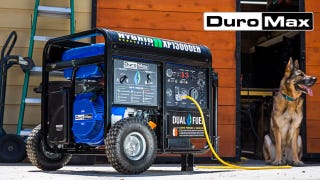 Black Friday Sale
DuroMax Generator Sale
Of all the cities featured in the exhibition, Hong Kong might be growing the fastest. And it also might be the most likely to run out of room for its residents—especially when paired with retreating coastlines due to climate change. An idea named "Hong Kong Is Land" by MAP Office proposes adding eight new artificial islands which can help to not only house and provide economic opportunities for the growing population, but also allow Hong Kong to experiment with new ways of living. In addition, Network Architecture Lab created a publication and game to create a dialogue about the issues surfaced.
---
Istanbul
Like many countries that grew quickly in the latter half of the 20th century, Turkey is now studded with high-rise, high-density housing. These pseudo-suburban structures known as TOKI developments need to be reconfigured for contemporary life. A series of interventions by Superpool and Atelier d'Architecture Autogérée would use technology to allow residents of each TOKI apartment to share resources, barter skills, and provide services much like a time bank. These local microeconomies would increase interdependence and resilience and strengthen the sense of community.
---
Lagos
Tactical urbanism has become a way of life for residents of the Makoko slum in Lagos, where over 100,000 citizens live on boats and floats in the city's lagoon. Architects at NLÉ (who created a beautiful floating school for the area) and Zoohaus/Inteligencias Colectivas propose improving the existing typology with sustainable, multi-family floating dwellings with improved access and services. Renewable energy islands are solar-powered community centers where residents can charge smartphones or cook in communal kitchens.
---
Mumbai
Mumbai's journey to become a global superpower has also highlighted some of the most unequal growth on the planet. Among the high-rises are thousands of "tool-houses," small single-story buildings where residents are making a living doing specialized trade or light manufacturing work. But these, too, are threatened by slum clearance and development to make way for much-needed density. A plan by URBZ and Ensamble Studio/MIT-POPlab is sensitive to these makers, proposing denser growth that allows for a new typology of buildings: high-rise tool-houses.
---
Rio de Janeiro

The most interesting growth patterns of the six cities featured in the exhibition are seen in Rio, where residents of the favelas, the communities long known for being slums, are increasingly living middle-class lifestyles. With that change, the favelas themselves have become places where old and new, official and informal, traditional and high-tech converge in a way that's not seen anywhere else in the world. RUA Arquitetos and MAS Urban Design, ETH Zurich focuses in on the favela phenomenon of puxadinho, defined as "add-ons to existing structures made from leftover materials" and how it can be applied to community-building as well to improve every day life.
---
New York City
It would be difficult to propose any solution for New York City's future that doesn't address the oncoming housing crisis. Much like the communal microhousing in cities like Seattle, SITU Studio and Cohabitation Strategies propose a new kind of living arrangement for New Yorkers: "Housing Cooperative Trusts." In this model, land and building ownership is handed over to nonprofits that will manage the properties with the best social impact in mind for residents. Part of the philosophy includes resource-sharing among many properties that will allow residents access to rooftops, gardens, and other public-private spaces to improve their relationship to the city and each other.