After three separate instances of drones grounding firefighting efforts, a Southern California county is getting serious about finding and punishing their operators. San Bernardino County Supervisors have offered a $75,000 reward which they hope will entice people to come forward with information about the quadcopters in question.
Drones have delayed firefighting aircraft in three different San Bernardino County wildfires since mid-June, forcing planes to prematurely drop their fire retardant and helicopters to remain grounded until the skies were clear. On July 17, five drones were in the air when firefighters started to mobilize against the North Fire and ended up delaying water-dropping efforts by 20 minutes. Due to the delay, the fire jumped the 15 Freeway and began burning dozens of cars as their drivers ran to safety.
In addition to the rewards—$25,000 for each fire—a hotline is being set up for tips, which investigators hope will lead to prosecuting at least one of the operators. At the very least this will probably scare the shit out of other drone owners so people won't be stupid enough to do it again.
While cops can't just shoot down a drone (it still counts as aircraft), legislation was introduced last week which would permit first responders to disable drones that are in the way. Other laws are proposing stiffer penalties for drone operators, including making it a federal offense to fly during wildfires that's punishable by five years in prison.
Obviously the people who were flying over the three fires in question wouldn't be stupid enough to post their videos (we hope), but there are actually lots of wildfire drone videos on YouTube. This one was edited sometime in the last week to assure viewers that the author shot it "without interfering" and now contains a lengthy disclaimer telling other people not to do what he did.
G/O Media may get a commission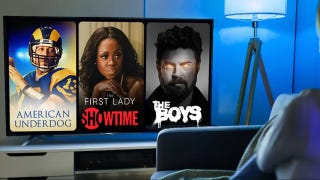 UNDER $1
99¢ Prime Video Channels
[LA Times]
AP Photo/Kevin Warn