This year, legends walk the silver screen. From Captain Kirk to Superman, our greatest heroes are back, and facing their darkest hours. But 2013's movies also include some brand new indies from Neill Blomkamp and Shane Carruth, plus a whole lot of fantasy insanity.
Here's our complete guide to 77 science fiction and fantasy movies coming in 2013.
Top image: Iron Man 3.
Note: Items with a * aren't included in the 77-movie count, since they're arguably not science fiction or fantasy. We're just mentioning them because they're comic-book adaptations, or we suspect they'll get pretty fantastical.
G/O Media may get a commission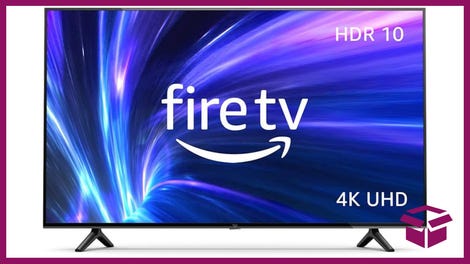 42% Off
Amazon Fire TV 50" 4K Smart TV
---
JANUARY
All Superheroes Must Die (Jan. 4)
This is a indy superhero movie from Jason Trost, director of The FP (last year's dystopian Dance Dance Revolution comedy) in which a group of superheroes lose their powers and are put through a series of brutal challenges. (Now available on VOD/iTunes/Amazon, in select theaters Friday.)
Outlook: It looks way less silly than The FP, and the trailers actually look tense and dark. And it has Lucas Till (X-Men: First Class) and James Remar (Dexter) in it. Could be fun.
Storage 24 (Jan. 11)
Doctor Who's Noel Clarke stars in this thriller where a military cargo plane crashes in London, releasing its deadly cargo on the city — and a group of people are trapped in a storage facility with a horrific creature.
Outlook: The movie's Rotten Tomatoes page is a bloodbath. By all accounts, it really really sucks.
A Haunted House (Jan. 11)
Marlon Wayans stars in this horror spoof, in which a family moves into a house full of spirits and the wife gets possessed by one of them.
Outlook: Honestly, it's Marlon Wayans making fun of really easy targets. But the trailer does contain the line, "I kicked you in your ghost balls."
Mama (Jan. 18)
Guillermo del Toro produced this film, based on a creepy short, about two little orphan girls who survive in the wild for five years before being rescued and sent to live with their uncle and aunt (Nikolaj Coster-Waldau and Jessica Chastain) — but is their dead mother still watching over them?
Outlook: The trailer and original short film are creepy as heck. Del Toro calls this film "claustrophobic," and it might actually be better than last year's Don't Be Afraid of the Dark, which he also produced.
Hansel and Gretel: Witch Hunters (Jan. 25)
Basically, Hansel (Jeremy Renner) and Gretel (Gemma Arterton) are all grown up, and now they're hunting witches, including one played by Famke Janssen.
Outlook: It was pushed from last summer to January — usually a bad sign — but the trailers look like cheesy fun, especially the crazy anachronistic gatling guns and other weapons. Could be this year's Season of the Witch.
John Dies at the End (Jan. 25)
The long-awaited movie adaptation of David Wong's cult novel about a drug called Soy Sauce that either kills you or lets you see paranormal weirdness — including the Lovecraftian horrors invading our world. Trailer here.
Outlook: Early reviews suggest it's a highly entertaining yet frustrating ride in which director Don Coscarelli (Bubba Ho Tep) takes a lot of liberties with the book source material.
---
FEBRUARY
Warm Bodies (Feb. 1)
The adaptation of Isaac Marion's novel about a zombie (Nicholas Hoult) who falls in love with one of the last remaining humans, and their love might have the power to transform the post-apocalyptic world.
Outlook: The trailers actually look freaking hilarious, and it's from the director of 50/50, Jonathan Levine.
The Haunting in Connecticut 2: Ghosts of Georgia (Feb. 1)
A sequel to The Haunting in Connecticut, except that it's set in Georgia and it's not a sequel. A family moves into a historic house in Georgia, only to find out they're not the only thing living there.
Outlook: Ti West (The Innkeepers) was supposed to direct this film but dropped out just before filming started. On the other hand, it has Katee Sackhoff in it, and the trailer actually looks creepy.
The Sorcerer and the White Snake (Feb. 8)
A big-budget adaptation of the ancient Chinese fable about a female snake demon who falls in love with a mortal — and Jet Li plays the sorcerer who tries to slay her.
Outlook: Early reviews suggest the visuals are amazing, but the story is kind of weak.
Side Effects* (Feb. 8)
Stephen Soderbergh's last ever film is about a woman (Rooney Mara) who takes a "revolutionary" new drug called Ablixa to cope with her husband (Channing Tatum) coming home from prison. And there are insane side effects.
Outlook: Looks pretty great. We're including it here because the revolutionary new drug looks as though it could be pretty science-fictional.
Beautiful Creatures (February 13)
One of the year's many attempts to create a new Twilight, this film adapts the bestselling YA series about a young witch named Lena who becomes an outcast in a small town, and the boy who loves her anyway.
Outlook: It looks cheesy as all get-out, but the notion of using a supernatural teen drama to deal with bullying and peer pressure has a lot of potential. Plus Emma Thompson is in it.
Escape From Planet Earth (Feb. 14)
An intrepid alien astronaut (Brendan Fraser) answers a distress call from Earth — but it's a trap, and he's caught in Area 51, and it's up to his nerdy brother Gary (Rob Corddry) to save him.
Outlook: The voice cast includes William Shatner, Jane Lynch and James Gandolfini. Could be this year's Planet 51.
Dark Skies (Feb. 22)
Not based on the TV series. This is actually a low-budget horror film starring Kerri Russell, about a suburban family that's terrorized by aliens. Trailer here.
Outlook: From the director of Priest and Legion. It only started production back in August 2012.
---
MARCH
Jack the Giant Slayer (March 1)
A fairytale movie from X-Men maestro Bryan Singer, starring Nicholas Hoult as a farmhand who unwittingly opens a doorway to a land of giants, starting a war as the giants try to retake our world.
Outlook: Delayed from summer 2012. Sort of looks like Clash of the Titans, only taking itself more seriously.
The Last Exorcism Part 2 (March 1)
The girl who was possibly possessed in the first movie is back, and she's trying to move on with her life, except for that whole demonic possession thing.
Outlook: The director and writers of the original film aren't back, and we're not sure how you can do a sequel without undercutting the superb first movie.
Oz the Great and Powerful (March 8)
Sam Raimi's long-awaited Wizard of Oz prequel, in which Oz (James Franco) goes to Oz in a balloon and meets all the witches and flying monkeys.
Outlook: The trailers look absolutely gorgeous, in an Avatar/Alice in Wonderland way, although the story appears to be a standard "vain selfish rogue learns to be a hero" thing.
The Croods (March 22)
An animated film about a caveman whose leadership is threatened by a genius who invents things like fire and other wacky gadgets. Oh, and there's a half-tiger, half-parrot called a "Macarnivore."
Outlook: This film has been in development for years. At one point the script was co-written by John Cleese. The cast includes Ryan Reynolds, Nic Cage, Emma Stone, Catherine Keener and Cloris Leachman(!). Early reviews say it's pretty great.
G.I. Joe: Retaliation (March 29)
Another movie delayed from summer, this sequel picks up where the first movie left off — with the President of the United States replaced by an evil imposter.
Outlook: Director Jon M. Chu wowed us with Legion of Extraordinary Dancers. Rumor has it, this movie's being recut to give Channing Tatum a bigger role, but it's not clear if Tatum actually came back for reshoots or if they're just using every scrap of Tatum footage they could grab off the cutting-room floor.
The Host (March 29)
In Stephenie Meyer's other big book adaptation, an alien invasion of Earth has already succeeded, with emotionless parasites controlling almost all humans. Except one girl who gets implanted can't stop loving her boyfriend, and this could change everything. Trailer here.
Outlook: It's adapted and directed by Andrew Niccol (Gattaca), whose work is always at least thought-provoking.
---
APRIL
Upstream Color (April 5)
Primer's Shane Carruth returns at last, with a strange and confusing movie about a man and a woman who are entangled in "the life cycle of an ageless organism."
Outlook: Huge, high hopes for this one, based on the lush weird trailers and Carruth's mind-bending first movie.
Evil Dead (April 12)
Sam Raimi's famous horror series is back, with an all-new cast. Jane Levy plays a woman struggling to remain sober, who goes to a cabin with her friends and finds the Book of the Dead. You know what happens next.
Outlook: By all accounts, this new film is as gruesome and messed-up as the original, and new director Fede Alvarez seems to have captured Raimi's insane spark. Fingers crossed.
Scary Movie 5 (April 12)
This time, they're spoofing Black Swan.
Outlook: Really, the title is all you need to know. Oh, you want to know more? Charlie Sheen and Lindsay Lohan play themselves.
Oblivion (April 19/April 12 in IMAX)
Tron Legacy's Joseph Kosinski sets out to prove he can launch a brand new franchise, with this story in which humanity has abandoned Earth, except that Tom Cruise comes down to service some drones... and discovers he's not alone.
Outlook: The trailers look pretty intense and full of eye-candy. A lot depends on the film's big twist, probably.
The Lords of Salem (April 26)
Rob Zombie wrote and directed this horror film in which a radio station DJ gets a mysterious record from the Lords and plays it — only to find that the Lords aren't a band, they're the original Lords of Salem, and they're back for blood.
Outlook: Probably depends if you're a Rob Zombie fan.
---
MAY
Iron Man 3 (May 3)
Now that Tony Stark's helped save the world in The Avengers, this film is going to set about tearing him down again, with the Mandarin and Aldrich Killian destroying Tony's entire world.
Outlook: Director Shane Black made magic with Robert Downey Jr. in Kiss Kiss Bang Bang, and writer Drew Pearce brought new life to superheroes with his TV show No Heroics. So fingers crossed!
Kiss of the Damned (May 3)
John Cassavetes' daughter Xan Cassavetes makes her directorial debut with this tribute to 1960s and 1970s Italian vampire movies, starring Heroes' Milo Ventimiglia.
Outlook: Early reviews suggest this is a "hipster" take on vampire lore that doesn't really hold up.
About Time (May 10)
A feel-good romance about a man who can travel backwards in time, and decides to use his powers to get a girlfriend.
Outlook: Writer-director Richard Curtis wowed us with his Doctor Who episode about Van Gogh, not to mention his work on Blackadder and Four Weddings and a Funeral.
Star Trek Into Darkness (May 17)
The rebooted versions of Kirk and Spock are back — and they're facing a mysterious villain (Benedict Cumberbatch) who's wreaking massive destruction on Starfleet. Can Kirk grow up in time to save the Enterprise?
Outlook: This film's production was delayed a year, reportedly just because they were trying to get the script right. Let's hope that attention to the story pays off.
Epic (May 24)
An animated fairytale movie based on the based on the William Joyce book The Leaf Men and the Brave Good Bugs. Featuring the voices of Amanda Seyfried and Josh Hutcherson.
Outlook: The first trailer looked pretty lush and beautiful. Director Chris Wedge, who did the first Ice Age, describes it as an adventure on the scale of Star Wars.
The Purge (May 31)
Ethan Hawke and Lena Headey star in this weird movie set in a dystopian future, where overcrowding has forced the United States to institute a 12-hour period every year, during which nothing is a crime. Even murder. One family hides out in their gated community.
Outlook: Even as contrived dystopias go, this one sounds especially contrived. But possibly fun and insane.
---
JUNE
After Earth (June 7)
Will Smith and his son Jaden star in this movie where humanity has abandoned the Earth after a war with aliens — but a father and son crashland on the ruined Earth, and the father is injured, forcing the son to search for help.
Outlook: M. Night Shyamalan directed and co-wrote this film, but probably didn't have his usual level of creative control. The visuals certainly look great.
This is the End aka The End of the World (June 14)
Seth Rogen adapts his short film Jay and Seth Vs. The Apocalypse. Rogen, Jay Baruchel, James Franco and a bunch of other celebrities play themselves, at a Hollywood party where the end of the world suddenly happens. Here's the trailer.
Outlook: Remember how Bill Murray played himself randomly in Zombieland? This whole movie is like that. Let's hope it stays funny.
Man of Steel (June 14)
A retelling of Superman's origin, in which the Man of Steel grapples with the idea that humanity would hate and fear him if they knew his secret. Here's the trailer.
Outlook: Christopher Nolan produced this film, and seems pretty jazzed about it. Probably depends how much you want to see an angsty Superman.
Monsters University (June 21)
The prequel to Monsters Inc. sees the young Sully and Mike in college, becoming friends and dealing with an evil monster fraternity.
Outlook: Did we really need a prequel to Monsters Inc.? Maybe not. But as long as it's not another Cars 2, we're happy.
World War Z (June 21)
Max Brooks' acclaimed novel about the zombie apocalypse gets a huge adaptation, starring Brad Pitt as a UN employee who must travel the world trying to save it from the deadly pandemic. Trailer here.
Outlook: After this film was completed, they went back for massive reshoots and rewrites, with a whole new ending added by Damon Lindelof. On the other hand, it's possibly the most zombies on screen ever.
Kick-Ass 2: Balls to the Wall (June 28)
The gonzo superhero film gets a sequel, as Kick-Ass and Hit-Girl try to cope with high school and the Red Mist plots revenge.
Outlook: Let's hope it can channel half the awesome craziness of the first film. A good sign: Jim Carrey is playing a character named Colonel Stars and Stripes.
White House Down* (June 28)
Terrorists take over the White House, and only Channing Tatum can save the president (Jamie Foxx).
Outlook: Only mentioning this because it's directed by Roland Emmerich and I wouldn't be surprised if the terrorists have crazy science fiction weapons or something.
---
JULY
Despicable Me 2 (July 3)
Steve Carrell's reformed supervillain is back — and this time, someone is capturing his cute twinkie-like minions. Featuring Al Pacino as Gru's new nemesis.
Outlook: The original directors are back, which is a good sign.
The Lone Ranger (July 3)
Johnny Depp plays Tonto in this completely insane supernatural Western about a "spirit walker" who dies and comes back to bring justice to a small town near the railroad. Here's the trailer.
Outlook: Depp and director Gore Verbinski have a pretty decent track record together, but everything about this looks horrifying. Depp decided Tonto should have a bird on his head.
Pacific Rim (July 12)
Massive, horrendous monsters attack the world — forcing the human race to build equally massive mecha to fight back, by punching them.
Outlook: Director Guillermo del Toro promises the most amazing monsters and astounding robots we've ever seen, and the first trailer certainly looks like it delivers.
R.I.P.D. (July 19)
Ryan Reynolds and Jeff Bridges star in this adaptation of the comic book about a dead cop who sticks around to police the supernatural — but he can never see his still-living wife again.
Outlook: It sounds like it has the potential to be the next Ghostbusters, and Jeff Bridges as a ghost mentor is basically the best idea ever.
The Conjuring (July 19)
A family encounters spirits living in their New England farmhouse.
Outlook: From director James Wan (Insidious) — so it's probably pretty scary.
The Wolverine (July 26)
A second Wolverine movie, this time based on the character's most popular storyline in which he goes to Japan and learns the way of the Samurai.
Outlook: We were more excited when it was going to be directed by Darren Aronofsky, but it still has a lot of potential to be fun. Hopefully better than the last Wolverine movie, anyway.
Smurfs 2 (July 31)
The evil wizard Gargamel is still stuck in New York, so he does some magic to bring back the Smurfs — and also create evil albino Smurfs, who try to trick Smurfette into being naughty.
Outlook: If you liked the first Smurf movie and the idea of albino Smurf peer pressure doesn't bother you, then you might like this one, too.
---
AUGUST
300: Rise of an Empire* (August 2)
A prequel to 300, charting the rise of King Xerxes, the ruler who got his ass kicked by the Spartans.
Outlook: A first-time director came on board to try and recreate Zack Snyder's amazing slow-mo fighting and visuals. Including this because it's based on a comic book.
RED 2* (August 2)
The sequel to the surprisingly quite entertaining film about retired spies who are being hunted down. This time, they have to stop a terrorist with a portable nuclear device.
Outlook: Another one we're mentioning since it's based on comic-book source material.
Elysium (August 9)
District 9's Neill Blomkamp returns with another highly political science fiction film about a world where the rich live on a lush space station and poor people (like Matt Damon) struggle on Earth to get healthcare and basic necessities.
Outlook: Based on Blomkamp's first film and everything he's said about this one, we have high hopes.
Percy Jackson: Sea of Monsters (Aug. 16)
Percy Jackson (Logan Lerman) is back, and this time he and his friends are searching for the mystical Golden Fleece.
Outlook: Nathan Fillion is playing the god Hermes, opposite Sean Bean as Zeus. Also Anthony Head plays the centaur Chiron this time. We're in.
The Mortal Instruments: City of Bones (Aug. 23)
Another would-be Twilight, this adaptation of Cassandra Clare's novel features a young girl named Clary (Lily Collins) who discovers that she has a supernatural destiny after a demon attacks her mother. Here's the trailer.
Outlook: Looks like an immense guilty pleasure.
Insidious Chapter 2 (August 30)
Director James Wan is back to show us what happened after the WTF ending of the first movie about a boy who's possessed by demons.
Outlook: Not sure how you can pick up after that ending, but at least all the original cast are back, including Barbara Hershey.
Satanic (August 30)
A "Rosemary's Baby-influenced" film about a girl (Ashley Green) who must defend her dorm from a mysterious attacker when she and her friends are staying there over Spring Break.
Outlook: From the director of Donkey Punch and the writer of Vanishing on 7th Street. It only started production in late 2012.
---
SEPTEMBER
Riddick (September 6)
He's back! Vin Diesel's amazingly antiheroic space adventurer returns, and this time he's being stalked by bounty hunters. One of whom is Katee Sackhoff.
Outlook: Diesel and writer/director David Twohy promise this is a return to Pitch Black form, after the over-the-top Chronicles of Riddick.
I, Frankenstein (September 13)
Aaron Eckhart plays Frankenstein's monster, who finds himself caught up in an endless war between two immortal monster clans.
Outlook: Could be fun. Director Stuart Beattie did a pretty decent job with Tomorrow When the War Began.
Cloudy With a Chance of Meatballs 2 (Sept. 27)
The sequel to the acclaimed animated film, formerly called Revenge of the Leftovers. Flint has moved on after the foodstorm from the first movie — until he finds out his machine is still active and is creating food monsters.
Outlook: The original writers and directors aren't back, and it's not based on the second book in the series.
The Tomb (September 27)
Arnold Schwarzenegger and Sylvester Stallone star in this action-thriller about a structural engineer who is falsely accused of a crime and has to break out of the ultimate high-tech prison... which he designed.
Outlook: We're a sucker for "ultimate high-tech prison" stories.
---
OCTOBER
Sin City: A Dame to Kill For* (Oct. 4)
The long-awaited sequel to Frank Miller and Robert Rodriguez's zany neo-noir film about the town with no mercy, where all the women wear lingerie.
Outlook: Including this because it's based on a comic, and is likely to be so over the top that it strays into fantasy territory.
Haunt (October 11)
Two teenagers fall in love and explore an old house, only to discover a terrifying alternate dimension inside, in this horror film.
Outlook: From the producers of Paranormal Activity and District 9.
The Devil's Rapture (October 11)
Formerly known as The Occult, this is a film about a small town that lives with a Satanic prophecy — and after six girls are born on the same night, they seem to be fulfilling it. Fast forward 18 years, and the girls all start dying. Serial killer, or Satan?
Outlook: Featuring Rufus Sewell, who often does creepy well, plus Colm Meaney.
Carrie (October 18)
Delayed from March, this is the remake of the classic Stephen King tale, about a girl who has a really bad prom night. Trailer is here.
Outlook: Director Kimberly Peirce (Boys Don't Cry) and star Chloë Grace Moretz seem like the perfect choices for this project — plus Julianne Moore plays the mom.
Seventh Son (October 18)
Jeff Bridges is an old witch-hunter, as he takes on a young apprentice and prepares to do battle with a witch played by Julianne Moore. Who basically owns this weekend.
Outlook: We can't say no to Jeff Bridges and Julianne Moore as witch-hunter and witch.
The World's End (October 25)
The other zany apocalyptic comedy, this one features Simon Pegg and Nick Frost as two friends who go on a pub crawl and confront the end of days. Along with Martin Freeman.
Outlook: It's the long-awaited third film in the "Cornetto Trilogy" by Pegg, Frost and director Edgar Wright, after Shaun of the Dead and Hot Fuzz.
Paranormal Activity 5 (Oct. 25)
Something paranormal is happening, and some cameras are going to capture it, but not very well.
Outlook: Someone is still going to see these movies, so they're going to keep making them every year.
---
NOVEMBER
Ender's Game (Nov. 1)
"Ender" Wiggin is a child prodigy who gets recruited to a very special program — but it's even more special than he realized, in the adaptation of Orson Scott Card's acclaimed novel.
Outlook: Everyone involved with this film seems to be obsessed with doing justice to the book, and the level of attention to detail is pretty astounding. Plus Harrison Ford is playing Col. Graff.
Mr. Peabody & Sherman (Nov. 1)
The classic cartoon about a super-smart dog, his human son, and their time machine is coming to the big screen — and the Child Protective Services may have decided that a dog is not a fit parent, after all.
Outlook: We saw a huge chunk of this film recently, and it won us over, big time.
Thor: The Dark World (Nov. 8)
The second Marvel film this year, coming off Avengers, sees Thor facing some Dark Elves, led by Christopher Eccleston.
Outlook: Directed by Game of Thrones veteran Alan Taylor, who's apparently bringing some of that realism to Asgard.
The Hunger Games: Catching Fire (Nov. 22)
Katniss has won the Hunger Games, so this second movie is probably just going to be her sipping tea and learning to golf. Or possibly, getting sent back for a new, deadlier all-star games. We'll see.
Outlook: Original director Gary Ross bailed off the project, so he's been replaced by I Am Legend's Francis Lawrence. Let's hope Lawrence can do justice to, arguably, the least satisfying book in the trilogy.
Frozen (November 27)
Disney's retelling of Hans Christian Andersen's fairy tale "The Snow Queen," about a young girl who must travel to find the Snow Queen and save her land from perpetual winter.
Outlook: Early glimpses look gorgeous, and it features the voice of Kristen Bell.
---
DECEMBER
The Hobbit: The Desolation of Smaug (Dec. 13)
Bilbo Baggins is back again, and this time he's facing a dragon — played by Benedict Cumberbatch!
Outlook: If the decision to turn The Hobbit into a trilogy rather than a duology results in excessive bloat, this is probably the film where you're going to see it most.
Walking With Dinosaurs (December 20)
The BBC makes a lavish, 3D version of their acclaimed TV series, about a dinosaur family who must go on a perilous journey.
Outlook: Early buzz suggests that this is going to look astonishing — but turning a documentary series into a narrative film could be a tricky undertaking.
Saving Mr. Banks* (December 20)
A drama about author P.L. Travers going to London as Disney is adapting her novel Mary Poppins to the big screen.
Outlook: Including this since it's a fictional account of the making of a classic fantasy movie. Tom Hanks plays Walt Disney!
47 Ronin (December 25)
Another long-delayed film, this one is a retelling of the Japanese story, with Keanu Reeves fighting supernatural forces.
Outlook: This has been pushed back again and again, amidst rumors of creative disputes and editing-suite battles, until finally being buried on Christmas, the date where genre films go to die.
---
UNDATED
These are films we're pretty sure are coming in 2013, but no release date yet.
Gravity
Alfonso Cuaron (Children of Men) directs this lavish film about an astronaut (Sandra Bullock) who's stranded in space and trying to return to the International Space Station.
Outlook: Early buzz suggests it's beautiful, but maybe a bit boring. On the other hand, we're dying for a good realistic space movie.
Frankenstein's Army
At the end of World War II, Russian soldiers stumble on a secret Nazi lab, where the Nazis have been using Frankenstein's techniques to create new supersoldiers. A Dutch movie, which should be hitting our screens sometime this year.
Outlook: Nazi Frankenstein monsters? Sounds promising.
The Prototype
A military robot escapes from an FBI storage facility and goes on a rampage. A small, low-budget film from the makers of the low-budget soldier movie Act of Valor.
Outlook: The trailer and pitch video look pretty cool, and this movie was made for a surprisingly high $40 million.
Byzantium
Neil Jordan returns to vampires for the first time since Interview with a Vampire for this story of two vampires (Gemma Arterton and Saoirse Ronan) who pose as mother and daughter.
Outlook: Early buzz suggests it's Jordan's best work in years, and could be a sleeper hit.
Under the Skin
Scarlett Johansson plays an alien, disguised as a beautiful woman, who travels around Scotland preying on humans with her "voracious sexuality."
Outlook: At the very least, it sounds entertaining.
Haunter
Instead of getting to direct Neuromancer, Vincenzo Natali took on this ghost movie, starring Abigail Breslin as a teenager who died in 1986 but is unable to leave her family's house, and reaches out to save a living girl from the same fate.
Outlook: It's a neat reversal of the usual ghost-movie tropes, and we're curious to see how Natali will make the tired haunted-house stuff fresh again.
Snow Piercer
Chris Evans stars in Bong Joon-ho's adaptation of the French comic book set on a frozen Earth, where everybody lives on trains that are highly class-segregated. Probably coming in the summer, since the Weinstein Company reportedly sees this as a big tentpole movie.
Outlook: The comic is really weird and beautiful, and our first glimpse of this film was amazing. Plus we loved Bong's The Host.
7500
Another long-delayed film, this one is about an airplane that gets haunted by a ghost. Starring True Blood's Ryan Kwanten.
Outlook: This film has been in the can for a long time, so it's not looking good.
In Your Eyes
Joss Whedon wrote the screenplay for this tiny-budget romance about a man and a woman (Michael Stahl-David and Zoe Kazan) who are linked in ways that they can't possibly realize.
Outlook: When Whedon steps back to do a small indie project, it's usually even better than his other stuff. Fingers crossed!
Odd Thomas
The big-screen adaptation of Dean Koontz's bestselling book series, starring Anton Yelchin. It's been in the can for a while, and is almost certainly coming this year.
Outlook: Koontz says this is the only movie adaptation of his work that he's ever been happy with.
Left Behind
They're rebooting the classic rapture series — and Nic Cage is starring! By all accounts, it'll be out in the fourth quarter of 2013 sometime.
Outlook: Nic Cage starring in a movie about the Rapture. That either fills you with glee, or it doesn't.
Dorothy of Oz
Another movie that's been done for a while, featuring Glee's Lea Michele as Dorothy.
Outlook: The first trailer looked like a terrible 1990s video game cutscene.
Sources: Studio press releases, plus IMDB, Box Office Mojo, Film-Releases, First Showing, The Numbers and Movie Insider