We could all use a little more time in the day, and your smartphone apps are here to help you. Plenty of the apps you use every day include handy timesavers that you might not have noticed yet, but fear not—we're here to point them out for you. Use these tricks to claw back some minutes or even some hours out of every day, time you can use for something more productive or enjoyable.

---
1) Check on restaurant wait times
Google Maps continues to slurp up the data we're all crowdsourcing for it and can now display wait times at restaurants and bars through the apps for Android and iOS. Tap on a place card and you can see how busy it is right now (a feature that's been live for a while) as well as what the average wait times are at this place (which has recently been added).
The detail isn't difficult to find: Tap on a place on the map, tap at the bottom to open up the place's card, then scroll down to see how busy it is (or how busy it usually is at this time), together with the average wait during peak times. If there's no wait time listed, Google doesn't have enough data yet to let you know (it tends to vary from city to city).
G/O Media may get a commission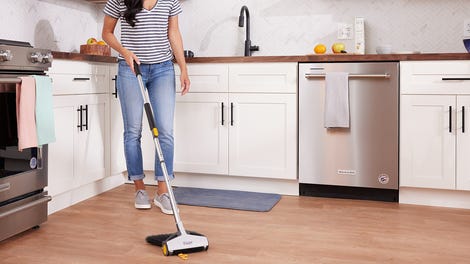 BOGO 50% Off
Flippr - BOGO 50% Off
---
2) Put text macros into your phone's keyboard
Imagine how much time you might be able to save each day if your phone's keyboard has some of your most commonly typed phrases already stored in it—like "I'm running late" or "I don't have time for this right now". You can store phrases and bring them up with a couple of taps, and the time you save pecking away at the keyboard can soon add up.
One of the third-party keyboards that does this is SwiftKey for Android and iOS: With the keyboard enabled, tap the plus button to the left of the suggestion bar, then the clipboard icon. Tap the pencil icon (Android) or Edit (iOS), then Add a new clip to enter your text—text that's then available with a tap when you bring up the clipboard menu again.
If you'd prefer something more native than on Android go to Settings than scroll down to Language & Input than Keyboard and finally Text Shortcuts. Add the shortcuts you want and save. For iOS the practice is pretty similar. Open the Settings app and choose General. Then navigate down to Keyboard and click it. On the new screen choose Text Replacement. From here you can add any quick phrases or emojis you want and then choose a line of text to trigger it. Be sure to hit Save once you're done.
---
3) Digitize almost any paper document
Avoid drowning under piles of paper—it's time to go digital, and Dropbox for Android and iOS is one of several apps that can help. Dropbox does a ton of other stuff besides this of course, but its scanning capabilities are swift and clean: Tap Create (iOS) or the plus button (Android), then Scan document, and point your phone in the right direction.
Dropbox will do a fine job of recognizing the document you're trying to scan, getting it into a readable monochrome format, and saving it (to your Dropbox) as a PDF or JPEG file. What it doesn't do, unless you have a paid account, is convert the document into searchable text via OCR—but even if you're not paying it's a very useful timesaver.
---
4) Have your reading list read out to you
Archiving articles from the web you want to get around to later is all well and good, but how do you find the time to get back to all those saved pages? One option is to have these articles read out to you, just like an audiobook, rather than reading through them—catch up on your reading on your morning jog or while driving to and from work, for example.
One app that does this is the well-known Pocket for Android and iOS. Just tap on any of your articles to open it up, then tap the three dots for the menu, then tap Listen (TTS). You can adjust the playback speed and stop and restart it as necessary using the on-screen controls. For those of you who prefer the Instapaper app, it can do the same trick as well.
---
5) Get location-based reminders
Supercharge your tasks and their reminders by associating them with a certain place rather than a time. A few apps can do this, including Remember the Milk and Todoist, as well as Google Assistant, Siri, and Cortana, so you can take your pick of digital assistants. Your phone will ping you as soon as it detects you've arrived at the specified location
Here's how you do it in the Google app for Android and iOS: Tap the menu button (three horizontal lines), then Reminders, then the blue plus button (lower right). Enter a title for your task (like "buy milk"), then check the Place box, and tap Location and Set location to search for the relevant address. Finally, tap the blue tick button to save your reminder.
---
6) Let the family know when you're heading home
Don't waste time texting your loved ones when you're leaving the office—get your phone to do it instead. To do this you'll need the excellent IFTTT (If This Then That) for Android or iOS installed on your phone. Sign up for an IFTTT account (or sign in), then tap My Applets from the bottom tab bar, and then the big plus button up in the top right-hand corner.
Pick Location and You exit an area as the trigger, and then your choice of actions: You can send an SMS on Android (but not iOS), send a tweet, send a Facebook message, or even send an email when you leave the office. Alternatively, set this up on your kids phones to get an automatic alert whenever they get home, so you don't have to chase them down.
---
7) Speed up your podcasts
If you've got several hours of podcasts to get through, speeding them up just a teensy bit can save you a substantial chunk of time, time that you can then use for something else. Several apps can do this, including Overcast and Podcast Addict, but we'll describe how it works in one of our favorite podcasting apps: Pocket Casts for Android and iOS ($4).
With the podcast playback screen showing, tap on the dial icon down in the lower right corner, then adjust the Playback Speed slider. You'll see other options here too—toggle the Trim silence switch to on to automatically cut out dead air, and tick the Apply to all podcasts box if you want to use the same trick on all the podcast episodes you listen to.
---
8) Speed up your videos
That's right—you can get your videos moving a little faster on mobile too, at least if you're using the YouTube app for Android or iOS. Load up your video of choice, tap the video once, then tap the menu button (the three dots in the top right-hand corner). Tap Playback speed on the dialog, then choose anything between 0.25x and 2x from the list.
Your choice stays in place for any future videos you watch through the app, until you set the playback speed back to normal. Obviously this isn't going to work great for every video—though it'll produce some interesting effects on your favorite slow-burning acoustic ballads—but if you just need to blast through some video clips it's a pretty effective trick.
---
9) Only get alerts for important emails
In the early days of smartphones, checking emails on the go seemed a great timesaver... right up to the point it became a massive time sink instead. One way to combat this is to only get alerted to important messages, leaving the rest until later, and one of several apps that does this is Outlook for Android and iOS (which supports multiple email accounts).
Outlook uses what's called a Focused inbox, for important emails only, and you can train it by moving messages in and out of the Focused folder. To only get notifications for these emails, tap the cog icon on the main app menu, then choose Notifications and make sure Focused Inbox Only is selected—so if your phone buzzes, you know it needs attention.