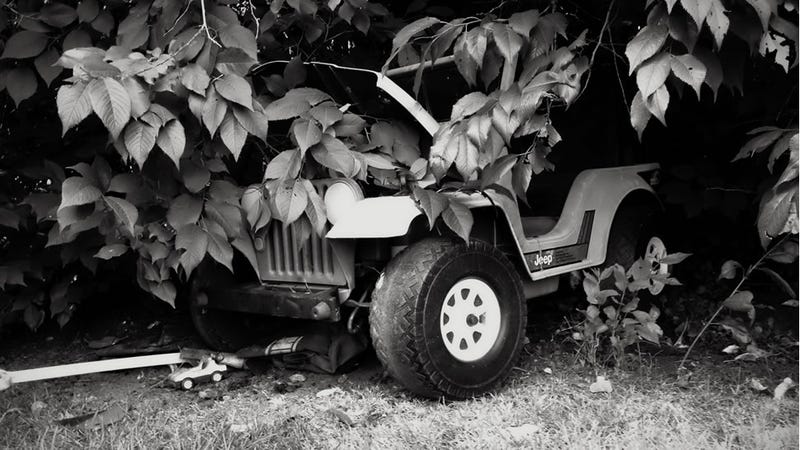 This shooting challenge was an ode to the time-honored tradition of monochrome photography. Oh, those delicate gray tones and striking shadows. Very artful, you guys.
WINNER: Marcus Gesundheit
I used my iPhone 5 (Jailbroken), CameraTweak v0.31 and for post processing I used Photogene for iPad to create the custom black and white filter.
I thought to take this photo after seeing my uncle's photos of Israel. He is a black and white photographer with his own dark room. I just loved how he captured the decay in a beautiful manner. So I took my Power Wheels Jeep from my childhood and gave it a good shove into the bushes. I took the photo right there. I guess it was a spur of the moment inspiration, I call the photo "Jungle Gym Junkyard".
- Marcus Gesundheit
---
Geometric Atrium


This is the inside atrium of the Hyatt Regency in downtown Austin, Texas. I am an Austin native, born and raised, and a family member held their reception at this hotel when I was 4 years old. I have always found myself to enjoy or appreciate buildings with open atriums like this one and I especially like how the lines in the photo naturally guide the eye. I submitted the photo "upside down" actually because the monochrome gives it a nice glowing effect from "the bottom, up". This was shot with a Canon 5D MkII using a Sigma 24-70 2.8 lens. Shutter speed was 1/100, ISO 200, with the f-stop at 2.8.
- Matthew Caballero
---
Ocean Foam


Today was stormy, rainy and gray. We got to the beach around 9 am as the tide was going out. For this shot I held my camera very close to the ground so I could capture the thickness and height of the foam, and take advantage of the nice reflection on the wet sand. Shot with a Samsung Galaxy Note II camera, using the HDR option. Everything else was set on auto. Then I turned the original into black & white using Android app Photo Editor, Effect: Black & White High Contrast.
- Anne Masterson
---
Shadows on the Wall


So, personally I don't really like B&W photography. But, I was walking home after a night of drinking and saw this scene! Luckily I had my 500D/50mm1.8 on me :) Got home, got a last beer, played around in Lightroom, and was happy with my accomplishment. However, the next day I wasn't so fond of the sharpness (my hand wasn't all too steady the night before...). So, I returned a night later with a tripod to take the shot you see here. Shot with a 550D/50mm1.4, iso100, 2sec at f/4 on a $10 Tripod.
- Tobias Ammann
---
Gray Pond


Camera: Canon EOS 5D Mark III
Lens: Sigma 35mm f/1.4
ISO:100
Aperture: f/2.8
Exposure: 1/50
Location: Winnabow, NC
I drive by Town Creek on a fairly regular basis, but I've never stopped to take any shots because Rt. 17 is usually busy. On this particular morning however, I made a conscious decision to go there, in hope of getting a shot of something other than Southport, NC and it's environs.
This part of Town Creek is near a failed development project that never got past the point of the developers office (now abandoned). It's a sketchy spot on multiple levels. Snakes, gators and a few questionable humans live in the area, so you need to exercise caution. Oh and the old rotting floating docks are also covered with slick green algae, which is a perfect medium for launching your ass into the creek.
It had been raining all morning so I went to this spot intent on shooting something in monochrome. The area I really wanted to shoot was impossible to get to without a kayak or some other type of boat, so I climbed around on an old dock and some tree roots to find an ideal position. Unfortunately, the only way I could get the shot was without the benefit of a tripod.
I processed this photo using Lightroom and Nik Silver Efex Pro 2.
- Keith Kendall
---
Peekin'
My niece peeking out of a prop gorilla cage at the Pittsburgh Zoo. She didn't want to leave so we left her behind. I hope they're feeding her. Taken with my Nikon D600, ISO 800, 85mm, f/4.5, 1/1250 sec.
- Neal Rosenblat
---
Classic Ride


Equipment:
Nikon D5100, 18-55mm stock lens.
Set up:
55mm , f/11, 1/500, ISO 320
Abbey Road
I was driving through a random neighborhood and saw this gem parked along the street. The first thing that caught my eye was the contrast of the white paint against the chrome and tires. The shadows played off the grill perfectly and I knew this was my subject for this contest. This British MG had a license plate on the back that said "Abbey Road," which I'm hoping means it's at least been there.
- Jared Truettner
---
Lone Tree


So I took this at Storm King Sculpture Park in New York yesterday. Took this with a canon T3i and kit 18-55mm lens. It is 3 exposures combined in Photomatix
This tree was cool.. It was in the middle of a field all by itself, and reminded me of that movie studio animation of the tree getting hit by lightning. It was a beautiful day and the clouds looked great, so I decided to snap this from a nice spot set below the tree. The sun was really bright so I captured 3 exposures, so I didn't lose the clouds from the shot being overexposed. The pics came out great in color but I figured it would look real nice in monochrome. This is the way I'd prefer it even if not for the contest. So there it is!
- Justin Block
---
Congo Mist
My name is Jonas Eriksson. I work with WWF in the National Park of Salonga in DR Congo. My job is to assist the park guards in the planning and execution of the anti-poaching patrols of the park. Since a year we are working together with the DR Congo military as the heavy armed elephant poachers are also viewed as a potential threat for the country. I am just about to set out on a patrol but needed wait for the arrival of the military rations and the boat to the left seen in the picture. The boat arrived late last night in the dark and I took the picture early this morning as people were waking up on the boat. At the moment it is dry season here which means alot of fog on the river in the early morning.
The picture is taken with a Nikon D700, 50mm 1/1.4 at ISO 3200 and converted to B&W in photoshop.
- Jonas Eriksson
---
Thanks everyone for this week's entries. It's a lot to take in and... reflect on. And as usual, you can find the full size versions on Flickr.