This weekend, the final (we think) Twilight movie hits theaters, and then it's all over. Maybe you love Twilight as much as Mitt Romney, or maybe you're not crazy about it. But either way, you can't deny the huge impact that Twilight has had on pop culture.
Here are nine reasons we're giving thanks for Stephenie Meyer's vampire empire.
Top image via Fanpop.com.
1. Vampire Diaries
We're pretty sure The CW only pulled the trigger on this show because they wanted a television version of Twilight — and instead, they got something much stranger and infinitely more wonderful. There is nothing else like TVD on TV, nor will you ever see its like again. A typical episode of Vampire Diaries packs in more "What was that" moments, more insane-but-logical plot twists and more genuine emotion than a dozen episodes of other shows. And this show takes a central conceit of Twilight — "vegetarian" vampires, choosing to feed off only animals — and turns it into a complicated metaphor for repression, and the ways in which denying your desires only gives them more power over you. If The Vampire Diaries was the only thing to have come out of Twilight, we would be Twi-Hards forever.
G/O Media may get a commission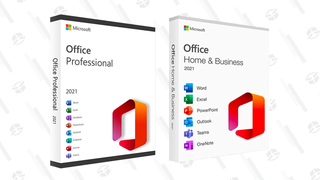 89% off
Microsoft Office Professional 2021 Lifetime License
2. A boom in young adult novels
Twilight was arguably the first post-Harry Potter publishing craze and sold gajillions of copies at a time when bookstores were struggling. And before Hunger Games came along, Twilight had already inspired a ton of publishers to pick up more young-adult series. Including tons of books by female authors, such as Richelle Mead. Twilight opened the door for a lot of paranormal romances and YA fantasies that were more complicated and intense than Meyer's saga — and basically created the genre of Teen Paranormal Romance, that exploded for a few years. Of course, Twilight then gave us Fifty Shades of Grey and the ensuing boom in "repackaged Twilight fanfic" novels. So it's perhaps a bit of a wash.
3. The way it allows us to talk about pop culture mistakes
The phrase "sparkle vamp" has become the new "jump the shark." And it's come to stand for way, way more than just the concept of vampires who go out in the daylight but get all sparkly when they do so. Twilight has helped to spur a conversation about what happens when paranormal storytelling goes off the rails, including the embarrassing aspects of other stories we love. Even the greatest science fiction and fantasy universes have their WTF aspects, and the "sparkle vamp" conversation has been a great way to let us talk about that. Image via Redbubble.
4. Unconventional families
Director Bill Condon (who helmed the last two movies) talks about this a lot — Twilight is a highly visible saga about unconventional families of outsiders. When we interviewed Condon last year, he talked about the idea of creating an alternative family of choice, as opposed to your birth family, as something that resonated with him. He added: "Obviously, Bella joins this family that has been completely invented [already]. But even Jacob, the one who is most firmly rooted in that sense of traditional culture, has to break away from that and join this family that is a kind of incredible collection by the end, of vampires and humans, and half vampire-human baby, and wolves."
5. More shirtless dudes
Obviously, there were shirtless dudes in pop culture before Twilight — but the books and especially the movies made huge strides towards male objectification, and helped push really beautiful shirtless men into the mainstream of American pop culture. Probably some graduate student somewhere is composing a detailed chart explaining how Twilight leads to Magic Mike.
6. Melissa Rosenberg became a player
She was already a highly respected writer for her work on Dexter, but after Melissa Rosenberg became the writer of all the Twilight films — and injected the movies with a level of irony and self-awareness that the books mostly lacked — she gained a new level of fame. And she launched Tall Girl Productions, her own production company, which aims to create "great, complex, interesting roles for women," as she told Screen Rant: "I want to see the female Iron Man, the female Tony Soprano." Her first movie production: an adaptation of Pamela Sargent's Earthseed, which Rosenberg describes as "Lord of the Flies in space."
7. It sparked a conversation about images of sexuality for teenage girls
And in particular, Twilight sparked a worldwide conversation about the kinds of messages we send teen girls about sexuality and romance. By presenting such an extreme case of a stalkery, controlling guy and a passive, unempowered girl, Twilight created a really clear metaphor. And it opened up a channel for us to talk about the kinds of positive messages we want to send girls in general about relationships and power dynamics. This has been an incredibly valuable conversation about a really difficult topic to confront.
8. Summit's teen movie factory
Twilight didn't just help to spur the YA novel boom — it also helped open a space for other movies, some of which might actually be pretty great. Summit Entertainment took their bags of Twilight money and turned around and invested that cash in picking up the rights to a bunch of other quasi-young adult books. Including Warm Bodies by Isaac Marion, which has a trailer that looks pretty decent. And The Night Circus by Erin Morgenstern, which is technically an adult novel but has a lot of youth appeal. And Veronica Roth's Divergent, the movie version of which is coming in March 2014. And Under the Never Sky by Veronica Rossi, and If I Stay by Gayle Foreman. Oh, and a book you might have heard of called Ender's Game.
9. Women and girls at San Diego Comic Con and other fan spaces
San Diego Comic Con always had a better gender balance than people gave it credit for — but Twilight really launched the whole "women camping out for three days" thing, and made female attendees way more visible. For the past few years, whichever day the Twilight panel was, that day Hall H belonged to the Twi-hards. There won't be any more Twilight panels at Comic Con, but we're guessing the highly visible presence of excited female con-goers is a permanent fixture now — they'll just gravitate towards all the other stuff they love, including TV shows and comics. Just like in books and movies, Twilight has helped kick down the barriers and redefine fandom. And that's probably the number one reason to thank Stephenie Meyer for it. Image via Associated Press.