Cobie Smulders reveals a seemingly unexpected detail about her Avengers character. Matt Smith talks the Doctor Who Christmas special. After Earth and The Host make some awesome casting additions. Plus why The Darkest Hour isn't your average alien invasion movie.
Spoilers from here on out!
Top image from The Hunger Games.
The Avengers
How I Met Your Mother star Cobie Smulders offers this description of her character, S.H.I.E.L.D. agent Maria Hill:
[My costumes are] very sleek, and very leather. And if she had a superpower it would be that she is hyperintelligent; a very nice, fine woman who has all the answers.
That quote has been edited from the original version, which read like this:
"...And she has superpowers and is hyperintelligent; a very nice, fine woman who has all the answers."
G/O Media may get a commission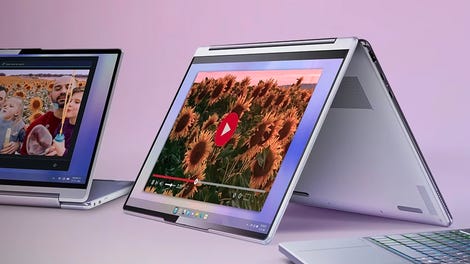 up to 70% off
Lenovo Spring Clearance
Of course, the comics version of Maria Hill doesn't have superpowers, and some took this as accidental confirmation of the longstanding rumor that the movie's Maria Hill was actually a Skrull infiltrator, possibly Princess Anelle. Vulture explained the change with the note, "This quote has been updated to show that Smulders didn't mean to suggest that her Avengers character has superpowers." So, at this point, feel free to interpret this as a harmless clarification for an honest misstatement, or a vast Marvel/Disney cover-up to protect crucial plot points. Honestly, I could go either way on this one. [Vulture]
---
Star Trek 2
Sulu and Chekov actors John Cho and Anton Yelchin say they still haven't received a script, but they expect to do so shortly. Just as long as they don't get forced to share the same script like their predecessors in the roles, I think we'll be fine here. [E! Online]
---
The Hunger Games
James Newton Howard, who worked on the scores for The Dark Knight, Michael Clayton, and I Am Legend, among other things, is reportedly replacing original composer Danny Elfman after Elfman had to step aside due to scheduling problems. T Bone Burnett is staying on as collaboration partner for the score. [Variety]
---
Transformers 4
Michael Bay is reportedly in final negotiations to direct at least one more Transformers film, with an official announcement possible as soon as next week. According to this latest report, filming would being in 2012, the movie would not be a prequel, and "it will delve deeper into Transformers canon to mine older characters and lore." [Vulture]
---
The Darkest Hour
Here's a new trailer for the Emile Hirsch starring alien invasion movie.

Director Chris Gorak explains what sets these particular aliens apart:
The electricity. How that enemy is seen and not seen and then how we could cinematically tell that story of being chased by something invisible and now you see it, now you don't and all the opportunity that gives you in terms of storytelling. For example, here tonight the alien arrives and turns on all the lights as it approaches, and I think that is something very unique to this kind of genre.
He also explains how his background as a production designer influenced his approach:
Having designed so many different types of films, one thing I've learned through the design process is story comes first. And design is just part of storytelling. So this is very specific to the alien invasion, Moscow, the signs of this danger, so the design -– it's form follows function all the time for me. What to expect is something new and exciting and real and gritty; we always talked about it as sort of a war picture, so we're set in a great old historical setting and city with all this grand architecture and hundreds of years of history. All kinds of political history and to have the idea of an invasion here, I think there are so many things that can permeate through that you won't even predict.
Finally, he explains how the film's Moscow setting is another thing that makes it different:
It's unique in that, we have our Americans who come here, which is fish out of water, which is typical, but the idea that they're settled in Moscow I think is very unique, and at a certain point in the film the Russian survivors – the Russian soldiers – appear, and I think at that point there is a tonal shift that becomes a little more fantastic, a little more fun, and there's a lot of fun we have from that point forward in the film. So we should have a great balance of tone.
There's some more at the link. [Collider]
---
After Earth
M. Night Shyamalan's post-apocalyptic sci-fi movie is reportedly adding two more cast members alongside father and son Will and Jaden Smith, who will also be playing father and son in the movie. Hotel Rwanda's Sophie Okonedo and X-Men: First Class actress Zoe Kravitz are reportedly in talks to play the mother and daughter of this clan, which seems like a weird choice when you've got two perfectly good Smith family members literally born to play those roles. Here's the latest synopsis from the report:
Humans no longer live on Earth after it becomes inhospitable. The elder Smith is playing a hero, while Jaden is his son, considered a failure as a warrior. When the two crash-land on Earth, it is up to the son to save the dad.
---
The Host
The quietly great William Hurt is reportedly in talks to join Hanna star Saoirse Ronan in the adaptation of Stephanie Meyer's non-Twilight book. He would play Jeb, the eccentric uncle of Ronan's Melanie Stryder. Jeb is described as one of "the grizzled leaders of the human survivalists fighting the alien invasion." [EW]
---
Indiana Jones 5
Steven Spielberg suggests that he was misquoted recently when he apparently said that he and George Lucas had agreed on the "genre" of the next Indy movie. He had instead meant to say that they had agreed on the film's MacGuffin:
No, no, no. It's not a new genre at all. [All the 'Indiana Jones' films], they're all the same genre. It's all the same genre. It's just the MacGuffin that changes. The MacGuffin was the Ark of the Covenent in Raiders, the Holy Grail in The Last Crusade, and the skull in The Crystal Skull. That's what always changes, and that's what we always look for.
---
Byzantium
Here are some set photos of Quantum of Solace costar Gemma Arterton in the new film directed by Neil Jordan, in which she and Saoirse Ronan play a pair of mother-daughter vampires who pass themselves off as sisters. Here, Arterton appears to be being melodramatic on an English beach, which admittedly is the only way to deal with the exquisite disappointment that is an English beach. [Socialite Life]
---
Doctor Who
Here's an interview with Matt Smith about the latest Christmas special, "The Doctor, the Widow, and the Wardrobe." [Blogtor Who]

---
Fringe
Here's a set photo. [SpoilerTV]
---
Terra Nova
Here's a promo for the next episode, "Within", which is the last episode before the two-part season finale. [Terra Nova TV]

---
Chuck
The Christmas episode, "Chuck vs. the Santa Suit", will feature both Chuck and Sarah receiving kisses from other people, at least one of whom is an enemy. [TV Line]
Here's a short synopsis for episode eight, "Chuck vs. the Baby":
When Sarah's original handler (Tim DeKay) shows up, she worries he will hurt those closest to her, including her mother (Cheryl Ladd).
---
Grimm
Here's an interview with star David Giuntoli about this week's episode, "Danse Macabre."

This week's episode will reportedly reveal Monroe's romantic side, as he tangles with a former flame played by Eureka's Jaime Ray Newman. This return of his old flame will reportedly test his ability to stay in control of his wilder urges. [TV Line]
---
Supernatural
Misha Collins will be back for episode seventeen and "at least two additional episodes" thereafter - but he reportedly might not be playing Castiel, at least not the Castiel we know. [TV Line]
Elsewhere, Collins confirms and elaborates on this report:
"I can confirm that the character of Castiel is returning to 'Supernatural.' I'm not supposed to talk about any details, but I will tell you this: The character is coming back somewhat changed. I'm not going to tell you everything, but I will tell you that the 'new' Castiel no longer wears undergarments."
[AOL TV]
And separately, Bobby Singer actor Jim Beaver tweeted:
Just because someone doesn't like the idea of someone dying doesn't mean someone DID. Settle down! ;-)
Here are some set photos. [SpoilerTV]
---
Sanctuary
Here are some promo photos for episode ten, "Acolyte." [SpoilerTV]
---
Additional reporting by Natalie Baaklini, Marykate Jasper, and Charlie Jane Anders.