What is it about bugs in space that is just so adorable? First, it was the indestructible-yet-cuddly tardigrade. Now it's an illustrated Czech children's novel about beetles touring the solar system.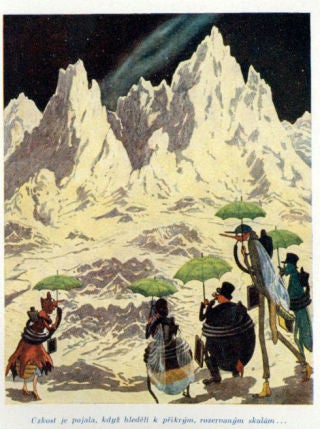 Na měsíc a ještě dál is an illustrated children's novel about a group of beetles touring our solar system. The Czech book is from 1931, so predates us learning so many wonderful things about our planetary neighbours, but it makes up for it with downright adorable illustrations.
It doesn't look like the book was ever translated into any other languages, but that just means all the non-Czech readers get to make up their own stories to go with the adorable art. For example, I'm fairly certain this one is instructing that the most proper bug-tourists have a stylish parasol available at all times to protect from frosty rain when visiting cryovolcanos on icy moons.