Noah Hawley talks about Legion's connection to the X-Men films. Steven Moffat teases Doctor Who's next season. Plus, a bloody new teaser for Logan, and what's to come on Supergirl, Arrow, Flash, and Legends of Tomorrow. Spoilers Now!



Logan
In this new teaser image, things do not go well for whoever previously owned this shotgun.
---
Doctor Strange
Here's Marvel's customary "Hey we made all those comic book movies you liked" promo for the film.
G/O Media may get a commission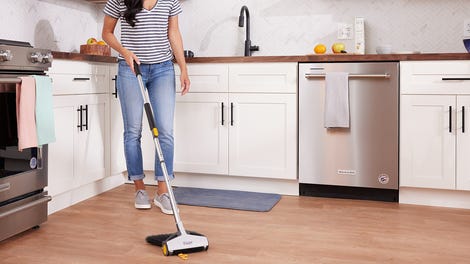 BOGO 50% Off
Flippr - BOGO 50% Off
---
Pirates of the Caribbean: Dead Men Tell No Tales

Here's a new teaser poster for the film.


---
Doctor Who
An unnamed classic series writer will be contributing a script for series ten, according to Steven Moffat:
We have got some new writers. We're not rolling them all out now. Oh, I could do one fun thing. We've got Mike Bartlett coming in. He's just done 'The Haunted Hub,' a brilliant script from Mike Bartlett. He wrote the show Doctor Foster, which was a big series in (the UK). Has it been over here? No? Well, it's brilliant, and he's a brilliant playwright. And he's been a long-time fan of Doctor Who. He put his new hit series on hold for a couple of weeks so could write an episode of 'Doctor Who.' And — oh, what the hell. For the first time ever, someone who wrote for the classic series — and I'm not saying who — is going to write an episode of the new series! Deal with that!
[CBR]
---
iZombie
Jason Dohring has been cast in the recurring role of Chase Graves, the brother-in-law of the villainous Fillmore Graves CEO Vivian Stoll. [TV Line]
---
Sleepy Hollow
John Noble has been confirmed to return as Henry Parrish for the show's fourth season. [TV Guide]
---
Legion
Showrunner Noah Hawley discusses the series' connection to the X-Men films:
Were in the subjective reality of David, so it's hard to tell. It would be a spoiler in a true sense to say. ... I try to make things that are unexpected, but in the end feel inevitable. I will say we are true to the origins of this character, and leave it at that.
[TV Guide]
---
Ash vs Evil Dead
Good news! The show has been renewed for a third season. [Deadline]
A synopsis for episode five of season two, "Confinement", has been released.
Deadites are no match for our hero, but the Sheriff is, when Ash is brought up on charges. Ruby, Kelly and Pablo go to break him out, but they discover some people are not what they seem to be. There's a new evil in town.
---
Agents of SHIELD
IGN has a few teases for tonight's episode, "Let Me Stand Next to Your Fire"—head to the link to see more.
We meet Ghost Rider's brother, Gabriel Reyes, for the first time, and he's just like in the comics except for one key detail that'll no doubt have some fans upset.

May's supernatural sickness will get much, much worse.

We saw previously that Skye's arm had to be bandaged after suffering more damage from her powers. We'll get a peek underneath to see just how bad it is now. Spoiler: it's bad.

---
Supergirl
It's synopsis central for the CW/DC universe! First up, a synopsis for season two's third episode, "Welcome to Earth":
An attack is made on the President (guest star Lynda Carter) as hot-button, alien vs. human rights issues heat up in National City. Supergirl and the DEO are assigned to protect the President and bring in the responsible party. Alex teams up with Detective Maggie Sawyer (Floriana Lima) to investigate the case while Kara searches for a recently escaped Mon-El (Chris Wood), who she fears may be the alien behind the assault.
---
The Flash
And here's one for Flash's fourth episode in the run, "The New Rogues":
Barry continues to train Jesse (guest star Violett Beane) and when a new meta human, Mirror Master (guest star Grey Damon), appears on the scene he lets her tag along. Mirror Master has teamed up with his old partner, Top (guest star Ashley Rickards), and is looking for Snart to even a score. Jesse is quick to join the chase but defies one of Barry's orders which results in disastrous consequences.
---
Arrow
Ollie goes on a mission for Diggle in the synopsis for "Penance":
Oliver and Lyla (guest star Audrey Marie Anderson) team up on a secret mission for Diggle. Felicity finds out and disapproves of the plan and opts to stay behind. When Tobias Church (guest star Chad L. Coleman) launches a deadly assault against the city, Felicity must decide if she wants to send the recruits out sans the Green Arrow.
---
Legends of Tomorrow
And the team heads to Feudal Japan to save Ray and Nate in "Shogun":
Nate (Nick Zano) is shocked to learn that he has powers but then accidentally lands himself and Ray in Feudal Japan. After Sara convinces their stowaway Amaya (Maisie Richardson-Sellers), AKA Vixen, that Rory is not a murderer, they all agree to find Nate and help him master his powers in order to defend the Japanese village from the Shogun and his army of samurai warriors. Meanwhile, Jax and Stein stay back to help fix the ship and find a secret compartment but decide not to tell the rest of the team what they learn.
---
Shadowhunters
Finally, a new trailer for season two has been released.


---
Additional reporting by Gordon Jackson. Banner art by Jim Cooke.