Intel's known as a manufacturer of chips that power your laptop. Simple enough. But it wants—it needs—to be more if it wants to come along for the mobile, wearable, hybrid-fueled world. Tonight, it gave a look at its ambitions. They're huge.
Intel CEO Brian Krzanich broke the items of interest down into three categories; live, work, and play. Love, presumably, is either implied or considered to be an empty construct.
Live
G/O Media may get a commission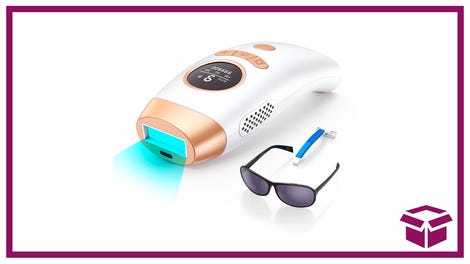 58% Off + Coupon
IPL Hair Removal Device
Smart Earbuds
Instead of relying on a separate device, the earbuds you wear when you exercise take care of all of the metrics you might otherwise get from a Fuelband, etc.
Smart Headset
Jarvis is always listening, always monitoring, and seamlessly integrates into your life. A brief demo of Jarvis—which worked with an Intel personal assistant, but could also hypothetically work with Siri, Google, etc.—showed that it could understand natural speech instead of those herky commands you're used to.
Smart Charging Bowl
Instead of the wireless charging pad that you're used to, you can drop your compatible devices in a simple bowl—it looks like a 23rd century ashtray—to keep your gadgets juiced.
Smart Watch
No charging, no tethering, and smart geofencing set Intel's version of the smartwatch apart. It can look at the time and know where the wearer is supposed to be, how they're supposed to get there, and more.
It's mostly a way to keep teenagers from hanging out in the 7/11 parking lot after hours, or at least to keep them from wearing their smartwatches when they leave the house.
Intel's going to work with Barney's, the Council of Fashion Designers of America, and Opening Ceremony to make sure that the wearables aren't a blight upon your wrist the way so many have been so far. Godspeed!
Edison
Edison is Intel's next SoC; it's a 22nm dual core processor, which supports Linux and is open sourced. It's got built-in Wi-Fi, the Bluetooth low energy standard, and App Store, ultra low power, and has Wofram Language and Mathematica.
Basically, Edison is one chip to rule them all, the brains that are going to make a smart home so smart. Here are a few of the applications in Intel's crystal ball.
Nursery 2.0
A turtle with Edison inside it connects to a onesie, which makes the onesie smart enough to know when the baby is awake, asleep, in what position, how she's breathing, and what her temperature is.
It doesn't just go to your phone or to a browser interface, though. The data, in this case, can talk to a connected coffee cup, letting a parent know when a child is awake, how fast its heart rate is, and more.
And there's more! It knows enough to connect to a bottle warmer, so that when the baby wakes up, a bottle is ready and waiting for it. Which is maybe not the best idea since it means you're leaving formula or breast milk out for an indeterminate amount of time but hey, what do I know?
Intel's going to give away $1.3 million to the person or persons or conglomerate (maybe?) that can come up with the best next big wearable tech.
Security
The more wearables you have, the more biometrics and data-collection and geofencing your devices collect, the more concerned you might be about security and privacy. Intel, in response, is installing security software for free on all of its consumer mobile devices. See? That McAfee acquisition was good for something!
Work
Tablets
Intel touts that Applebee's replaces all of its menus with tablets, which seems also like a polite way to say that Applebee's has found away to eliminate the need to hire real human people other than as a food-delivery mechanism. So... good? Sure! Definitely future.
Intel Device Protection Technology
You can now use Android in tablets anywhere you are and you'll be secure; it's full 64 bit, and lets switch between office and casual usage without worrying about sacrificing security.
Dual OS (Read: Android and Windows in One)
Here's what Intel is promising: the ability, with the push of a button, to switch between Windows and Android. It's supposed to be a seamless experience, and a secure one, thanks to Intel's commitment to device protection.
Full 3D Scanning
We got a glimpse at Intel's fancy new 3D camera earlier today, but the basics are this: A camera that can see in three dimensions, that can register depth, that fulfills all of your Minority Report dreams. This was a little bit more involved of a demo, though; the little astronaut above was 3D-printed in real-time during Intel's keynote.
Animation
It's my reportorial obligation to let you know that DreamWorks CEO Jeffrey Katzenberg showed up to explain how much he likes Intel products. Coincidentally, it's also an opportunity for Jeffrey Katzenberg to promote upcoming DreamWorks release Mr. Peabody and Sherman. Synergy!
Play
You can't think Intel without thinking FUN. Possibly. Either way, Play is the third leg of Intel's future-triad, and yes, it's got games.
Games: Scavenger Bots
A game in which you scan something, say a sandbox, to recreate it on your tablet so that you can control a little robot character in that environment Does it make any sense as a game? Not a whit. Is it an impressive display of technology? Probably.
Intel's goal of immersive gaming is definitely different, but it's clearly got a ways to go for it to be a seamless experience.
Stories: Leviathon
This is, apparently, a story about a flying whale, which seems delightful. But Intel wants to "bring the digital world into our world," to bring said flying whale into the room with us. Although it's not so much in the room with us as it is on a tablet that is showing the room. If it's not just straightforward AR it's hard to tell how it's different.
Still, Leviathon looks neat. You know, for kids.
Gaming: Valve
Valve's Gabe Newell talked about Valve's Steam Boxes, devices that give PC games more of a console experience. They've been getting a lot of attention, but they're basically just PCs in smart packaging.