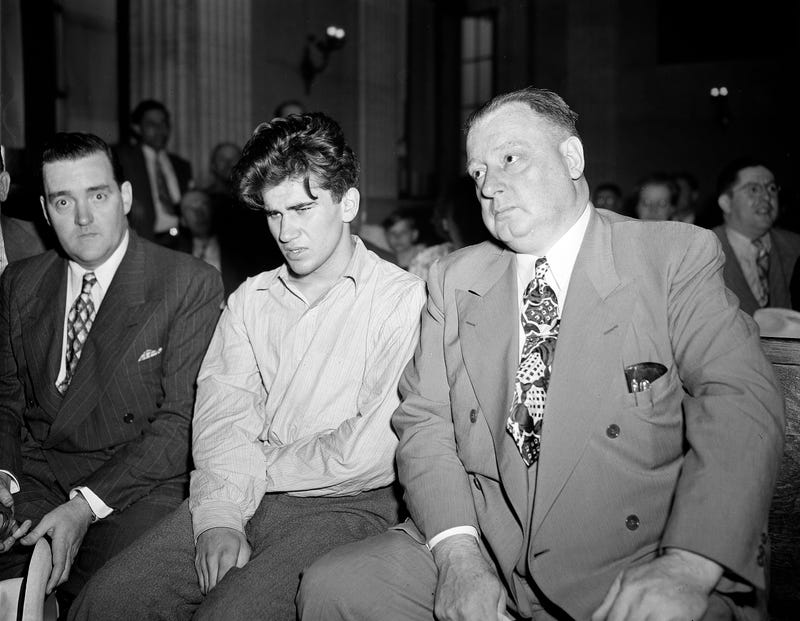 A murder is tragic enough on its own. But when a killer carefully leaves some kind of calling card at the scene — like words scrawled on a wall — the act accrues even more horror. Everybody knows the Manson Family did it. But the message attributed to Chicago's "Lipstick Killer" was just as terrifying.
His message, left in September 1945, was far less enigmatic as the Family's "Helter Skelter," but it was far more nightmarishly sinister:
For heavens
sake catch me
before I kill more
I cannot control myself
Worrisome, no? This missive was applied to the wall in lipstick at Francis Brown's apartment. She'd been stabbed to death; cops thought perhaps she'd interrupted a burglary in progress, though nothing of value had been taken. It appeared to be a criminal with the same M.O. as whoever'd killed Josephine Ross six months prior, though there'd been no message left at that scene. In January 1946, another grim discovery: dismembered body parts belonging to a missing six-year-old girl, Suzanne Degnan. She'd been kidnapped from her bedroom, and met her end soon after — though not before a ransom note was passed to her parents.
It was the note that did William Heirens in, because his fingerprint was found on it. In June 1946, he was caught in the act of committing a burglary, and soon became the top target in the murder investigation; by this time, the public was mighty anxious that nobody'd yet been nabbed for Suzanne's murder. As the New York Times recalls in Heirens' obituary, what happened to him in custody was controversial. Though he was eventually convicted, some — including Ross' daughter — came to believe over the years that he'd been scapegoated:
While he was in custody, The Chicago Tribune, citing what it called "unimpeachable sources," reported that Mr. Heirens had confessed to the Degnan murder. Four other Chicago newspapers published similar articles, basing them on The Tribune's account. The outcry against him mounted.

Mr. Heirens, who said he was beaten and given "truth serum" in jail, disputed the newspaper accounts, saying he was about to sign a confession in exchange for one life term but rebelled at "being forced to lie to save myself." Prosecutors then charged him with the Brown and Ross murders, saying they had incriminating physical evidence against him, including crime-scene fingerprints and a handwriting analysis. Offered three consecutive life terms in exchange for a guilty plea, he accepted, on the advice of his lawyers. Later he said he had done so only to avoid a death sentence if he had gone to trial.

"I confessed to live," he said.

When he did confess, his memory seemed ragged. Time after time during the plea bargaining, prosecutors brought up details from The Tribune article, which he then incorporated into his testimony. Mr. Heirens recanted his confession soon afterward and maintained his innocence for the rest of his life while being denied parole or clemency numerous times. He questioned the validity of the fingerprints and other evidence, as have public interest lawyers who supported him.
Heirens was the first prisoner in Illinois to earn a degree from a four-year college. (Though he'd had a rough childhood, he was highly intelligent.) Just 17 when he was arrested, he was 83 at the time of his death in 2012. He was Illinois' longest-serving inmate at the time.
Images: AP Photo, File; Criminal Minds