Sometimes the bargains universe is barren, and some days it is plentiful. Some days you get a confluence of several events—the end of CES, the January shopping doldrums, a mistake by a hapless Seamless copywriter—and you get a perfect storm. These are the days that Dealzmodo lives for. So let's get on with it, shall we?
Who should you follow this Friday? Dealzmodo, duh. #teamfollowback for today only.
Follow @dealzmodo

---
Top Deals
Cheap backpacks are cheap for a reason—you'll overstuff them one day and they'll simply tear apart. That, more than fashion, is the reason why big city cool kids started using messenger bags taken from fixie culture. When you're in the city, you need a big ass bag that you can rely on.
Lots of folks like Timbuk2 bags, and today from 6PM they're the price of a Jansport. For instance, this "Share The Road" Classic Messenger model is $40. Most other places it's $80. If you like ugly colors, there's a chance you can save even more. [6PM]
G/O Media may get a commission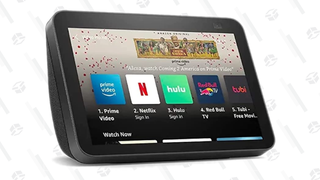 Kyle Wagner actually just wrote about this exact bag (classic messenger, medium) and said he couldn't have survived CES without it. He listed the price as $99—but you can get it for $40 with slightly different aesthetics.
---
This Is Was The Best Seamless Promo Code of All Time
The apocryphal story floating around the internet about this unbelievable code: a copywriter makes a mistake. You know, a real boner of a typo (Dealzmodo would never do that.) He's panicking, so he quickly creates the code Grammar10 to apologize—but it soon takes on a life of its own. The code, you see, knocks $10 off orders of $12 and up. That means I ate $12.88 of sushi for lunch (including tip and tax) and I paid $2.88. Looks like you're ordering pizza tonight. [Seamless]
Update 3:15PM: A couple of readers have written in saying that Seamless has changed the code Grammar10 to a 10% off code, which obviously is less exciting. Just another reminder to follow Dealzmodo! We tweeted the code out while it was still fresh, before lunch.
---
Accessories
There are a lot of gaming mice, but the Steelseries Sensei is the closest to being the gaming mouse. Amazon's running a pretty good deal on it today—you can cop it for $58. Usually it's $80 or more. If you need a high performance mouse for your high performance clicking, get it today. [Amazon]
• 6ft HDMI A Male to A Male Cable ($1.49) | Newegg via Reddit | Originally $5 | Use coupon code EMCNJJF84
• Trent iTorch 5200mAh Battery ($40) | Amazon via Reddit | Originally $80 | Use coupon code FREEIMIR
• Steelseries Sensei Laser Gaming Mouse ($58) | Amazon via Reddit | Originally $90
• Steelseries 6Gv2 Mechanical Gaming Keyboard ($66) | Amazon via Reddit | Originally $80
• 1.5TB Toshiba USB 3.0 Portable HD ($90) | Amazon via Reddit | Originally $120
---
Miscellaneous
• SentrySafe 500 Fire Safe Lockbox ($21) | Amazon via Brand Name Coupons | Originally $30
---
Apple
• 13" 2012 Macbook Air ($1070) | Buy.com via Laptopaholic | Originally $1200
---
Audio
Another screaming deal. Mario really liked the Braven 625s Bluetooth speaker when he reviewed it, noting that it was a great value at $180. Today Best Buy is selling it for $100—and everyone else is still selling it for $180. You can do the math. [Best Buy]

---
Gaming
Razer arguably had one of the best CES showings of any company. We really liked the Edge tablet—Kyle even said might actually be the best Windows 8 tablet period. So Razer, as a little post-CES promo, has offered two exciting coupon codes: BESTOFCES2013 knocks 50% off everything and BESTOFCES2013BLADE takes 10% off a Razer Blade, which is actually the first real discount we've seen on that unique gaming laptop. Some folks are saying they're getting slammed on shipping and others are saying that all the good stuff is sold out, but if you've wanted Razer gear, you should take a look. [Razer]
• Dragon Age Pack ($13) | Amazon via Reddit | Originally $25 | PC download, activates on Origin
• Darksiders Franchise Pack ($13.19) | Amazon via Reddit | Originally $20
• Amazon Gold Box PC Gaming Accessories Sale | Amazon via Reddit
---
Physical Media
• From Dusk Till Dawn ($5) | Amazon via Reddit | Originally $7
• Batman Begins on Blu-ray ($6.75) | Amazon via Reddit | Originally $15
• Monty Python and Holy Grail on Blu-ray ($13) | Amazon via Reddit | Originally $20 | DVDs available for around the same price
---
Clothing
• Timbuk2 Control Laptop Bag ($40) | 6pm via Dealmac | Originally $80
• Timbuk2 Messenger Bag ($40) | 6pm via Dealcatcher | Originally $90
• NHL Sweater Sale | Amazon via Reddit | Hockey is back, baby
• Brooks Brothers Shoe Sale | Brooks Brothers via Reddit
• Eight Dollar Slim Fit Chinos | Land's End Canvas via Reddit | Use coupon code SUNNY and pin 1014
---
Dumb TV → Smart TV
Nope.
---
Laptops
• 11" Asus Zenbook with 128GB SSD ($830) | Adorama via Laptopaholic | Originally $1000
---
Desktops
• Dell XPS 8500 with Radeon HD 7570 and Quad-Core i7 ($802) | Dell via Logicbuy | Originally $1200 | Use 25% off coupon code ?$QNC1?HSKNR9F
---
Tablets
---
Screens
• 50" Panasonic Viera Plasma TV ($700) | Amazon via Brand Name Coupons | Originally $900

---
Portables
Not today.
---
Camera
• Square Filter Kit ($55) | Amazon via Fatwallet | Originally $80

---
Bare Drives
• 256GB Samsung 840 SSD ($165) | Adorama via Logicbuy | Originally $200
---
Apps
iOS
• Dungeon Story ($0) | iTunes via Best App Sales | Originally $1
iPad Only
• Bad Piggies HD ($1) | iTunes via Appshopper | Originally $3
Android
• Block Story ($0) | Amazon Appstore via Apps-aholic | Originally $2
• ModeBot ($1) | Google Play via Apps-aholic | Originally $2
• Multiponk ($1.31) | Google Play via Apps-aholic | Originally $6.66
• AIDE Premium Key ($5) | Google Play via Apps-aholic | Originally $10
---
Mac
• PopClip ($1) | Mac App Store via Best App Sales | Originally $5
---
Hobomodo
• Free Two-Year Subscription to Lego Club ($0) | Lego via Reddit | Originally $10
• Free Lipton Teabag ($0) | Lipton via Facebook via Reddit | Originally $1 | Gotta like 'em on Facebook