New gadgets take the spotlight at CES. And though we're occasionally blinded by the bright, shiny things, we know where our loyalties lie. Behind the barrage of posts and sprinting between booths, the real stars of the show are the tried and true bits of gear we're using behind the scenes. Particularly that from BorrowLenses.com, whose generosity is the reason you get to look at all those pretty pictures. But each of us has our own beloved item—tech or otherwise—that we'll swear is the only reason we made it out of Vegas alive. Spoiler: There are a lot of batteries mentioned in this post.
Joe Brown
Vmoda Faders earplugs
Noisy does not begin to describe CES, and even cacophonous is an understatement. The show is a sensory assault, and running the Gizmodo strikeforce takes focus. I spent most of the show with these either in my ears or hanging around my neck; the portable peace and quiet was invaluable. [$20]


G/O Media may get a commission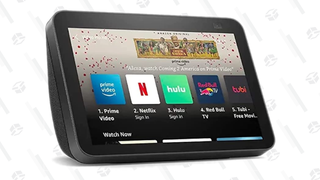 Gunnars
Staring at a screen all day hard on your eyes. Staring at a screen all day when you're exhausted from busting your ass to cover CES as a blinding pace while you're so hungover you can feel your pulse in your eyes is even harder. I can't emphasize the amount of relief you feel putting on a pair of Gunnars when you're already fatigued; the mild magnification takes some of the burden of focus off your ocular muscles, and the yellow hue softens the glow of your screen. It's the optical equivalent of taking your shoes off after a long day on your feet. [$60]


Eric Limer
Nexus 7
Maps and spreadsheets are pretty much a perfect use-case for a 7-inch tablet, and my Nexus got me out of a couple of jams this CES. The bigger screen makes it way easier to see the whole picture without having to zoom in and scroll around, and that at-a-glance-ness made it perfect for checking, rechecking, and rerechecking times and locations on the go. And it fits in my back pocket. [$199]


Microsoft Explorer Touch Mouse
Microsoft Explorer Touch Mouse: You Apple kids are all used to your trackpads and never using a mouse again and blah blah blah blah. In my Linux-using mind, there ain't nuthin' more claustrophobic than being stuck with a touchpad, especially when you're on a deadline. It took me a while to get used to it (months ago) but the Microsoft Explorer Touch Mouse served me well in my time of need, and helped me swear at my computer just a little bit less. [$27]


Mario Aguilar
Mophie
My phone and my MiFi need power—and they really burn through their batteries when they're trying to cut through the choked airwaves of the show floor. I never once wen back to the press room for a charge thanks to my 6000mAh Mophie Juicepack Powerstation Duo that could charge both of them at once. [$99]


Michael Hession
Canon 5D Mark III
This camera is my ol' reliable. I depended on it at CES to shred low-light situations. It is important to have a streamlined gear setup during these kinds of events, and with the Mark III, I could go without a bulky flash. I really only needed one single lens for the entire week—the 24-105 f/4 L. Not the widest of apertures, but it has image stabilization and and a nice long focal range to make up for it. [$2,975]


Adobe Lightroom 4
Speed is key at CES. Lightroom makes importing and editing batches of photos an absolute breeze. So many shortcuts and so many great export options that save precious minutes. [$79]


Brent Rose
Motorola Droid RAZR MAXX HD
CES is murder on a phone's battery. While my colleagues were charging every chance they got, I didn't even worry about it. Despite using my phone non-stop starting early in the morning and making it act as a Wi-Fi hotspot for hours, the RAZR MAXX HD lasted well past 1am every day. All phones should be able to do this. [$199]
Apple Thunderbolt to Gigabit Ethernet Adapter
You know what sucks at CES? The Wi-Fi. I mean, it sucks everywhere. It even sucks in the press room. Ethernet, on the other hand, was fast and reliable everywhere I could plug in. Apple's new MacBook Pro (which I just upgraded to) doesn't have an ethernet port. I ended up using this Thunderbolt to Ethernet adapter more than just about any other item in my backpack. Absolutely clutch. [$29]


Andrew Liszewski
Sony NEX-5R
After spending four CES's destroying my back with a heavy DSLR, this year it was time to lighten the load with something smaller. While it lacks a dedicated viewfinder, the articulated screen on the Sony NEX-5R has made it easy to snap shots over the heads of the annoying CES masses. Its autofocus speed is easily on par with my old Nikon DSLR, and the ability to upload shots in the field to my iPhone via Wi-Fi has been an unexpected blessing. [$598]


Sony MDRNC100D Digital Noise Canceling Earbuds
From the moment you land until the moment you board your plane home, CES and Las Vegas is a non-stop bombardment of noise and distractions. Writing posts is all but impossible without a good set of sound blocking earbuds, and I'm partial to my Sonys with their big drivers that do a fantastic job at drowning everything out with a good amount of bass. And instead of music, I'm partial to writing with a steady stream of white noise in the background, particularly the sound of the inside of a 737 at cruising altitude. [$25]


Peter Ha
Mophie Juice Pack Powerstation Pro
Look, the battery life on the iPhone 5 is pretty terrible to begin with but when you're in Vegas at CES, it sort of amplifies its suckiness by a factor of 10. We're using GroupMe to communicate on the fly and even when I'm just getting texts, the battery depletes 10 percent in a matter of minutes. So Mophie's ginormously rugged battery pack has been a godsend. [$100]


Nike Kobe 8 System
They're not gadgets but trekking from one end of the LVCC to the other and through the endless halls of every hotel in Vegas, you need an amazingly comfortable and lightweight pair of shoes and the Kobe 8s have been great. I didn't really even break them in before CES but my feet haven't felt better. And the crazy holiday colorway has definitely caught everyone's attention. [ $140]


Andrew Tarantola
Eton Boost Turbine Charger
My Eton turbine charger has saved me from a dead phone no less than four times in as many days. And if it runs out of batteries? I just crank the handle to create power from a press-room sandwich. [$60]


Skullcandy Fix Buds Headphones
My Skull Candy headphones may be garbage quality, but they're cheap (you lose gear at CES. Fact.), and they can bump Dethklock loud enough to drown out the ambient noise in this press room. [$27]
Leslie Horn
Hyperjuice Plug
We need beaucoup gadgets to report from CES—mi-fis, phones, cameras, etc. But if they die, you're screwed. That's why I never went anywhere without my HyperJuice Plug, a 15,600 mAh power pack with two USB ports. It's got enough juice that I can use it to charge all my gear, and not worry about having to charge my charger. [$160]
Seagate Backup Plus Portable Drive
On the first day of CES, my harddrive decided to die. Great timing, right? Luckily I was all backed up on Seagate's Backup Plus portable drive, so I didn't lose anything except for my mind. [$74]


Sam Biddle
One of the big CES ironies is that a conference for tech and Internet addicts is a horrible place to get a reliable Internet connection. Everything is oversaturated, so we're left sitting on floors, leaning up against windows, waving our phones around like we're trying to make a cell phone call in 1994. Bringing a mobile broadband hotspot (or ten) is essential, and the Liberate is still my trusty favorite. Connection speeds were still tough because of how many billions of bloggers were trying to do the exact same thing, but the Liberate's battery life was a comforting constant. [$50]


Duracell USB Charger
Your shit is going to run out of batteries, particularly if it's an iPhone 5, which lasts about 30 minutes on a full charge. Add in the litany of other electronics you're hauling around at CES, a paucity of wall outlets, and constant usage, and you're looking at a POWER CRISIS. Luckily these little Duracell chargers are a POWER SOLUTION, and they're both cheap and light. I brought four of them to CES. They don't give a hell of a lot of charge, but it can make the difference between your phone switching off or not when you actually need it. [$21]


Kyle Wagner
Timbuk2 Medium Messenger Bag
You carry your life around in your bag at CES. Last year, I made the bonehead move of showing up with some flimsy cotton number that crumpled up like an old t-shirt when set down, and that had one unsortable pouch. Big mistake. Literally any good, organizable bag would have been a massive upgrade, but the the Timbuk2 has enough pouches and real estate to make me feel like a one man army, instead of a dumbass with a messy bag full of expensive gadgets. [$99]
Camelbak Water Bottle
Staying hydrated in CES is a pain, and you end up collecting variously sized water bottles like a big thirsty katamari. This year I brought my Camelbak bottle—again, any good bottle would do, I just happen to own this one—to dump all of my water into, and streamlining it made a huge difference, plus kept my drinks colder than they would be otherwise. [$15]
Casey Chan
10 Foot Long USB Cable
I've waxed poetic on the loveliness of a long ass USB cable before but you seriously can never go back to the puny shortness of standard cables once you experience a 10-footer. Why did I like it in Vegas? Because hotels strategically place outlets at the most inconvenient spots possible. With a standard cable, my phone is charging across the room on the floor. With my extra long, my phone is right in bed with me, right where it should be.


Special Thanks from all of us


CES is all about images—awesome photos and videos of awesome gear and also silly stuff. To take great shots at CES—or, even just passable ones—you need serious gear. We have some, but not enough. Every year at the show, Borrowlenses.com hooks us up. They have all the gear you need, and can get it to you pretty much anywhere. Borrowlenses.com borrowlenses.com borrowlenses.com borrowlenses.com borrowlenses.com. (The more we type and link to their web address, the more Google Juice they get, and they deserve all of the google juice.) They really are the best place to rent photo and video gear online.
GroupMe

How do you coordinate and connect 16 staffers spread out across Las Vegas with supersketchy cellular connection? GroupMe. Period. It's the best group messaging app on the goddamn planet. Period. Period period.
JULIA. FREAKING. ALVIDREZ.

Navigating CES is a clusterfuck for functional people, but for a bunch of sleep-deprived, time-crunched tech writers, it's a near impossibility. (And Sam is basically an eight year-old. "I can't find my iPhone cable how do I get to the convention center I'm hungry why does all this whisky make my head feel funnnnnnnny waaaaaaah!") We were super duper megalucky this year to have the company of our intrepid office manager, Julia Alvidrez. Thank you so much for your help, Julia. We are extremely lucky to have you as part of our team.