Laura Dern and Oscar Isaac dig into The Last Jedi's mysterious Admiral Holdo. Henry Cavill discusses his hope for a bright future for Superman after Justice League. Black Panther director Ryan Coogler opens up about a Black Panther flashback. Plus, the stars of The Flash on the rising threat of this season's villain. Spoilers now!

Ant-Man & The Wasp
Ant-Man & The Wasp has officially wrapped principal photography, completing the shoot with a scene between Hank Pym (Michael Douglas) and his long lost subatomic wife, Janet Van Dyne (Michelle Pfeiffer). More set pics are available at the Daily Mail, but the one below seemingly shows Douglas in his "modern-day" Hank Pym getup, indicating that Hank and Janet will finally be reunited by the end of the film.
---
Man of Steel 2
Speaking with the LA Times, Henry Cavill discussed his future as Superman:
There's a wonderful opportunity to tell the Superman story. Now there is a fantastic chance to show Superman in his full colors and tell a very complex, character-driven movie that is based on story and have that wonderful sensation of hope and happiness. A feel-good movie with lessons laced in there as well.
G/O Media may get a commission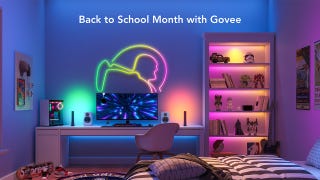 Back to School
Back to School Month with Govee Sale
---
Black Panther
During the Vulture Festival in LA, director Ryan Coogler revealed there will be a flashback scene between T'Challa and his late father, T'Chaka, spoken entirely in Xhosa.
In our film, you find him at a time where he lost his father, the most important person in his life. He's inheriting this incredible responsibility. He's inheriting it at a time when Wakanda is struggling what its identity might be and the people have different ideas of what they should do. He's incredibly conflicted but is aware of his responsibility of what to do.

Realizing that we were going to have this film where a father and son talk to each other in this native African language in a superhero movie — it hit me for a moment. It was emotionally moving. That was big one.
[Deadline]
---
Wonder Woman 2
Meanwhile, Gal Godot hopes the Wonder Woman franchise will further espouse the character's values, becoming something akin to the "Wonder Woman bible."
So many journeys she can experience. She has so many beautiful values. Each chapter is about different values of Wonder Woman. I think that could be really awesome. It's like the Wonder Woman bible.
---


Star Wars: The Last Jedi
Speaking with Entertainment Weekly, Laura Dern shares a few tidbits about the mysterious Resistance Vice Admiral Holdo:
She enters the Resistance to shake things up. You have to sort of figure out who's side you're on or what your feelings are about her.

Like if she looks a certain way, she can't achieve the job or she must be brazen. You know, all the different versions of what we label someone. I mean, there are reasons why I might look the way I look. I think it's beautifully subversive. From the director to the producers, everyone was painstaking about not only the look, but even the exact color of hair, what it should be and trying different versions. And all I know is I think it's so cool. I love the way she looks. I want to be Holdo for Halloween.
However, Poe doesn't like her, according to Oscar Isaac, which plays into previous rumors that the two might end up splitting over where to take the Resistance next:

She doesn't particularly look like your typical military leader, and so I think there's a bit of distrust for Poe. He's not sure what to make of her, and then the way she speaks, the things she says.

Poe is grappling with how to become a leader and not just a hero pilot, which means keeping those emotions in check, to keep his fervor in check and think things through a bit more.

Even if something seems like it's not the most heroic thing to do in the moment, thinking about the bigger picture is sometimes more important. That's something he's trying to wrap his mind around, but at the same time, with the Resistance being in such a precarious situation, he wants to do the right thing, and doesn't want to just wait and let things happen. He doesn't necessarily agree with the way Holdo sees the role of the Resistance in this particular moment.
In related news, EW has also revealed that the crystalline fox seen in the trailer is called a "vulptex"—or, "vulptices" in the plural. According to creature designer Neal Scanlan, the Vulptices will play a minor role in the story other than just looking pretty:
The idea is that these wonderful sort of feral creatures had lived on this planet and had consumed the planet's surface, and as such had become crystalline.

They live within the burrows and within the tunnels beneath the planet. So there is a time where their ability to shine within the darkness, should provide a guiding light to our heroes.
Lastly, an international TV spot gives us our first real footage of Benicio del Toro's character, "DJ," revealing he's on the same First Order facility Finn (and presumably Rose) are seen on in the previous trailers.
Meanwhile Luke loses his cool in the latest US TV spot.
---
Jumanji: Welcome to the Jungle
Coming Soon has another round of character posters.


---
The Flash

Speaking with TV Line, Candice Patton revealed the seasons's big bad Clifford Devoe's dual identity ends up driving Barry off the deep end.
Iris is going to be a little worried about how serious he's taking this DeVoe character. There's a lot more than meets the eye with him. It kind of ends up driving Barry crazy, because he thinks he knows more about this guy, that he's not all that he's cracked up to be, or that he's portraying himself to be. It pushes Barry to do some things that could possibly get him in trouble. I think she thinks, 'Barry, you've got to take a step back, or you could end up in a lot of trouble. You can't go after people like that. There are laws and rules.'
However, Grant Gustin suggests Devoe may be less interested in the Flash himself than we've been lead to believe, promising—oh joy—a "dark turn" on the show in the middle of the season:
The Thinker is less about Barry and more about his vision of Central City, and how he thinks he can make it better and make the world better. He doesn't really become obsessed with Barry and the team.

Things are going to take a dark turn quickly in the middle of the year.
---
Doctor Who
Peter Capaldi's regeneration is a "tour de force", according to Doctor Who Christmas special director Rachel Talalay on a recent episode of the Radio Free Skaro podcast.
When it came to the regeneration in the Christmas episode, Peter has a big scene about it, as one would expect. And he and I spent some time alone on the Tardis, which is his place to sit when he wants to be quiet. We just sat there, in that space, alone, talking through that whole scene. Talking through in his happy space… He had a hundred notes on his script. Again, I view myself as a guide. But he was deeply into it… It's absolutely a Peter Tour-de-force as you can imagine. I was so lucky to get to do it.

The thing I would love to talk about, and look forward to talking about in the future is how I planned Peter's portion of the regeneration versus how I planned and shot Jodie's. Because as a director, that was a really satisfying, interesting, fun challenge, and I'm really pleased with both sides of it.
Finally, the BBC has released a trailer for the animated remake of Douglas Adams' unfinished episode, Shada.
---
Banner art by Jim Cooke.