If you've even set foot in a big city, it's almost definitely happened to you. Your feet are aching and you want to take a seat for just five minutes—maybe check your phone or finish off your coffee. But the only thing around are window sills with huge spikes jutting out of them, or a "leaning" bench that doesn't take much pressure off your feet. Spikes and studs and leaning benches are all hallmarks of what artist Stuart Semple calls "hostile urban design," a trend in urban design that is meant to stealthily discourage loitering, sleeping, or even simply existing in public spaces.
Semple, a British artist who gained attention in the last few years for designing vibrant paint pigments and feuding with fellow artist Anish Kapoor, is not okay with hostile urban design, calling it "designs against humanity" on the website he launched yesterday, HostileDesign.org. The site, as Hyperallergic notes, is part of Semple's new campaign to call attention to the longstanding but increasingly common urban design trend.
Semple isn't the first person to decry it. The Urban Environment Research Network, founded by University of Melbourne professor Alison Young, has written about offensive architectural design on Instagram with the hashtag #HostileDesigns for nearly two years (Semple's new campaign uses the same hashtag). Selena Savić co-edited a book about the trend two years ago. If you don't want to read the book, Unpleasant Design, you can also check out this great episode of 99% Invisible she appeared on where she characterizes the design as being "something that works well at deterring certain behaviors and certain users from particularly public spaces."
On Semple's website he echoes Savić's definition, but further characterizes the design practice as being "made specifically to exclude, harm or otherwise hinder the freedom of a human being." Semple notes that "often they aim to remove a certain section of a community from a public space."
What part of the community? The homeless. And that's bad because, as Semple says, "It gives a sense of credibility to prejudicial attitudes, and stops people having to address real issues."
G/O Media may get a commission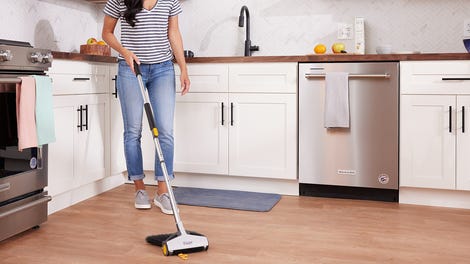 BOGO 50% Off
Flippr - BOGO 50% Off
He's right. This urban design practice pushes the homeless out of sight, but it doesn't actually do anything to eradicate homelessness, while threatening the lives of already very vulnerable people. If, for example, you see a person huddled on a bench in 10-degree weather, you could call the authorities so they could be taken to a hospital. But if it's a leaning bench, that person might go huddle behind a dumpster or somewhere less populated, and then they'll very likely freeze to death.
If you find hostile design as offensive as Semple and Savić, you can purchase stickers at cost from Semple's new website and put them on offending pieces of property. For less radical protestors, there's always the Instagram hashtag. It might not make it easier for vulnerable people to find shelter in a building's alcove, but it could draw attention towards a very real issue that's grown ever-present in modern cities.