The latest trio of astronauts are safely space-bound after an early morning launch out of Kazakhstan. Soyuz will take the scenic route to meet the International Space Station, which is in a higher-than-usual orbit after avoiding space junk. After docking, the station's crew will temporarily grow to nine astronauts.
Deadly Mississippi Tornado Kills More Than 2 Dozen | Extreme Earth
Astronauts Aidyn Aimbetov, Sergey Volkov and Andreas Mogensen ready to launch on September 2, 2015. Image credit: NASA
Roscomoso cosmonaut Sergey Volkov is returning to space, while European Space Agency astronaut Andreas Mogensen and Kazcosmos astronaut Aidyn Aimbetov are new fliers. Morgensen is the first astronaut from Denmark, while Aimbetov is the third from the Republic of Kazakhstan.
G/O Media may get a commission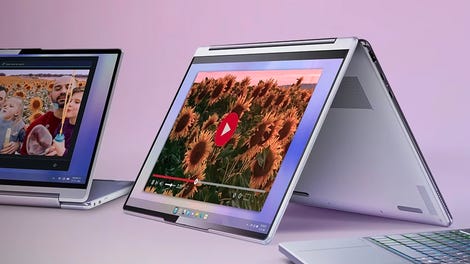 up to 70% off
Lenovo Spring Clearance
Launch sequence of the Soyuz TMA-18M blasting off on September 2, 2015. Credit: ESA/S. Corvaja/Mika McKinnon
The crew are joining six astronauts already in orbit. This is the first time nine astronauts are on the space station simultaneously since November 2013 when the Olympic Torch relay came to orbit.
Astronauts engaging in traditional tree-planting prior to launch. Image credit: NASA/Thomas Pesquet

Astronauts typically spend six months in orbit, returning to Earth on the Soyuz they launched in, but the Year in Space experiment is making logistics far more complicated. Gennady Padalka, Scott Kelly, and Mikhail Kornienko who came up on Soyuz TMA-16M on March 27, 2015. Oleg Kononenko, Kimiya Yui and Kjell Lindgren launched on Soyuz TMA-17 on July 22, 2015.

The spacecraft was delivered to the launchpad via a small train. Image credit: Roscosmos
The orbital lifespan for Soyuz spacecraft means that Kornienko and Kelly will be out-staying their craft, returning home with Volkov on the newly-arriving TMA-18M in March 2016. Meanwhile, Padalka is taking his TMA-16A down, returning to Earth with the freshly-minted veteran astronauts Mogensen and Aimbetov on Saturday, September 11, 2015. Their undocking will end the ten-day "iriss" mission and kick off the start of Expedition 45.
Soyuz TMA-18M on the pad and ready to go. Image credit: NASA/Thomas Pesquet
The Soyuz TMA-18M launched from Baikonur Cosmodrome in Kazakhstan at 10:37am local time Wednesday, September 2, 2015. The launch took place just 47 seconds after the space station passed directly overhead of the pad. This was the 500th launch from the same launch pad used to launch the first human to space on April 12, 1961: Yuri Gagarin.
Soyuz TMA-18M is the 500th launch from Gagarin's launch pad at Baikonur Cosmodrome. Image credit: NASA/Roscosmos/Andreas Mogensen
The spacecraft will make 36 orbits of the Earth at 28,800 kilometers per hour (17,900 mph) over two days to reach the International Space Station. This is the older, longer approach path, necessitated by the space station's recent debris-avoidance maneuvering placing it in a higher orbit.
A safe and successful launch for Soyuz. Image credit: ESA/S. Corvaja
Watch a replay of the launch here:
The Russian Soyuz spacecraft is currently the only way for astronauts to reach the International Space Station, although NASA continues to pursue developing a competing commercial crew program.
Check out more photographs of the rocket's rollout here and of the launch here.
Top image: Soyuz TMA-18M en route to the International Space Station on September 2, 2015. Credit: ESA/S. Corvaja/Mika McKinnon
---
Contact the author at mika.mckinnon@io9.com or follow her at @MikaMcKinnon.