There's more rumors about Benicio Del Toro's Star Wars: The Last Jedi character. Chris Evans discusses his future as Captain America. The Walking Dead might do its own version of the time skip from the comics. Plus, new Doctor Who pictures, and a chance to hail Agents of SHIELD's Madame Hydra. Spoilers now!


Guardians of the Galaxy Vol. 2
Load up your cosmic spacesalt shakers, because an Italian press site called MoviesBook claims to have gotten hold of an italian-language press release that supposedly says that Sylvester Stallone is playing "Stakar"... or, in english, Starhawk.
A member of the 31st century incarnation of the Guardians team, Starhawk was an invulnerable being doomed to constantly live out his life in a cycle of rebirth, going back into his infant body—but retaining his memories, allowing him to retweak fate over and over to get the best possible outcome.
G/O Media may get a commission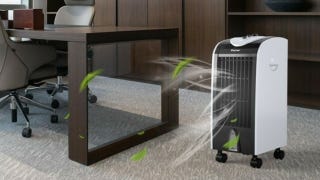 Save $10
Evaporative Portable Air Conditioner Cooler with Filter Knob
James Gunn has said that Stallone's character is one very important roots to the Marvel cosmic, but suffice to say, for now treat this with some heavy skepticism.
---
Rampage
Jeffrey Dean Morgan has joined the cast as Agent Russell, a member of a covert government organization called the OGA. Russell "rolls with serious swagger and attitude", according to Deadline.
---
Star Wars: The Last Jedi
According to Making Star Wars, Benicio del Toro is playing a character named "DJ"—though they do state that may be a codename of the production's. DJ wears all black, a blaster belt, trench coat and a "bill-less" cap, generally exhibiting a "slimy", quality. However in contrast, DJ's ship is "really fancy" and described as a cross between Queen Amidala's and the Kelvin timeline's Enterprise. The cockpit only has one seat, but the ship itself enjoys a spacious communal lounge, as all good spaceships do.
---
Deadpool 2
Appearing as a guest on Jimmy Kimmel Live, Pierce Brosnan claimed the rumors—you know, the resoundingly solid ones built out of a single picture of him with Hugh Jackman and Ryan Reynolds?—about him potentially playing Cable are "fabricated".
Not true. Nothing's come my way yet. It's completely made up. We were sitting waiting for a plane, the three of us, and the guy said, 'Quick. Let's get a photograph. Jump in the middle.' Mr. Reynolds said, 'Let's do three wise monkeys,' put it out there, and it went viral.
Fast-forward to the 3:20 mark in the video for the relevant content — but if you do, you'll miss out Brosnan's charming paintings of Fidel Castro and his character from The Matador. 
---
The Expendables 4
On the heels of Sylvester Stallone's departure, Arnold Schwarzenegger has also refused to return. The actor told Entertainment Weekly, "There is no Expendables without Sly. I would never do the movie without him, no."
---
The Avengers: Infinity War
In an interview with USA Today, Chris Evans spoke about passing the mantle of Captain America to another actor.
I've had a great run. Superheroes are reinventable entities, like Batman or even James Bond. These movies find new incarnations and new ways to tell the story. I am all for it. However they want to proceed after Avengers 4, it's really up to them. I walk away with no regrets and endlessly thankful.
However, Evans states that Robert Downey, Jr. is "far closer" to stepping down at this point than he is, seemingly positing that he has a few more movies in him as Steve Rogers just yet:

Downey is far closer to reaching that point where he may walk away. And I don't know how you replace Downey as Tony Stark. I don't know who else can touch that.
---
The Nun
Demian Bichir has joined the Conjuring 2 spinoff as a priest named Father Burke. According to The Hollywood Reporter, Burke is "dispatched by Rome to investigate a mysterious death of a nun".
---
Justice League
Speaking with The Independent, Ciaran Hinds described Steppenwolf's troublesome relationship with his boss, Darkseid:
He's old, tired, still trying to get out of his own enslavement to Darkseid, [but] he has to keep on this line to try and take over worlds.
---
Wonder Woman
Director Patty Jenkins told Comicbook.com her take on Wonder Woman shared many similarities with her unproduced vision for Thor 2:
I mean they're very similar in a lot of ways. It's a lot of the same questions and a lot of the same struggles that I was interested in Thor's story or here, although in that case it was the second movie so it would never have been as pure and as simple of an arc so I really think it was meant to be that I ended up doing this one, which I had always wanted to do anyway. And I got to do it in a kind of bigger and purer arc rather than putting it in that other story.
---
The Fly
When asked about his proposed remake of The Fly, director J.D. Dillard responded:
I think often times the wrong pieces are remade. Having this conversation about bigger projects and IP, we really want to make sure we are following a beating heart first and foremost.
[/Film]
---
Transformers: The Last Knight
Michael Bay "protects the cinema experience" by blowing up some knights (in three dimensions) in a new featurette.




---
The Leftovers
Damon Lindelof told Variety the series definitively ends with "no spinoff possibilities".
This is it; we left no dangling threads, no to be continued, no spinoff possibilities. We made pretty sure that this was going to be the last season of the show. The audience deserves as satisfying an ending as we can give them. I don't think anyone wants to see a question mark at the end of this.
---
The Walking Dead
Showrunner Scott M. Gimple warned there could be a significant time jump in season eight, in the vein of the comic's own two-year time skip after the events of Rick's war with Negan.
For the people who read the comics, they're going to be expecting this. We're doing the book, we do all sorts of variations on it, and then we do things that are inspired by it and then we change things up with a remix. But I will say there are things that happen in that time jump that are referred to that are super interesting. And thus we might see some of that stuff; it might not be the same sort of jump, or we'll do that two to five years in real time.
[THR]
---
Inhumans
ABC has released a new synopsis for the series that seemingly implies we'll be seeing little of New Attilan in the series, as the Royal family has been routed from their home:
After the Royal Family of Inhumans is splintered by a military coup, they barely escape to Hawaii where their surprising interactions with the lush world and humanity around them may prove to not only save them, but Earth itself.
---
Agents of SHIELD
Hail Madame Hydra with a few new posters. [Screenrant]
---
Doctor Who
Here's the official synopsis for the season ten opener, "The Pilot".
A chance encounter with a girl with a star in her eye leads to a terrifying chase across time and space. Bill's mind is opened to a Universe that is bigger and more exciting than she could possibly have imagined - but who is the Doctor, and what is his secret mission with Nardole on Earth?
Finally, the BBC has released promotional images from the new season— and these are all the monsters! See the rest at the link. [Doctor Who News]
---
Additional reporting by Gordon Jackson. Banner art by Jim Cooke.