Hart Island, which sits at the western end of New York's Long Island Sound, boasts more than 850,000 residents - all of them dead. The island is now used primarily as a potter's field, but in its past it has housed a POW camp, a rehab facility, and a women's insane asylum.
New York City purchased Hart Island in 1869, and immediately began using the island as a cemetery. Today, it's the largest publicly run cemetery in the world, although records of most of its burials were lost in 1977 in a fire set by vandals. The potter's field takes up the northern half of the island, but the southern area has had a host of uses. During the American Civil War, it served as an internment camp for Confederate prisoners of war, and in WWII it was again used as a POW camp. The rehab facility Phoenix House once had a facility there, as did a women's asylum called the Pavilion. The island has housed a boy's workhouse, a quarantine center, and, at various times, a prison. Today, there are still remnants of Hart's human activities, including hospital beds, Department of Corrections records, and shoes made by residents of Phoenix House. Visitors can still stumble upon the places where land is being excavated for future grave sites and the occasional unburied coffin.
All of these photos were taken by urban explorer Richard Nickel Jr. in conjunction with Marie Lorenz. Visit Nickel's blog for many, many more photos of Hart Island, including a crumbling Catholic chapel and mass grave sites. [via Spike Trotman]
Edit: For even more information and photos of Hart Island, be sure to check out Melinda Hunt's Hart Island Project. Hunt is working to increase the accessibility and visibility, as well as open up the records of the people buried there so their families can find their final resting places. She's also the author of Hart Island, the book from which the Nickel blog post was republished.
G/O Media may get a commission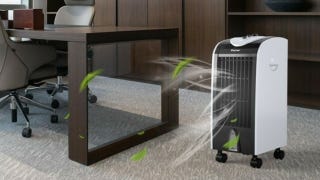 Save $10
Evaporative Portable Air Conditioner Cooler with Filter Knob
Also, Richard Nickel Jr. is apparently a pseudonym for Ian Ference. You can see his amazing urban archaeology photos at his blog, The Kingston Lounge.
Top image is of a ward building that was originally part of the women's hospital and was later repurposed to be part of Phoenix House. Photo by Ian Ference.
The southern entrance to the Pavilion building. Photo by Ian Ference.
The second floor of the Pavilion. Photo by Ian Ference.

Department of Corrections record storage building. Photo by Ian Ference.

Patient beds from the ward building. Photo by Ian Ference.

Unburied coffins found in the ward building. Photo by Ian Ference.