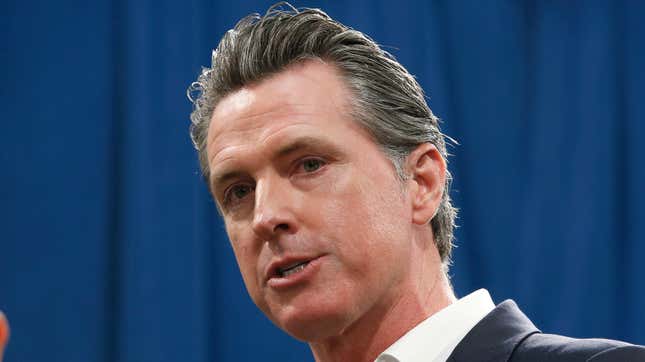 The hard-fought bill that may one day give full employee status to workers engaged in the gig economy spearheaded by companies like Uber, Lyft, and DoorDash has finally been signed into law by the office of California Governor Gavin Newsom.
Caleb McLaughlin Wants to Play Static Shock
Assembly Bill 5 (AB5), introduced by Assemblywoman Lorena Gonzalez in January, intended to codify a recent state Supreme Court decision into law. The wonky details involve the application of a more stringent test, called the "ABC test," for employers to prove their workers are actually independent contractors—the classification gig economy companies use to dodge labor protections like overtime pay and health insurance—rather than full employees. With a huge package of amendments added before its passage through the Senate last week, the bill was signed by Newsom today.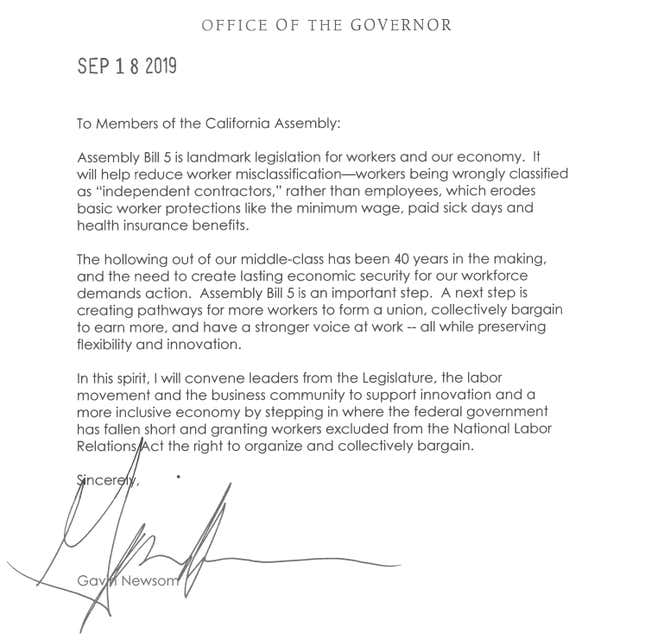 "Assembly Bill 5 is a landmark legislation for workers and our economy," Newsome wrote this afternoon. "A next step is creating pathways for more workers to form a union, collectively bargain to earn more, and have a stronger voice at work." A recent poll from Emerson showed Californians supported the bill nearly 2-to-1.
The signing was praised by worker groups like Rideshare Drivers United, which has been at the forefront of extending rights to gig economy laborers, as well as tangential groups like the California Building Trades Council and Fight For $15.
Until recently, the governor was still in talks with many of these companies, as they angled for some form of side-deal that might exempt them from needing to reclassify their workers—something these businesses have not been shy about stating will hurt their business model. In efforts to combat the bill's passage, Uber and Lyft have attempted to muddy the waters for their own drivers, spuriously claiming these labor protections would accompany a decrease in worker flexibility.
While a major victory for the organized labor movement in California and in the U.S. broadly, the passing of AB5 is by no means a guarantee drivers in the state will become employees. Drivers or individual cities will need to challenge these businesses in court to apply the aforementioned ABC test, and Uber has already adopted an offensive posture in that regard, claiming that drivers are not core to the company's business model—one of the stipulations of the ABC test. Though ridiculous on its face, this assertion is backed up by at least one prior court ruling.
Uber, Lyft, and DoorDash have already committed a combined $90 million toward opposing AB5—now its implementation rather than the bill's passage—and Uber has floated the idea of a ballot initiative to attempt to undermine the law.
"Looking to the future, we recognize the many attempts by Lyft and Uber to avoid compliance with the law and ignore the voices of drivers. Our fight continues. We ask the state of California to enforce AB 5 in order to protect workers," driver group Gig Workers Rising wrote in a statement. "We will continue to organize in order to build the independent drivers union we need to have a real voice at the table."
"We agree with Gov. Newsom that California still has an opportunity to support the overwhelming majority of rideshare drivers who want a thoughtful solution that balances flexibility with earnings guarantees and protections," a Lyft spokesperson told Gizmodo after the signing. "We are confident that with his leadership we can reach a historic agreement, but if necessary we are prepared to take this issue to the voters to preserve the freedom and access drivers and passengers want."
An Uber spokesperson told Gizmodo:"We've been proudly advocating for a new progressive framework that would for the first time give minimum earnings guarantees, access to benefits, and a right to organize to independent workers. We've engaged in good faith with the Legislature, the Newsom administration and labor leaders for nearly a year on this issue, and we believe California is missing a real opportunity to lead the nation by improving the quality, security and dignity of independent work."