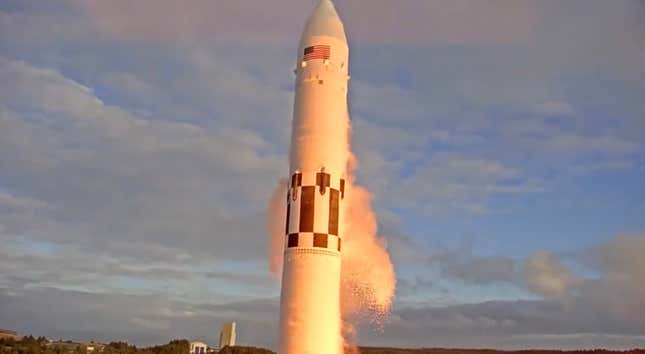 In a concerning trend, ABL Space System's RS1 rocket became the third rocket to succumb to a launch failure in less than a month. The botched liftoff came just 24 hours after Virgin Orbit's LauncherOne rocket carrying a payload of nine satellites experienced an anomaly that preventing it from reaching orbit.
In a grim tweet shortly after its scheduled launch from Pacific Spaceport Complex—Alaska, ABL revealed its RS1 experienced an anomaly preventing it from launching properly. In follow-up tweets, the company said all nine of the rocket's E2 engines shut down at the same time. RS1 fell back down to Earth and exploded, leaving the rocket destroyed and the launch facility damaged. Luckily, according to ABL, nearby personnel weren't harmed. Two OmniTeq smallsats were loaded onto the rocket for its inaugural flight, also destroyed.
"This is not the outcome we were hoping for today, but one that we prepared for. We'll revert with additional information when available," ABL wrote." It's unclear when exactly the engine shut down or how high the RS1 made it before losing altitude. In response to a Gizmodo inquiry, ABL confirmed details disclosed in the company's tweets but nothing beyond that.
It's been a rough month for rocket launches. In December, days before Christmas, Arianespace's medium-lift Vega-C rocket experienced a catastrophic anomaly around two and a half minutes following its launch. Controllers were forced to initiate a self-destruct of the rocket, resulting in the loss of the two satellites on board.
Virgin Orbit's LauncherOne would experience a similar fate just weeks later. In that case, the rocket was able to successfully detach from the company's modified Cosmic Girl Boeing aircraft, but failed after experiencing an anomaly during the firing of its second stage engine. Had it been successful, the Virgin Orbit launch would have marked the first attempt to launch satellites in space from the United Kingdom.
The rapid string of rocket failures serves as a stark reminder of the high risk and even higher costs inherent to commercialized space flight. Private firms like ABL and Virgin Orbit envision a lucrative business in offering customers, particularly smaller satellites companies, easy, affordable, and frequent rides to low Earth orbit.

And indeed, there's clearly plenty of demand; a recent forecast from space-focused market intelligence firm Euroconsult estimates some 2,500 additional satellites could launch each year until 2031. Still, relatively young firms moving quickly to meet that demand are almost guaranteed to break an increasing number of eggs in search of a commercialized space omelet. In other words, it's probably a safe bet to assume that more failed launches and inferno-engulfed rockets are around the corner.
More: Virgin Orbit's Failed Rocket Seen Crashing Back to Earth in Fiery Video