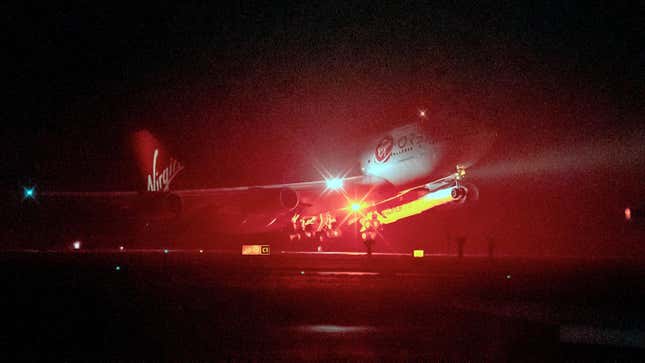 Britain's first orbital launch ended in a disappointing failure after Virgin Orbit's LauncherOne rocket suffered an anomaly, destroying the seven payloads on board.
Astronomers Could Soon Get Warnings When SpaceX Satellites Threaten Their View
The company's modified Boeing aircraft, named Cosmic Girl, took off on Monday at 5:02 p.m. ET from Spaceport Cornwall, carrying the LauncherOne booster rocket tucked beneath its left wing.
The mission was off to a good start as Cosmic Girl released the rocket over the Atlantic Ocean. However, after the rocket's first stage separation, and at speeds in excess of 11,000 miles per hour (17,700 kilometers per hour), LauncherOne experienced an anomaly during the firing of its second stage engine, according to a statement by Virgin Orbit. The rocket ultimately failed to reach orbit and deliver the satellites on board, ending the mission prematurely. Space is hard, even when launching rockets from 35,000 feet.
"The first-time nature of this mission added layers of complexity that our team professionally managed through; however, in the end a technical failure appears to have prevented us from delivering the final orbit," Dan Hart, Virgin Orbit CEO, said in the statement. "We will work tirelessly to understand the nature of the failure, make corrective actions, and return to orbit as soon as we have completed a full investigation and mission assurance process."
The highly anticipated mission was Britain's first attempt to launch satellites into orbit, which would've made it the first European nation to do so. Instead, the mission failure is yet another hit to Europe's space industry following the failure of Arianespace's Vega-C rocket in December and Russia halting Soyuz rocket launches from French Guinea earlier in March.
The mission, titled "Start Me Up," carried satellites for seven commercial and government customers, including two cubesats for the U.K.'s Ministry of Defense; the AMAN Earth observing satellite from Oman (its first orbital mission); and Stork-6, the sixth satellite to be included in Poland's Earth-observing cubesat constellation.
Unfortunately, all the satellites were lost. As a result, Virgin Orbit's stock also suffered a major blow as a result of the mission failure, falling by about 22% in premarket trading on Tuesday morning, NBC reported.
Monday's launch was meant to initiate a new era for Europe's space industry but failed to deliver on its promise. As Virgin Orbit reviews the data from the mission failure, hopefully the company can recover from the setback and make way for another launch attempt from British soil.
More: Europe Has Few Options to Reach Space After Vega-C Rocket Crash