A crazy new Star Wars theory explains why Finn knows how to use a lightsaber. Arrow's producers say their latest twist isn't a fake-out. Christoph Waltz is sick of being linked to Blofeld in SPECTRE. Plus, confirmation of a Game of Thrones character's return, and a brief look at The X-Files. Spoilers Now!
Star Wars: The Force Awakens
When Finn picks up Anakin Skywalker's lightsaber in the movie, it's allegedly not exactly a weapon he's unfamiliar with. According to Cinelinx, Finn's history as a Stormtrooper in the First Order also features him and other troopers training with lightsaber-esque weapons: an apparent homage to the classic Ralph McQuarrie concept art of a Stormtrooper using a laser sword and a shield for the original Star Wars.
The report goes a little further into Finn's back story, saying that Finn isn't his real name, but instead inspired by his Stormtrooper ID "FN-2187"—and that while he was a Stormtrooper, he was supposedly a protege of Gwendoline Christie's Captain Phasma, inspiring her to hunt him down personally when he defects. As ever with rumors such as this, it's best to take it with a side of skepticism for now.
---
Star Wars: Episode VIII
Co-star Benicio Del Toro discusses what director Rian Johnson brings to the movie:
[He's going to] bring a cool, sci-fi realism, if I may say that. I love his film Looper, and I just like talking to him about the film. He's one of those new talented people that Star Wars is hiring to infuse the franchise with new steroids.
G/O Media may get a commission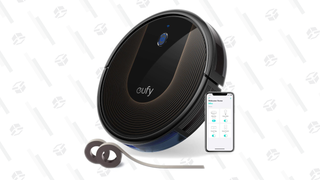 48% Off
Eufy BoostIQ RoboVac
Following on from this week's earlier reports about the casting of multiple female leads, we have some updates. Hollywood Reporter is alleging that Tatiana Maslany may have dropped out of appearing in Star Wars in order to star in Stronger, a film about the 2013 Boston Marathon bombing—but Collider also reports that the major role being cast has now gone to Gugu Mbatha-Raw. Until we hear anything official about the casting, best treat this as unconfirmed at the moment.
---
SPECTRE
It's not just Daniel Craig getting a bit colorful in interviews about the movie. Speaking to Cinemablend, Christoph Waltz has gotten rather tired of people alleging that his secretive villainous character is in fact the classic Bond character Blofeld:
First of all, on what basis? You know, it's silly. It's plain silly…So that's done with — the Blofeld question. Why would they make a movie that they've done before?

I'm interested in what you said, 'The Internet has decided.' What's the Internet? The Internet is something like the climate that we can't influence, that kind of does what it does and we have to adapt to it and, sort of, react accordingly? … The Internet is us. So the Internet in itself doesn't decide anything. I'm very adamant about that because the Internet takes over as an entity, as an independent entity… That's why it's called the cloud.
Suffice to say, either Waltz is playing a very convincing long game, or he's pretty sick of being asked if he's playing a character other than Blofeld.
---
Alien: Paradise Lost
Ridley Scott teases a new cast of characters:
It's going to be it's own separate thing because they are going to the planet of the Engineers and they are going to see what happened there. It was a disaster. And they will be in that alien craft that takes them there, but with a new group that's incoming, a new group of travelers in the beginning of the first act.
---
Tron 3
Garrett Hedlund once again discusses the currently-in-limbo movie:
CS: Did you see that script or did you see something or read anything?

Hedlund: Yeah, yeah, I did.

CS: You had? Okay, so interesting. Then they just kind of said, "Oh wait?"

Hedlund: I guess so, yes. But yeah, I guess. That's all I really know. Joe was going to come back on and direct and everybody's super excited, and who knows? Maybe there'll be a time and a place for it. Maybe it will be resembling to the space that was in between from the '82 version to maybe I'll be…

CS: You'll be the Jeff Bridges character?

Hedlund: I'm going to be the Jeff Bridges in the next one and our press junkets, we'll be talking about how, "It's been 30 years since I've been in that suit, man."
---
Power Rangers
Naomi Scott, one of the rumored names in the running has been officially cast as Kimberly, the Pink Ranger.
---
The Hunger Games: Mockingjay Part 2
Here's an artsy new IMAX poster for the movie. [Coming Soon]
---
The Last Witch Hunter

Here's a bunch of B-Roll footage from the making of the movie.
---
The Walking Dead
Early reviews for the show's sixth season premiere have come in, revealing that the 90 minute episode will tell two concurrent stories: one set in the present, and another set in the past filmed entirely in black and white:
The Walking Dead 6×01 uses its extended runtime to tell 2 stories simultaneously. One depicts the fallout from the events of the season 5 finale while the other finds Rick and the team carrying out one of the biggest plans they've ever attempted. To help viewers understand which storyline they're watching, the showrunners tell one of them entirely in black and white.
Also, Rick's new mantra is "I don't take chances," and this comes up a lot. And somebody dies in this episode. [Hypable]
The present threat will be a huge horde of Walkers in a quarry nearby Alexandria, that Rick has to set free and lead away from Alexandria before they can attack the settlement—in scenes allegedly featuring the most zombies ever seen in the show:
I'm probably selling the premiere's set piece short, but the sequences in which the episode's director, Greg Nicotero, crams as many zombies as possible into one shot are easily some of the coolest in the series so far. There's some urgency and uncertainty to the opening shot as well – Rick yelling orders, mostly at characters we've never met, only two eighteen-wheelers between him an a zombie army – that immediately sets the season off on a pulse-pounding note as well.
Another review of the premiere: Blastr says that these characters are the nicest they've been in years. Father Gabriel steps back from the dark side, in a scene that includes a "subtle smackdown." Also, our whole crew has been changed by Alexandria, and Daryl in particular has bought into the philosophy that they need more people. Glenn shows forgiveness, not killing off the guy who set him up in "Conquer," and Rick, surprisingly, doesn't kill someone who's trying to launch a coup. [Blastr]
And if you want even more of the beans spilled about this episode, The Spoiling Dead Fans has you covered—including exactly who dies and how, how Rick's plan to move the army of walkers goes wrong, and just how Alexandria has stayed safe all this time. [The Spoiling Dead Fans]
Actor Josh McDermitt teases what's in store for the sixth season:
They're trying to reinvent the show every eight episodes so it doesn't become stale. They're also not pushing it so far out of control or so far out there to stop itself that there's nowhere else to go...It feels organic. This season is no exception in how big and awesome it's going to be. We say it every year but we mean it, this is going to be the best season that the show has done. There's so many more Walkers and its going to be massive and enormous. It literally feels like a roller coaster.
[HNGN]
Showrunner Scott Gimple says an upcoming episode will show how Morgan transitioned from the "disturbed, homicidal, traumatized" person we saw in season three to the person who said that "all life is precious" in the season five finale. Says Gimple, "Something happened in the middle of all of that. And we really do need to show [it to] you." [TV Line]
---
Game Of Thrones
Early reports of Sibel Kekilli's return to the show have now been confirmed, with new pictures take from filming at Peñíscola showing the actress in costume:
Current speculation pegs her return as Shae, not as the character returning from the grave, but as a vision that appears to Tyrion in Meereen during the height of a famine. [Watchers on the Wall]
---
Powers
Tricia Helfer has been cast in a major role in the show's second season. She'll play "FBI Special Agent Lange, who shares a history (and palpable sexual tension) with Sharlto Copley's Detective Walker. Lange, who walks a fine line between the Powers world and the government, becomes both an ally and enemy when it best suits her agenda." [TV Line]
---
Arrow
Producers Wendy Mericle and Marc Guggenheim discuss the flash-forward to the funeral of an unknown character seen during last night's season four premiere, calling it "Not a fake-out":
Mericle: We want to bring stakes back to the show. We'll be finding a way to handle the Lazarus Pit portion of season 3 in season 4, in a new, inventive way that I can't reveal."

Guggenheim: I'll feel very organic and very earned. It's actually very elegant.
[CBR]
---
Preacher
Seth Rogen discusses changes between the comic and the show during the adaptation process:
We are changing the specifics of how the narrative is unfolding. A lot of the building blocks we are not changing, a lot of characters we're keeping, but we want to make a show that if you're a fan of the comic, you don't know what to expect. And we have no interest honestly in just doing a literal page-to-[screen] adaptation. It just seems like the most boring creative endeavour one could go on!

I mean there's some things that even Garth will argue, is quick to admit that we probably should not even attempt to put on television. There's some characters, we're talking about, "Maybe we combine these two into one person." But to us the tangential element is one of our favorite things. The fact that it does go off into these other worlds and explore these other characters, I mean that's something that we wholeheartedly intend on indulging in because it's one of the best parts about the comic. Just the massive tapestry of f***ing weirdos. [Laughs.]
---
Agents Of SHIELD
Simmons may be back on Earth with the team, but Elizabeth Henstridge teases that her ordeal on the mysterious alien world may not be over yet:
Could whatever was possibly chasing her on that planet still be hunting her while she's back on Earth?

She's definitely afraid of that. That will for sure feature. Now that she's back, it's not like, "I'm fine, moving on!" It will have a huge impact on the rest of the season. Psychologically, she's petrified that she's not safe.
[EW]

---
Star Wars Rebels
David Filoni teases some season 2 plotlines, including a focus on the show's female heroes:
There will be multiple Hera episodes and we're going to find out how she met Chopper, who is getting a new little buddy in Season 2. We'll also learn far more about Sabine (Tiya Sircar), including more info about Mandalore and its culture.
---
The X-Files
The show's new season will use the original credits from the series, according to creator Chris Carter:
We thought about doing some changes to the original credits, but then it seemed like sacrilege. Those credits were on 202 episodes. They belong on these next six.
[THR]
And here's a new poster for the show, from its premiere at MIPCOM. [CBR]
---
Doctor Who
The Doctor and his new friends travel back in time to find out the origins of the spaceship they discovered in a new clip from "Before the Flood".
---
Daredevil
Here's a new poster from the show's second season, making its debut at New York Comic Con this weekend. [/Film]
---
The Vampire Diaries

Finally, Caroline and Stefan have an awkward conversation in a new clip from "Day One of Twenty-Two Thousand, Give or Take".
---
Additional reporting by Gordon Jackson and Charlie Jane Anders. Image: The Walking Dead.