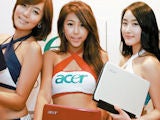 Acer rightly cops a lot of stick about build-quality, but as predicted, they've passed Dell to second spot in worldwide sales. Separate research from Gartner and IDC also ranks Acer third in the U.S, ahead of Apple in fourth place.
Acer—which owns Gateway, eMachines, and Packard Bell—scored 11.1 perecent of U.S computer sales between July and September this year, according to IDC. Gartner puts that figure at 13.9 percent.
As you can see in the chart above, Garner also puts Dell in the top U.S spot with a 26.2 percent share. IDC disagrees, placing HP first (25.5 percent), Dell second (25 percent), Apple fourth (9.4 percent), and Toshiba fifth (8.1 percent).
The two research firms agree on the rankings of worldwide sales, though their numbers are slightly different.
What's also interesting is that total sales grew by as much as 3.9 percent compared to last year. That's pretty surprising when both predicted the down economy would make us all tech scrooges. Maybe Windows 7 has drummed up interest after all, what do you think? [Gartner Research via BusinessWire | IDC Research via Reuters] [Image Credit]