Today's headlines are triumphantly declaring that India's government walked back its sweeping ban of internet porn sites. But that's not quite true—for all intents and purposes, online porn is still banned in India. Let's take a look at the devil in the details.
Following widespread condemnation of a ban on 857 pornographic websites, the government backpedaled, declaring the porn ban would be reversed. But the "reversal" just passes the buck to India's internet service providers, who were told they can un-ban any of the sites on the list that do not contain child pornography, but are not at all equipped to handle the onerous task of filtering internet porn.
The ISPs were given the incredibly vague directive from the Communication and Technology ministry that they are "free not to disable any of the 857 URLs," provided the sites are child-porn free. There is, however, no mechanism in place for determining this kind of content.
It's a huge, unwieldy, uncomfortable burden to place on ISP companies without additional support. "How can the government put the responsibility on us to see whether a website carries child pornography or not?" the head of India's Internet Service Providers Association wondered. In a letter to the government, ISPAI members wrote:
We submit that direction given above is very vague and unimplementable, as ISPs have no way or mechanism to filter out child pornography from URLs...We urge you to withdraw the said vague directive as it is not only confusing, but also putting responsibility on ISPs of the website on which ISPs does not have any control.
G/O Media may get a commission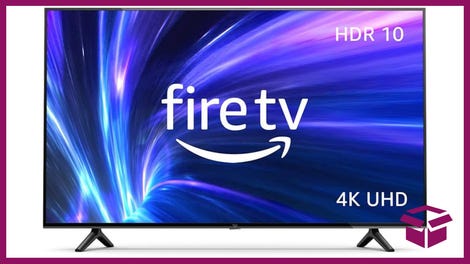 42% Off
Amazon Fire TV 50" 4K Smart TV
In the US, NCMEC (National Center for Missing and Exploited Children) collects reported child pornography data from websites, social networks and service providers, where it is combed over by teams of highly trained analysts. It took many years and rounds of legislation to develop the cyber division of NCMEC.
NCMEC functions as a partnership between several agencies including the FBI and the Department of Justice, as well as the Internet Crimes Against Children Task Force program, and US electronic service providers have been required by law to report exploitative content since the Protect our Children Act of 2008.
In India, ISPs do not have codified guidelines in place, nor do they have the tools to judge or report the content to an authoritative body should they encounter it. A 2009 bill passed by India's parliament made the creation and transmission of child pornography illegal, but it's evident due to the current situation that there is no governing process in place.
In other words, the Indian government, in an attempt to quell the backlash over their unreasonable blanket pornographic ban, is issuing lip-service reversals and little else. In July, the Supreme Court criticized the Indian government's inability to block sites featuring child pornography—so, rather than work on this difficult issue, total censorship was leveled. It appears that the initial attempt to censor porn for reasons of "morality and decency" backfired so spectacularly that the government is invoking the spectre of child pornography while not providing any help with how to counter it.
Now the Indian government is dodging widespread criticism by putting the onus on ISPs to decide what sites to un-ban—which will likely mean that to play it safe on the child porn rule, the ISPs will have to keep all of the sites down. Indeed, so far the ISP providers have chosen to keep the 857 sites inaccessible until they receive further directives from the government.
The ban was intended to be temporary until the Supreme Court could give a definitive ruling; the matter will be back in courts August 10. Until then, and likely thereafter—it takes a long time to establish protocols for unlawful porn—the sites cannot be accessed. Don't believe the government's hype: Online pornography is basically still blocked in India.
Image via Shutterstock