United Airlines did a very sad, regrettable thing this week when its attendants insisted a passenger store their 10-month-old French bulldog in the overhead bin on a flight from Houston to New York, resulting in said puppy's untimely death of probable suffocation. In the second story casting doubt on the airline's canine safety record this week, it looks like United accidentally flew a different dog to Japan instead of its intended destination in Kansas.

Fortunately, this dog is not dead.
Per CNN, United Airlines allegedly swapped Kara Swindle's 10-year-old dog Irgo, a German shepherd, with a Great Dane that was supposed to be heading to Japan. Swindle didn't discover the error until she arrived at a cargo facility in Kansas City on Tuesday, where she was presented with the second dog instead of Irgo. According to the network, this sent the Swindles into a bit of a panic:
"They had no idea where the dog was," Swindle said. "I burst into tears instantly because this has just all been a whirlwind. They didn't know (where Irgo was) until 2:30 a.m. on Wednesday when the plane landed in Japan."

Swindle said Irgo — who was flying for the first time — had no water or food on the 16-plus hours flight to Japan. Irgo is suffering from an ear infection and hasn't had medication in three days, she said.
The Swindles told the network that United is flying Irgo from Narita, Japan to Denver in a first-class seat along with a human escort and will then deliver him to Wichita. In a statement to CNN, the airline said it is investigating the screwup:
An error occurred during connections in Denver for two pets sent to the wrong destinations. We have notified our customers that their pets have arrived safely and will arrange to return the pets to them as soon as possible. We apologize for this mistake and are following up with the vendor kennel where they were kept overnight to understand what happened.
G/O Media may get a commission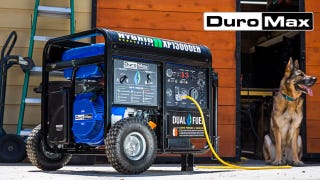 Black Friday Sale
DuroMax Generator Sale
Of course, any investigation will probably not undo the PR damage from the two incidents, which come less than a year after the airline drew national notoriety for summoning airport security goons to beat and drag off a passenger who refused to give up his "overbooked" seat for United employees. Per CNBC, United has the highest rate of animal fatalities of any U.S. carrier with 18 deaths in 2017 (including a giant rabbit), though an airline spokesperson insisted many of the deaths were unrelated to flight conditions.
One member of Congress, Sen. John Kennedy, even promised to pass legislation that could punish any future incidents in which dogs or other animals are shoved into overhead bins with "significant fines."
United, as Gizmodo senior editor Adam Clark Estes has noted before, has a long and screwed-up track record of treating passengers disrespectfully, a favor-trading scandal, and even once diverting a flight so it could kick off an autistic child. Some surveys have shown it ranks among the airlines with worst customer service, and as Bloomberg noted, it's struggled with some of the worst or nearly worst performance metrics in the already-substandard airline business.
Correction: The original version of this story incorrectly stated that Irgo was to be flown from "Naruto, Japan." In reality, the dog was reportedly set to fly from Narita, Japan. We regret the error.
[CNN]