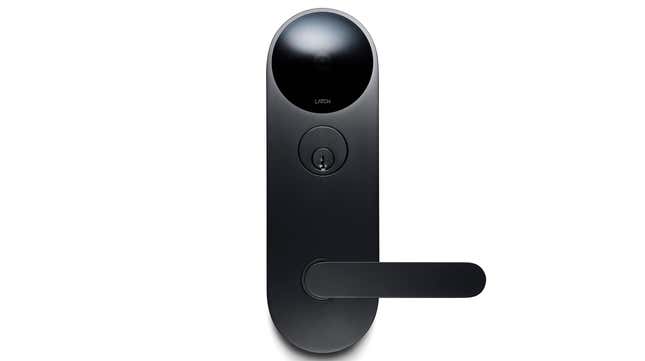 Tenants at a property in New York City just struck a deal in what is both a wildly reasonable ask but also a crucial development at a time of increasing surveillance—their landlord has to give them physical keys to their building.

Five tenants in Hell's Kitchen sued their landlord in March after the owners installed a Latch smart lock on the building last year. It is unlocked with a smartphone, and reportedly granted tenants access to the lobby, elevator, and mail room. But the group that sued their landlords saw this keyless entry as harassment, an invasion of privacy, and simply inconvenient.
"We are relieved that something as simple as entering our home is not controlled by an internet surveillance system and that because we will now have a mechanical key they will not be tracking our friends and our family," 67-year-old tenant Charlotte Pfahl, who has lived in the building for 45 years, told the New York Post.
"It's a form of harassment," 72-year-old artist and tenant Mary Beth McKenzie told the Post in March. "What happens if your phone dies? I don't want to be stuck on the street and I don't want to be surveilled."
And McKenzie also told CNET that her 93-year-old husband Tony Mysak wasn't able to use a phone and was stuck inside the building after the owners installed the smart locks.
G/O Media may get a commission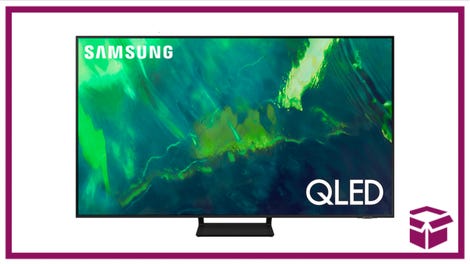 35% off
Samsung Q70A QLED 4K TV
Save big with this Samsung sale
If you're ready to drop some cash on a TV, now's a great time to do it. You can score the 75-inch Samsung Q70A QLED 4K TV for a whopping $800 off. That knocks the price down to $1,500 from $2,300, which is 35% off. This is a lot of TV for the money, and it also happens to be one of the best 4K TVs you can buy right now, according to Gizmodo.
The settlement between the tenants and the landlords was agreed upon on Tuesday, in which the latter agreed to give the former physical keys by that evening. As was previously mentioned, asking for a physical key for the building that you live in sounds like a completely sensible request, but the pushback signals a time in which those with control over our homes have the tools to make even walking through your front door a sacrifice of privacy.
Latch's privacy policy indicated that the company collects and stores user information, including someone's GPS location. That data is then shared with the owner of the building (in this case, the tenants' landlords) and that in the event that the building is sold, this data may also be shared with the new owners. At some point, that privacy policy appears to have changed.
An archived link from May 8th shows the original policy language as stating "When you use certain features of the Services, such as the Apps, we may receive, store and process information about your location, including general information (e.g., IP address or zip code) and more specific information (e.g., GPS-based functionality on Devices used to access the Services)." The page now states that Latch does not "capture, store, or use GPS location data of our users."
A statement attributed to Latch CEO Luke Schoenfelder that was emailed to Gizmodo explains that "Certain Android devices require GPS to be enabled in order to use the Bluetooth functionality upon which the Latch app relies, but again, we never capture, store or use any GPS location data." As for landlords having access to user data, Shoenfelder said the following: 
To maintain the safety and harmony of common spaces, property managers are able to see access events for common areas, in the same way as standard key fob and keycard systems work. We never share residents' access histories of their private spaces, including apartment units, with property managers; this information is viewable only by residents.
"Unlike Facebook, Google, or Amazon services, though, Latch represents an opportunity to look at data privacy through something tangible: the barrier between yourself and your home," Sage Lazzaro wrote in Medium in April. "By forcing you to sign a privacy agreement to open your front door, Latch helps us see how the internet of things has brought bad data policies off-line, normalizing invasive technology. It's a new perspective on what's really at stake when we sign that dotted line."
And for the tenants of the Hell's Kitchen building, the simple act of their landlord's installing a piece of hardware forced them to give up personal data in exchange for easy access to their place of living. And Tuesday's settlement marks a huge win for anyone who cares about a tenant's autonomy over their own data.
Update: This post has been edited to clarify legal language, include statements from Latch's CEO, and to provide further information about the evolving language in Latch's privacy policy.