Traditionally, Friday night is where TV shows go to die. It's even referred to by many as the "death slot," because so few people watch TV on Friday. So then, it's rather inauspicious for the show that ABC has scheduled their huge new Marvel show Inhumans and moved Agents of SHIELD to—you guessed it—Friday.

Now, slotting the two Marvel series on Friday night doesn't necessarily mean ABC isn't confident in the show. The way people now consume TV is much different from the heyday of the "Friday Night Death Slot." With DVRs and on-demand so prevalent, many people who were going to watch Inhumans weren't going to watch it live no matter what night it's on. It could very well just be that there are a lot of new and returning shows and Friday was the best fit.
Plus, when you add Agents of SHIELD into the mix, the argument shifts again. SHIELD is a show that has enough of an audience that ABC renewed it for a full, 22-episode fifth season. If ABC thought the show was truly doomed, it wouldn't have done this. A move to Friday could just be the station' sway of tempering expectations for the show; if it moves to Fridays, its audience of 4.5 million people looks better than it does on another night of the week.
Nevertheless, it's still worrisome for Inhumans, a TV series based on a Marvel property once considered so big it was originally planned to be an actual movie. Agents of SHIELD moving to Friday nights is one thing, but Inhumans debuting on Friday probably isn't great. And we don't have a reason why (other than maybe Medusa's wig); ABC had no comment on the scheduling decision and we had yet to hear back from Marvel TV as of publication.
G/O Media may get a commission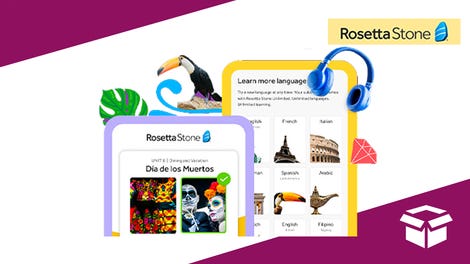 Extra 20% off
Rosetta Stone Lifetime Subscription - All Languages
However, Channing Dungey of ABC explained to Entertainment Weekly that "We've turned Friday into more of a destination for our fantasy and science fiction fans."
When it does debut, Inhumans will follow the powerful, royal family of superhuman characters (lead by Anson Mount as Black Bolt) who escapes to Hawaii after being split up by a military coup on their own planet. In Hawaii, "their surprising interactions with the lush world and humanity around them may prove to not only save them, but Earth itself," according to a press release.
The show will still first premiere in IMAX theaters on September 1 before debuting at 9:00 pm a few weeks later for its eight-episode first season. The show co-stars Iwan Rheon as Maximus, Serinda Swan as Medusa, Eme Ikwuakor as Gorgon, Isabelle Cornish as Crystal, Ken Leung as Karnak, Ellen Woglom, Sonya Balmores as Auran and Mike Moh as Triton. Agents of SHIELD will take over the same time slot for its fifth season once Inhumans ends.
(The next season of Once Upon a Time will also air on Fridays at 8:00 pm. Make of that what you will.)
[ABC]